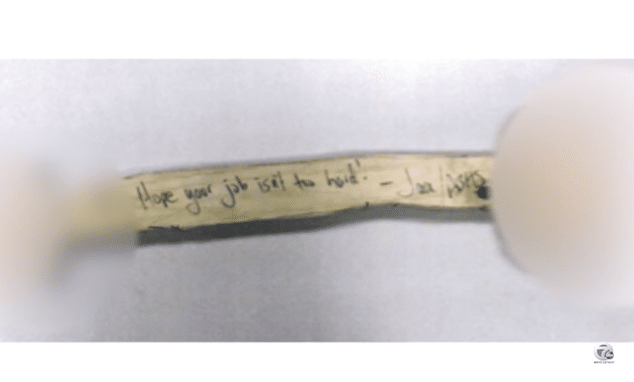 John (Jack) Stanton wooden penis: Ex Michigan school principal files lawsuit claiming his constitutional rights were violated after being forced to resign after sexual harassment claim.
A former Michigan principal at a St. Clair County area school is suing the district's superintendent, alleging his constitutional rights were violated when he was forced to resign from his job in June 2017 after gifting a female security a wooden penis as she left for another job in the district.
John (Jack) Stanton, former principal at Anchor Bay High School – in his suit said the gift had been intended as a parting gift between two friends, based on an inside joke. 
His employer thought otherwise.
The Detroit News reports the school's superintendent, Leonard Woodside, alleging the gift was given in front of others, with the female security guard repeatedly crying after receiving the 'wooden penis' and allegedly saying she felt sexually harassed by the 'device'.
John Stanton wooden penis: Was his parting gift akin to sexual harassment? Or simply too inappropriate given his position as school principal? 
In his suit, Stanton alleges the woman had first given him the wooden penis after she confiscated it from a 'wood shop' student at the high school.
At the end of her employment, 'Mr. Stanton returned the wooden penis to her as a parting gift and they shared a final laugh together,' Stanton's lawsuit alleges.
According to a photograph in the court file, Stanton allegedly wrote a message on the gift: 'Hope your job isn't too hard! John/ABH'
Woodside's lawyers allege the woman cried after receiving the gift that she says made her 'so embarrassed and so uncomfortable.'
Told John Miller, attorney for Woodside, 'This is a public school principal who is supposed to be a role model for children, and he gave a wood penis with a profane message to an employee'. 
'For us in public schools, this is no different than a teacher having an inappropriate relationship with a student,' Miller continued, arguing that Mullins says even if the security guard was not offended Stanton's actions were inappropriate conduct of a school principal. 'There are certain things that are unacceptable in school districts and giving a wooden penis is one of them.'
Latest developments include the principal's attorney, John Lovell, saying the woman reaching out to Stanton a month after he resigned and allegedly telling him she was not upset.
The woman filed an affidavit in the lawsuit in February and said she 'was not offended and even went home and showed my family and they all thought it was funny.'
Stanton found employment with Livonia Public Schools in August but left after the district learned of the incident and asked him to resign, according to the lawsuit.
In his suit, Stanton alleges he and his wife have suffered loss of employment, loss of reputation, pain and suffering, emotional distress and humiliation.
They are seeking punitive damages and attorneys fees in the case before U.S. District Judge Linda V. Parker.
Stanton has since conceded it may have been a lapse in judgment to give the wooden penis as a gift.
No hearing date has been set for the case.