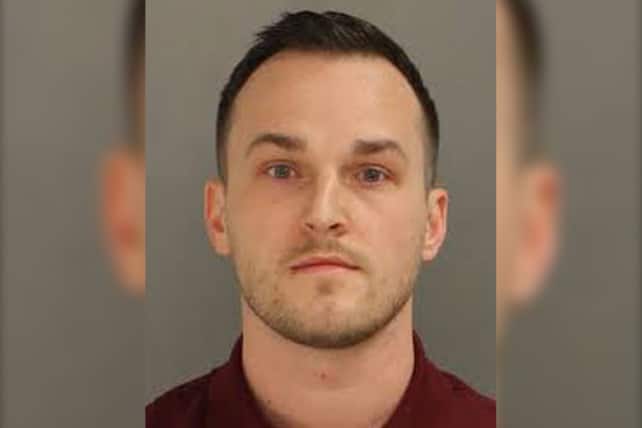 Matthew Aimers- a Pennsylvania groom ruins his own wedding after hitting on a teen server and sexually assaulting her before causing a drunken brawl. 
A Pennsylvania groom has ruined his own wedding after hitting on to an underage waitress- only to follow the teen into a bathroom stall and groping her- according to prosecutors.
Matthew Ronald Aimers, 31 of Willingboro, was charged Wednesday in connection to the Nov. 24 sexual assault at a country club in Northampton Valley, the Philadelphia Inquirer reported.
Following his arrest, the newlywed faces numerous charges, including indecent assault, imprisonment of a minor, disorderly conduct and harassment. 
During the reception, Aimers allegedly hit on a teen waitress and 'asked her to go outside and make out,' according to an affidavit of probable cause.
The groom propositioned the teen by saying they could do 'whatever you want,' she told police, adding that the experience had left her shaken.
The waitress said she rejected the groom- only for him to follow her into the women's bathroom, pulling her into a stall, where he allegedly groped her and exposed himself.
When the girl tried to pull away, Aimers continued 'to proposition her,' according to the affidavit, and at one point offered her $100.
Told Aimers allegedly at one point, 'Can you kiss me like you mean it?'
But it gets grimmer.
Matthew Aimers: 'I deny all charges.' 
Police later responded to reports of a fight at the country club and found the groom 'pushing and punching people.'
Aimers allegedly called officers derogatory names and tried to provoke a fight when they arrived on the scene.
A brief struggle ensued before police took Aimers into custody according to an affidavit.
A country club employee told officers the groom had punched him after he tried to stop him from bringing alcohol outside.
A report via philly tells of the man denying all charges against him according to his defense attorney, Louis Busico.
Aimers is scheduled to appear Feb. 21 at a preliminary hearing before District Judge William Benz.