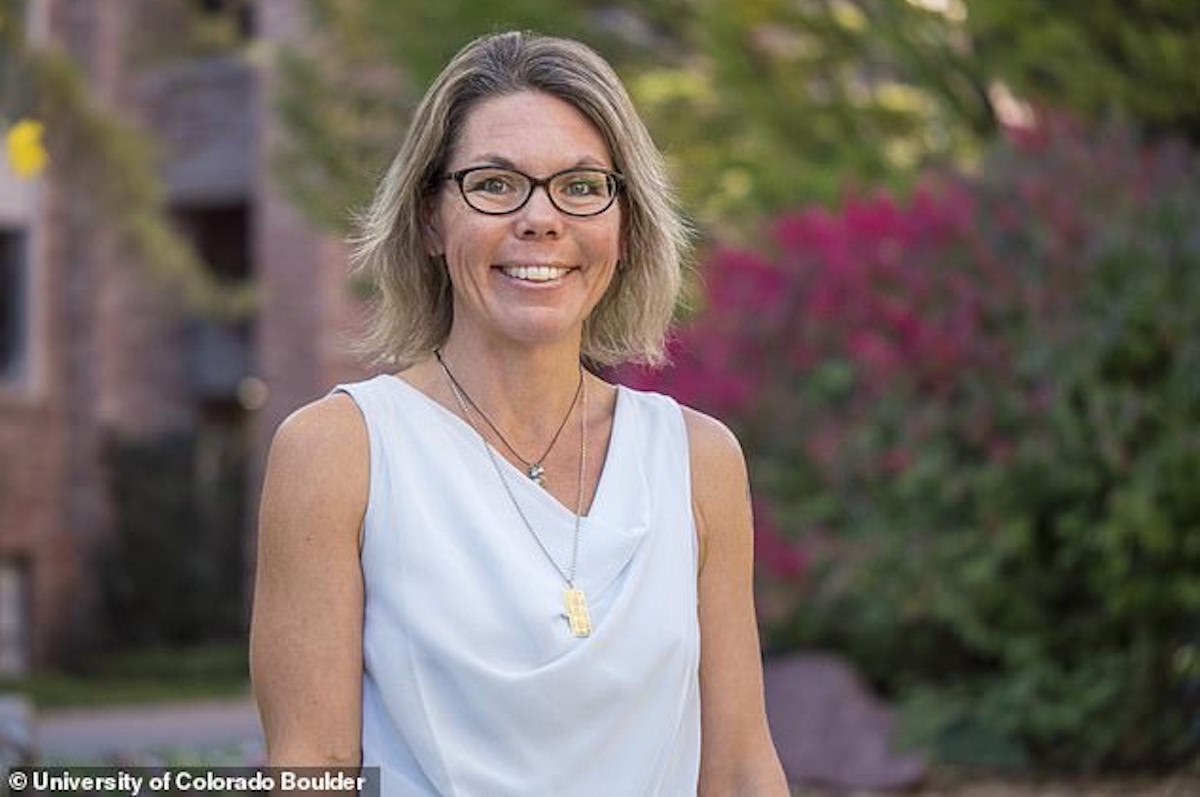 Amy Wilkins: University of Colorado Boulder- Associate Professor of sociology placed on leave and banned from campus after allegations of sexual misconduct over a decade. 
A female professor from the University of Colorado Boulder has been placed on leave and banned from campus grounds following allegations of having sent students 'intensely personal text messages' and 'requests to meet off-campus'.
Amy Wilkins, an associate professor of sociology, is accused of 'a pattern of sexual harassment and inappropriate conduct that spans more than a decade,' according the Chronicle of Higher Education.
Wilkins was 'placed on administrative leave on October 1, banned from the campus, and ordered not to contact seven people,' while university officials investigate. 
Wilkins is the subject of an investigation for sexual misconduct and harassment of people she supervised. The female educator is accused of 'pressurizing students to engage in inappropriate sexual conduct and conversations.'
A regard of Wilkins' online resume reveals the professor between 2014 and 2016 being the sociology department's graduate program director. 
Of note, Wilkins did not respond to repeated emails and phone calls from The Chronicle of Higher Education. The Daily Camera also reported calls to a landline listed under the educator's name also being disconnected. Removed was the educator's nameplate from outside an office, listed as hers on her CU employee page, in the Ketchum Arts and Sciences building.
"We offer more details and necessary context about ongoing behavior patterns, and we offer reflections on the conditions under which those behaviors could occur." Former and current students add details to allegations against Colorado Prof Amy Wilkins: https://t.co/aKhzvqthjQ

— Dan Hirschman (@asociologist) November 5, 2018
@c_j_pascoe Re: Amy Wilkins-type abusers in depts, etc. Did her colleagues know? Did her friends know? Those who knew need retraining. Maybe victim impact panels, along with clear policies against sexual coercion, etc. And no safe havens for abusers, please. #metoosociology

— ExposeProfMichaelKimmel (@ExposeProf) November 6, 2018
Amy Wilkins: University of Colorado Boulder- Associate Professor crossing the lines of personal and professional involvement:
CU spokesman Ryan Huff confirmed that Wilkins was on paid administrative leave. He declined to comment further, citing personnel privacy laws and policies. 'Excluding someone from campus is a decision made on a case-by-case basis,' he said. 
In one alleged incident- a student who met Wilkins in the fall of 2006, when she was a junior sociology major, told of chatting with the professor after class and dropping in on her during office hours. 
The then student accused Wilkins of kissing her and saying the relationship 'intensely skyrocketed.' 
Adding, 'It became physical, she said, and Wilkins talked with her about her sex life.'
'When gossip began circulating about them during the student's spring class with Wilkins, her professor became more distant.'  
Another graduate student 'said the professor tried to engage her in discussions about Wilkins's own sex life.' 
Wilkins was also said to invite students to meet up in bars.
CU's Sociology Department is no stranger to controversy. It appears Wilkins alleged misconduct may have been a byproduct of prevailing attitudes. 
According to the dailymail– in 2017, the department chair Don Grant stepped down after allegations by a woman who said she'd been harassed by someone in the department. Grant said the allegations were false and denied he was stepping down because of them. No evidence of harassment was found by university officials. 
In 2013 and 2014, the department hit national headlines concerning a class on deviance taught by Professor Patti Adler. Adler had employed undergraduate teaching assistants to portray various types of sex workers and pimps. CU launched, then dropped, an investigation when no formal student complaints were filed. Adler has since retired.    
The university has a conflict of interest policy in place that bans intimate relationships between faculty and students. 
Yet to be necessarily understood is what motivated the female teacher abusing her position of authority, trust and power in subjugating her targeted victims….