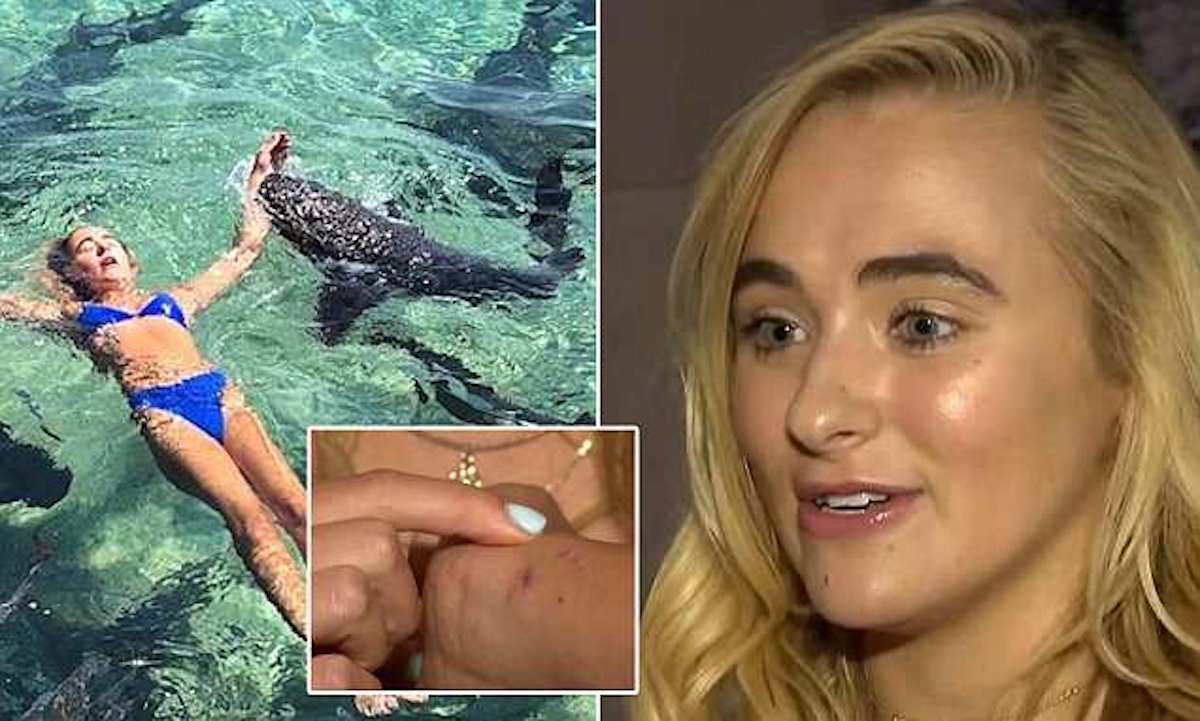 At what price followers? Instagram model, 

Katarina Zarutskie

attacked by a shark in Bahamas during photo shoot in which she denies 'stunt' in bid to gain extra followers. 
An Instagram model from California has told of having an 'amazing experience' after nearly being a victim to a shark attack during a photo shoot in the Bahamas.
It all happened while Katarina Zarutskie, 19, a nursing student from Laguna Beach and aspiring social media star was on holidays in the Exuma Islands with her boyfriend and his family when she found out about locals swimming with nurse sharks and thinking it would be 'fun' (and 'safe') to try. 
'My boyfriend's family was freaking out when I went to swim with the sharks and I was like, 'It's fine,'' Zarutskie, a nursing student at the University of Miami, told via NBC News.
But it wasn't exactly fun and nor was it very safe either.
Following a few minutes of posing in the water, Zarutskie was encouraging to lie back and float in the water, where the occasional nurse shark was flitting away (cause who doesn't like increasing the social media stakes and nailing ever more daring photos to be the envy and following of….).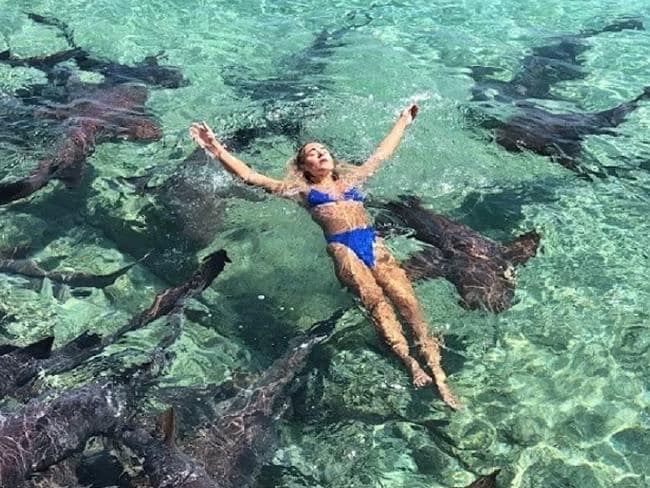 Katarina Zarutskie instagram model: 'And that's when it bit me…'
Easier said than done. Or nearly.
'At this point people were starting to take photos and right as I lay back,' Zarutskie told via the BBC.
Her boyfriend's dad, who was snapping pictures, captured the moment a 1.5m shark sunk suddenly sunk its teeth in the Instagram model's hand. 
'When he bit me, supposedly it sounded like a big vacuum seal,' she said. 'Next thing I knew I was underwater.' 
'He had my wrist in his mouth and I could feel his teeth sinking into my arm,' Zarutskie offered. 'I was pulled underwater for a few seconds and then ripped my wrist out of the shark's mouth as fast as I could.'
The resulting photographs show Zarutskie covering her wound and raising her arm in an effort to stop the blood spreading in the water.
'I knew I couldn't get my blood in the water,' the social media model said. 'When they see blood that means food.' 
Told Zarutskie, 'At that point your body has so much adrenaline going and you just have to get out of the situation, but I stayed extremely calm'. 
Adding, 'I think if someone was screaming and flailing around it definitely could have changed the situation.'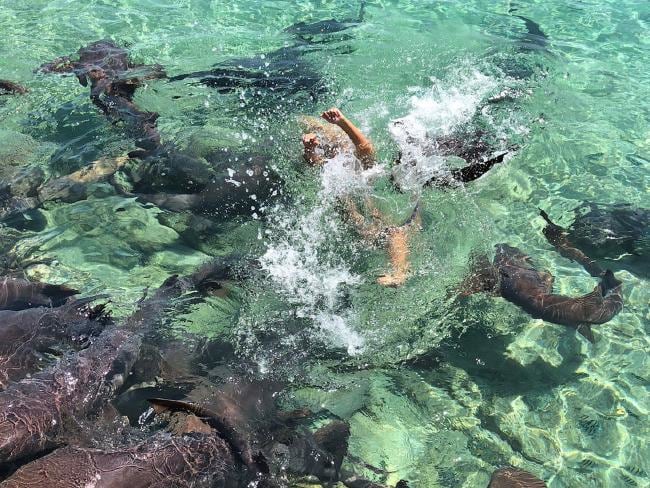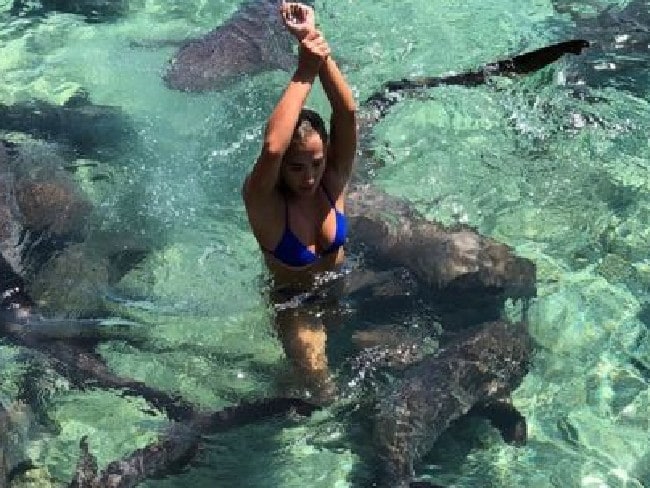 Katarina Zarutskie instagram model: 'It could have been worse…'
Rather than panicking and managing to keep blood from permeating in the water and alerting other sharks, Zarutskie was able to swim towards nearby steps and scamper out where she had to have stitches for her bite injury.
Despite being given antibiotics, the Instagram model with 45k followers decided to fly to Florida the next day for further treatment.
"[The doctors] now believe that I still have pieces of the shark teeth in my arm and I will forever have a scar,' Zarutskie said, concerned that the injury could affect her modeling career.
Nevertheless Zarutskie acknowledged things could have been way worse, noting, 'I am so fortunate that I still have my arm and my life.'
Katarina Zarutskie instagram model: Did she risk stunt for fame and followers? 
David Hocher, who owns the Staniel Cay Marina, said the slow and sedentary sharks — which can grow to be 4m long — can sometimes be dangerous.
'These animals are considered quite docile but can and do bite on occasion,' told Hocher, 'normally when they mistake a hand or fingers for a piece of food.'
For added verification, Hocher pointed to sign at the marina warning guests that nurse sharks 'can and do bite' — and that visitors who want to swim with them must do so at their own risk. Not that there aren't many takers- judging from the immediately above Youtube video.
Zarutskie for her part claims not having seen the sign (never mind common sense) while conceding that she had been advised against swimming with the sharks.
'Against my boyfriend's wishes and his parents' wishes. They were just screaming at me not to do it,' the teen said.
The incident has since led to the Instagram star denying she performed the stunt in a bi to gain Instagram followers.
'They took the information they wanted and really spun the story in a way that I'm a stupid blond Instagram model,' Zarutskie told the BBC.
'I've definitely received a lot of rude and hateful comments from people that were saying ridiculous things,' she said. 'But it's the internet, right? I guess you know you have to take it with a grain of salt and it comes with the territory.'
Asked if she'd swim with the sharks again, Zarutskie said she had no regrets.
Offering, 'I don't regret it, and I would do it again to bring awareness,'
'Sharks are wonderful creatures and beautiful but you really need to respect them in their home and maybe not lean back.'