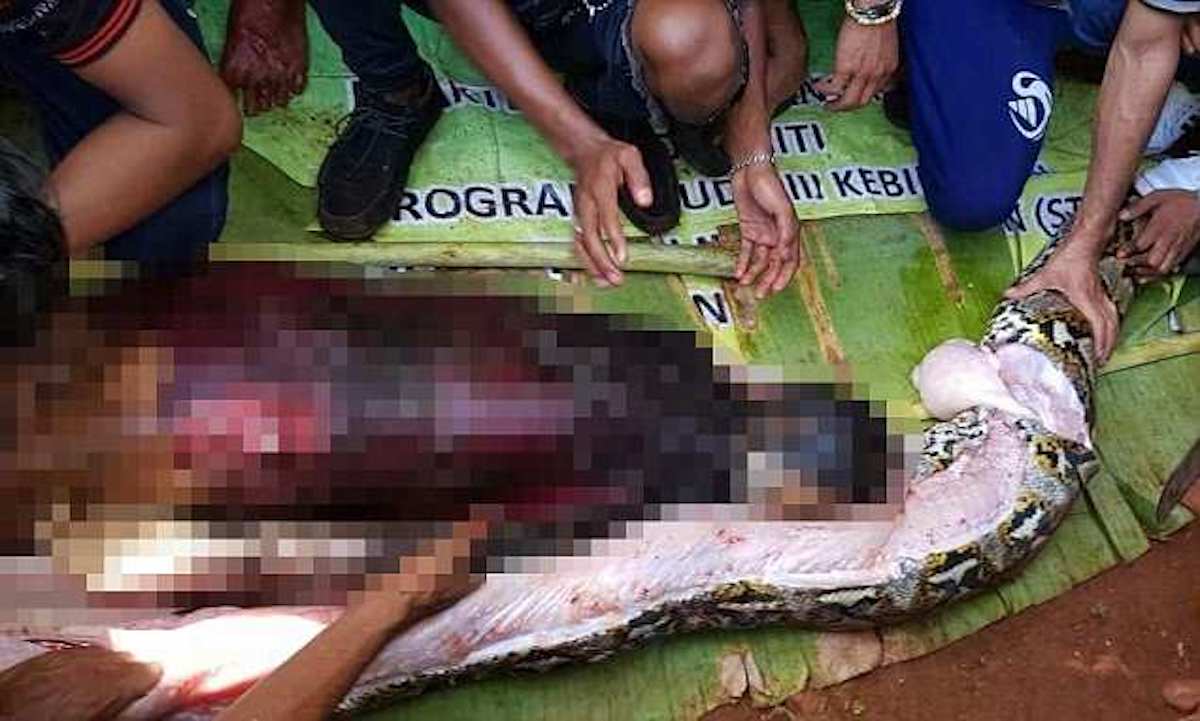 Wa Tiba Indonesian woman swallowed by giant python snake whole while tending to her vegetables. Attack comes as second in a year in the region.
Local Indonesian media has reported of a 54 year old woman having been swallowed whole from a giant python snake.
The incident which took place on the island of Muna in the southeast province of Sulawesi, Thursday night, claimed the life of Wa Tiba while tending to her vegetable garden. At the time, the 54 year old woman had gone to check on her stock after becoming concerned about wild boars getting into her corn, planted about a half-mile from her house.
Alarms were raised when the woman hadn't returned by sunrise Friday, her sister went to look for her. 
She found only Tiba's footprints, her flashlight, her machete and slippers.
Her family and nearly 100 other villagers mounted a search, and discovered a 23-foot-long reticulated python about 150 feet away from her belongings. It was upon coming across the bloated snake which could barely move that villagers suspected the demise of the missing woman.
Having killed the python, villagers cut open the reptile, only to be aghast as to what they found.
#16Jun VIRAL | mujer que estaba desaparecida fue encontrada muerta dentro de una pitón en #Indonesia.

Habitantes de la zona sospecharon que la culebra se había tragado a Wa Tiba, de 54 años porque vieron a la serpiente hinchada cerca de vivienda pic.twitter.com/MkJxNun34a https://t.co/q2AqQdVlpk

— Jade Delgado Huggins (@jadesdelgado) June 17, 2018
Endonezya'nın Muna Adası'nda kaybolan Wa Tiba adlı kadın, yaklaşık 100 kişinin katıldığı arama çalışmaları sonucunda 7 metre uzunluğundaki dev bir pitonun karnında bulundu. pic.twitter.com/hM6NEOtWch

— Onedio Gündem (@onediogundem) June 17, 2018
Wa Tiba Indonesian woman swallowed from her first by giant python snake whole:
Told local police chief Hamka via the Bangkokpost, 'Residents were suspicious the snake had swallowed the victim, so they killed it, then carried it out of the garden," 
'When they cut open the snake's belly they found Tiba's body still intact with all her clothes'.
Adding, 'She was swallowed first from her head.'
Offered local resident Ayu Kartika, 'Everybody was crying, everybody was shocked. The poor woman. 
'This is like a horror movie. People are terrified. We are scared to go outside. We can only pray for a safety.'
The death according to x is the second of its kind in less than a year involving a giant constrictor swallowing a human being.
Faris said the woman's garden, about half a mile from her house, is located in a rocky area with caves and cliffs believed to contain many snakes.
Wa Tiba was probably killed before she was swallowed. Pythons typically grab onto their prey with dozens of sharp curved teeth and then squeeze it to death before swallowing it whole.
Reports of humans being killed by pythons are extremely rare. The snakes which usually top 20 feet (6 meters) generally eat monkeys, pigs and other mammals. Attacks on humans are supposed to be as rare as winning the lottery and being struck by lightning at the same time. 
But a similar attack on a human took place on another Indonesian island in March 2017, when a 25-year-old man, Akbar Salubiro was swallowed whole by a python in West Sulawesi province.
Reticulated pythons, the longest snakes in the world, are common in Indonesia and other parts of Southeast Asia.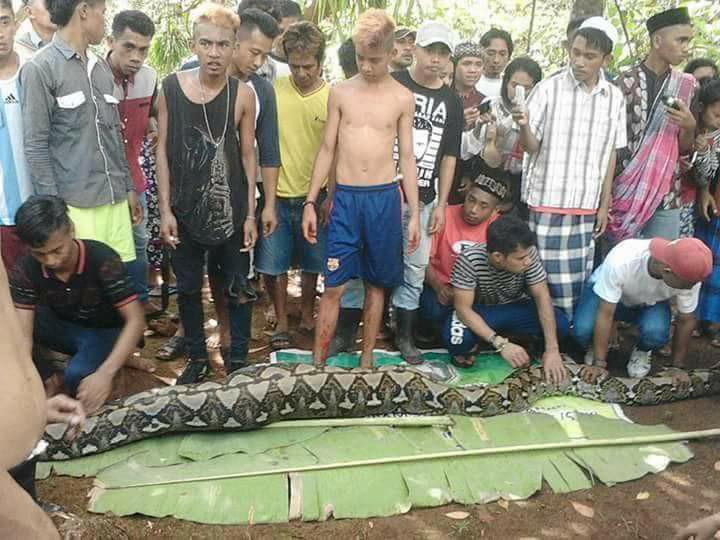 Robert Nababan photos: Indonesian mans fights to the death with giant python snake
Photos: Akbar Salubiro Indonesian man eaten alive by python found.
Graphic pictures: Python snake eats crocodile after 5 hours battle.
William Buchman, teacher arrested after finding 400 dead pythons.
Security guard strangled by 15ft long python in front of luxury Bali hotel.
Python eats man in India. But is it just a hoax?
Video: Here is a python snake regurgitating a fully grown dog.
Woman eaten alive by giant python #WaTiba https://t.co/Rwu3a8dyAX

— Annie Gracia (@AnniePagtolonan) June 17, 2018