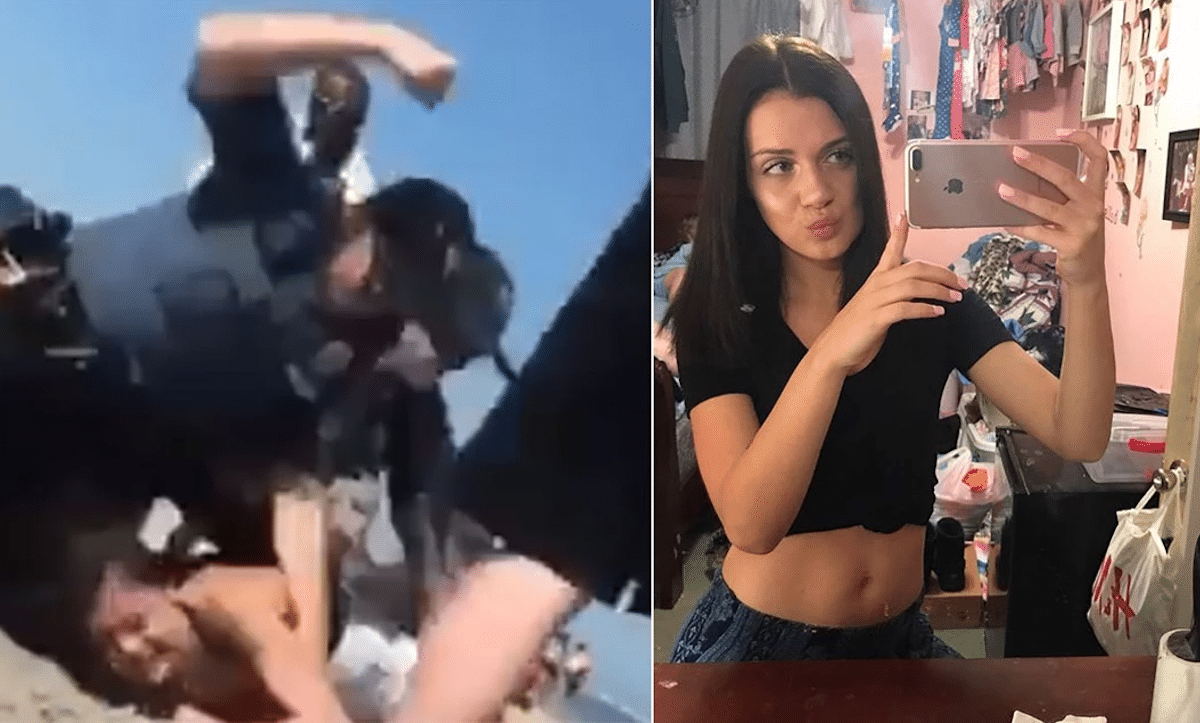 Victim? Emily Weinman NJ beach punching in the head video. Debate surfaces after a beachgoer is videotaped being beaten by a Wildwood Beach police officer after not fully complying with orders. 
Causing disconcert this memorial weekend in the US are disturbing images of bikini clad woman, Emily Weinman being repeatedly punched in the head by a New Jersey police officer.
In a since removed post on Facebook, the Philadelphia based woman insisted she didn't do anything wrong when she suddenly found herself being 'restrained' while suntanning at NJ's Wildwood Beach. 
In a 50 second video post (see below as filmed by Lexy @HewittLexy ) which found its 'viral' way on social media, an officer can be heard imploring repeatedly, 'stop resisting'.
Another officer meanwhile is seen hitting her not once, but twice in the head before body slamming her on her back.
How's that tan Emily?
'I'm not resisting. I didn't do anything wrong,' Weinman is heard saying as she kicks her legs at the officers. 
Retorts Weinman as officers continue to hold her down and now handcuff her, 'You're not allowed to hit me like that.'
I was sleeping on the beach and I woke up to this.. i can't believe it.. pic.twitter.com/UJE5Sy7E4G

— Lexy (@HewittLexy) May 26, 2018
Just putting it out there I'm only sharing what I saw happen directly in front of me. I am not anti-police I'm just sharing what I saw.

— Lexy (@HewittLexy) May 27, 2018
Police officer in Wildwood, N.J. punching a black woman who decided to take her daughter to the beach on Memorial day weekend. Alcohol was near her vicinity, and officers asked her to take a breathalyzer test, which she passed. She was beaten after. #EmilyWeinman pic.twitter.com/CYTxeOGXnH

— StanceGrounded (@_SJPeace_) May 27, 2018
Emily Weinman NJ beach punching video: Did one beachgoer push her luck?
Flummoxed beachgoers are seen recording the unfolding incident while a baby is heart in the background crying.
The crying child happened to be Weinman's 18-month-old daughter who was being held by her father when her mother was arrested. 
In her initial post, Weinman claims the imbroglio igniting when cops approached her on their four wheelers asking her and her friend for their ages after spotting alcohol near their persons.
Posted Weinman at the time, 'I had alcohol, it's Memorial Day weekend and 90 per cent of people are underage drinking on the beach, without a doubt'. 
The pair cooperated with the officers and gave them their ages before getting breathalyzed. 
Continued the woman's post, 'It came back negative. I told them I wasn't drinking and the alcohol was clearly closed/sealed, which the cops seen'. 
Weinman said the cops still stayed near them, with one even following her when she walked away to make a phone call.   
Continued Weinman, 'I asked them don't they have something better to do as cops than to stop people for underage drinking on the beach, saying to that there's so much more serious stuff going on… the cop said, "I was gonna let you go but now I'll write you up" and he asked my name.'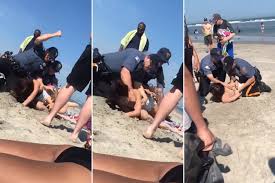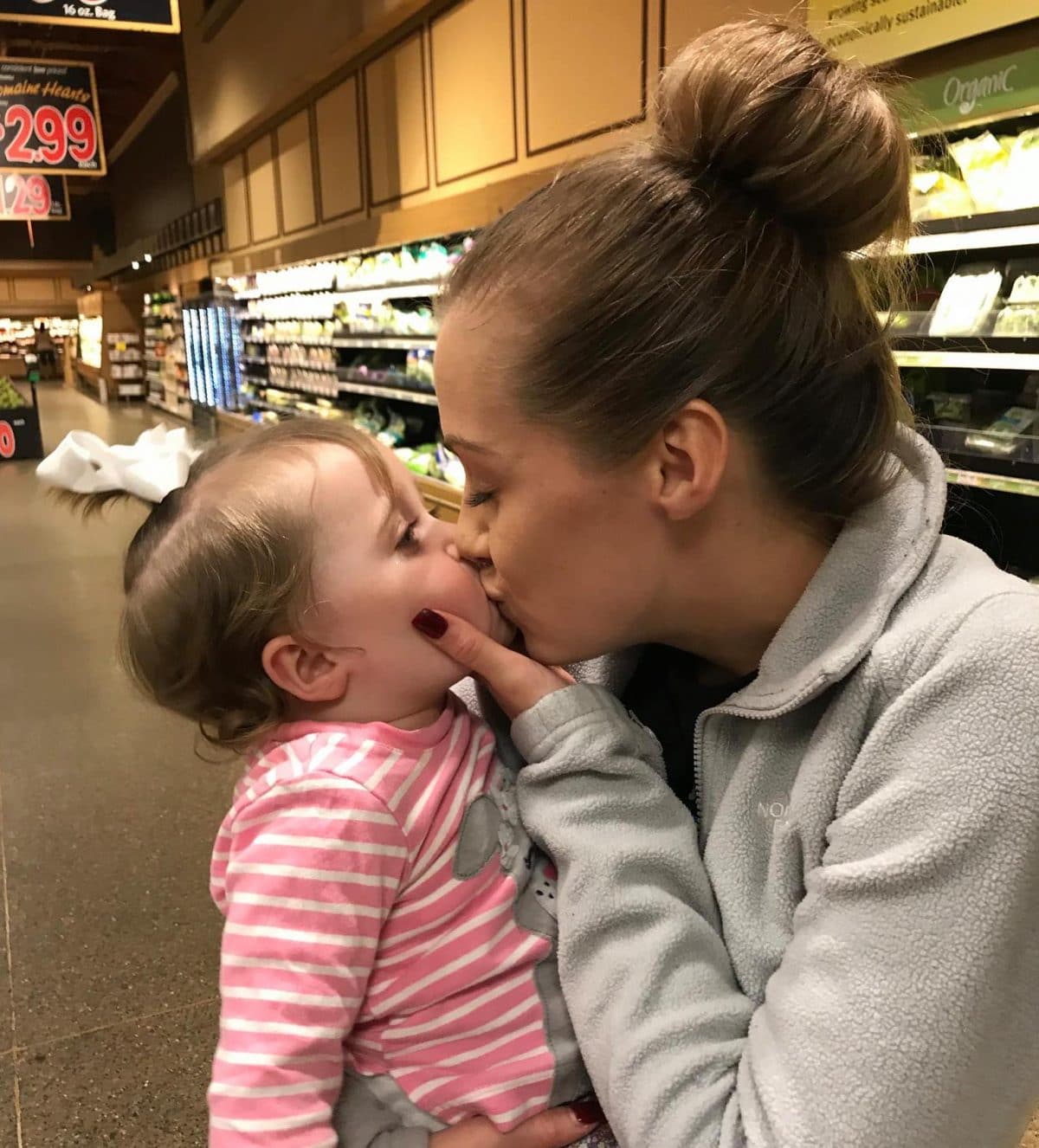 Emily Weinman NJ beach punching: Police going overboard? 
Weinman said that she didn't 'do anything wrong and anything could've been written down on that paper so I wouldn't give it to him'. 
She said the officers told her that they were going to arrest her despite her telling them that she was at the beach with her young daughter.  
'He told me he's arresting me and started coming towards me to put handcuffs on me. I cautiously was backing up from him (facing him) and yelled for my daughter's father,' Weinman wrote. 
From there, Weinman said she 'tripped and fell and the cop tackled me to the ground and smashed my head into the sand'. 
Weinman said she blacked out and tried to get up and push the officer off of her. 
Continued Weinman, 'That's when he head locked me by [putting] his arm around my neck, punched on me in my head and then he head locked me again but this time choking me, I was gasping for air'. 
Weinman admitted that she should've just given the officer her name to avoid the incident, but 'the whole situation was iffy and I didn't trust it' she said. 
She also said that she is underage, but she hadn't been drinking. She said she shared the video because the 'situation was handled wrongly and blew out of proportion'.
Upon being handcuffed, Weinman claimed the officers not bothering to take the beer that was next to her. 
The woman said she believes police were there just 'to stir the pot'. 
The officers in the video are from the Wildwood Police Department. 
Officials confirmed that the video took place on a beach near East Schellinger Avenue.
Wildwood Police come Sunday released a statement (see below) in which the police department said an internal affairs police investigation has since been initiated. 
Predictably the 'incident' has led to debate, with many on social media claiming that Woodward Police went overboard, while others  (see below) claimed police had no choice after Weinman refused to obey orders. Which is to wonder at what cost in a civil society? 
BREAKING – Wildwood Police issue following statement about police altercation on the beach. Emily Weinman, seen being punched by an officer, has been charged with aggravated assault on an officer and other counts. @CBSPhilly pic.twitter.com/oSu2TgFXYT

— Joe Holden (@JoeHoldenCBS3) May 27, 2018
@NorthWildwoodPD Does your P O feel like a tough man after punching young #EmilyWeinman in her head repeatedly? Under no circumstances should a man ever raise a hand/fist to a female of "any" age in uniform or not, Stand against all #abuseagainstwomen

— Hakam (@Poselay) May 27, 2018
Hurrah for the Wildwood Police Department. Emily Weinman is clearly an entitled princess who had a baby before she was 21 (out of wedlock, I'm guessing, showing lack of morals, IMO) and who thinks she can do what she wants, where she wants. She is NOT a victim.

— Michael Crook (@TheMikeCrook) May 27, 2018
Reading up on Emily Weinman. No grown woman would act as she did. She claimed that underage people were drinking on the beach, not realizing that underage drinking is a serious crime. Her actions and choices justified the cops' actions. I support @WildwoodPD (past resident).

— Michael Crook (@TheMikeCrook) May 27, 2018