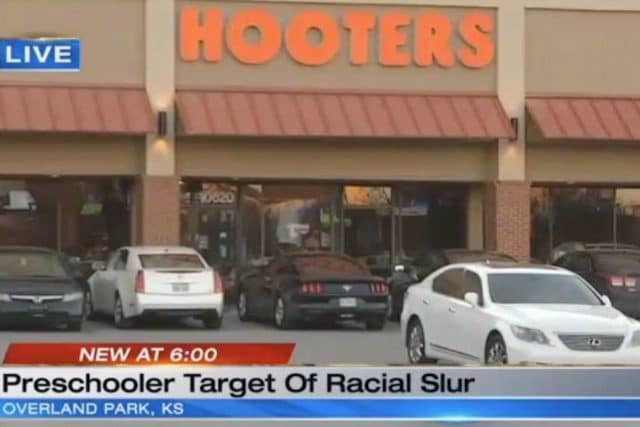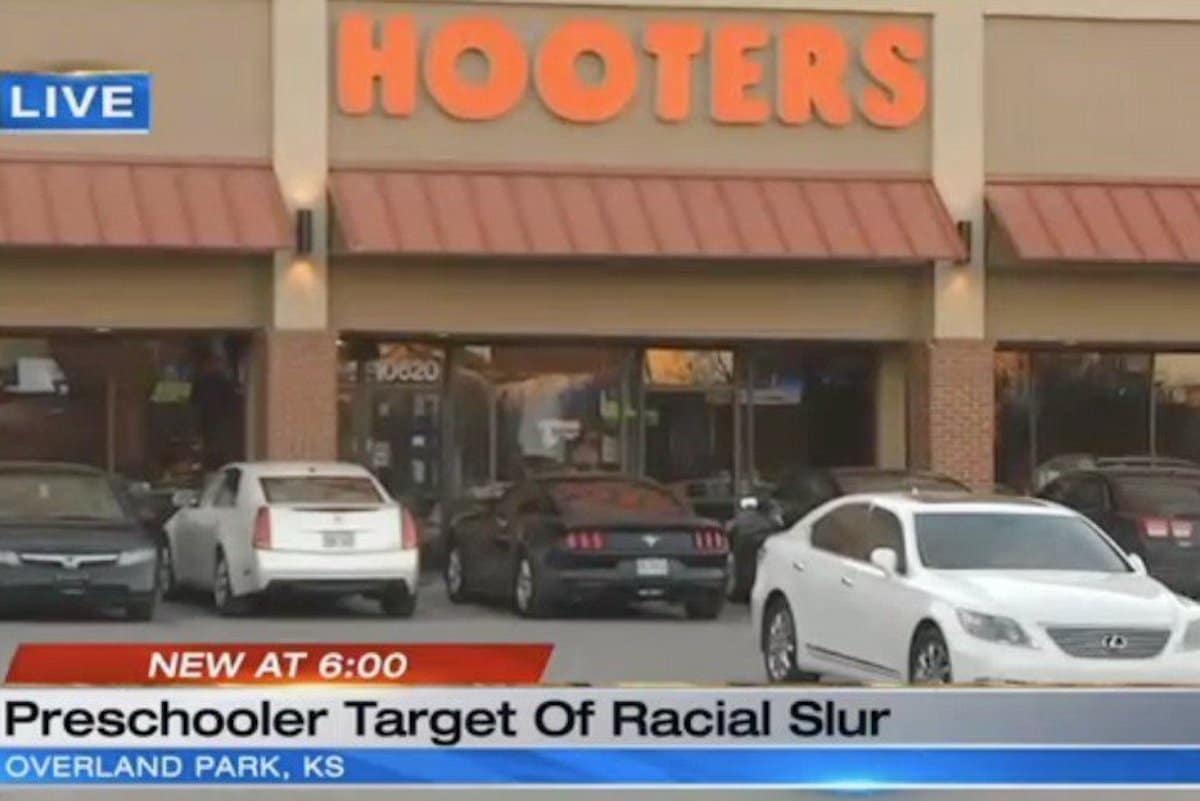 An Overland Park Hooters first responder firefighter is to face charges after spitting on a black toddler boy and calling him a racial slur at a Kansas outlet. 
Charges are pending against a white firefighter, identified as a first responder after allegedly spitting on a three year old black toddler boy and calling him a derogatory racial slur at a suburban Kansas fast food outlet, Hooters.
The indict happened Monday night at a Hooters restaurant in Overland Park, Kansas.
Police Sgt. John Lacy told The Kansas City Star that the suspect is a first responder, but didn't say for which agency. Lacy says the person doesn't work in Kansas.
Police told KCTV that possible charges could include battery and making a criminal threat. Police haven't released the person's name.
Witnesses and family members of the child said the suspect called the child, who is black, a slur while saying someone should get the child 'up off the floor.'
'He basically said get that little n***** up off the floor,' a witness told via KCTV.
'The n-word started to get thrown around.'
Overland Park Hooters first responder racial slur: 'It's okay, I'm a fireman'.
The altercation happened when the toddler wandered away from his family and another family member had to chase after him.
The witness said he was dumbfounded when he heard the suspect utter the slur, and said he thought a fight was about to break out.
When police arrived at the restaurant the witness said he was even more shocked to find out the suspect was a first responder himself.
'I didn't catch what the officer said to him, but his immediate response was "It's okay, I'm a fireman," like that was supposed to blanket cover everything for him,' the witness explained.
The toddler's family members also spoke to the outlet, but would not name themselves for fear of retribution.
'My whole body just went numb,' the child's grandfather told KCTV.
'How could someone do that to a child? He's helpless. He didn't deserve that.'
Police say the boy's family was at the restaurant celebrating a birthday.
Noted a released statement from Hooters on Saturday, 'Hooters does not tolerate any harassment or discriminatory language, the safety and well-being of our guests and employees are our utmost priorities,' the restaurant said. 
'Of course it goes without saying that our policy is to fully cooperate with any law enforcement investigation.'  
Welcome to a brave new America….