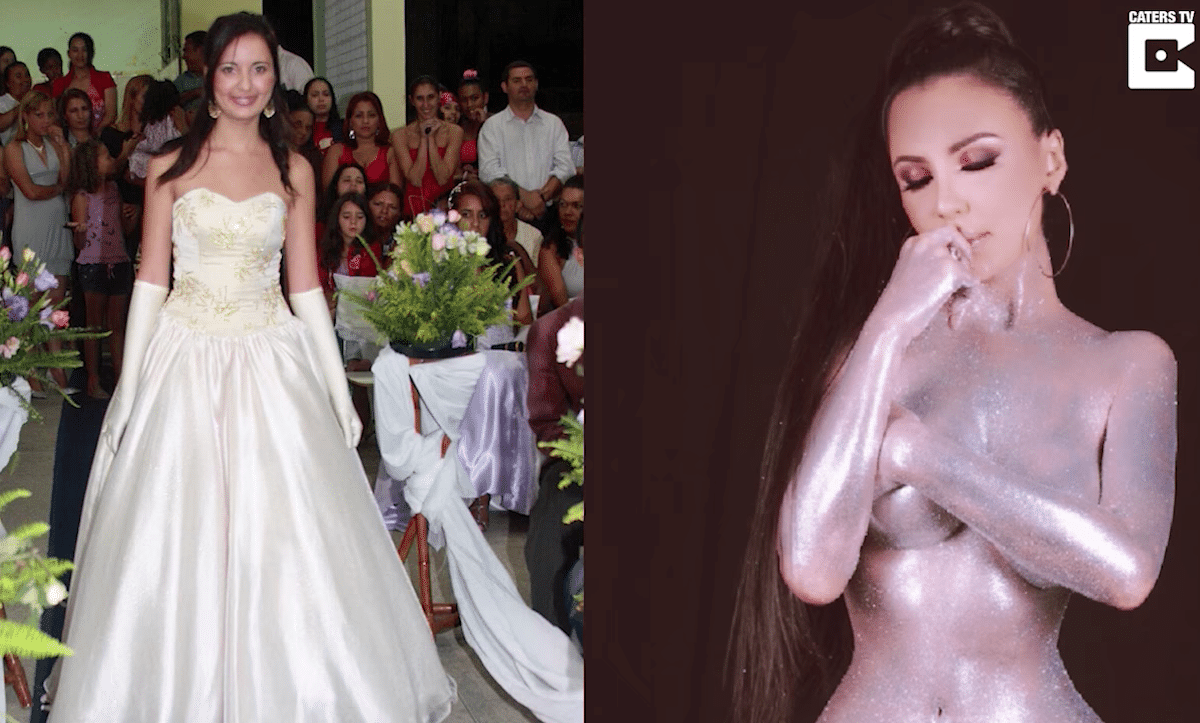 Meet Kim Kardashian wannabe, Sao Paolo, Brazilian businesswoman, Jennifer Pamplona as she embarks upon her new identity and $500K ascent into the beauty stakes. 
A 25 year old businesswoman from Sao Paolo, Brazil has fulfilled her desire to look like reality star, Kim Kardashian after spending $500K on cosmetic procedures.
Sample body changes include having four ribs removed to four pints of fat injected into her buttocks. That's on top of breast augmentation, fat injection into her thighs, a second nose job, swapping out cheek fillers along with a fresh facelift. Other 'touch ups' include new veneers, lip fillers and a new and improved liposuction. 
Despite only just now recuperating after having gone under the knife courtesy of Turkish plastic surgeon, Dr Bulent Cihantimur, Jennifer Pamplona is already planning a new set of augmentations, including further enlarging her derriere.
Explains the aspiring beauty who has been cautioned by her doctor from pursuing further surgery, 'After all my surgery and procedures I'm pretty happy, sometimes I think all the money I spent could be in my bank account but at the same time I'm so happy.
'I have spent a lot of money, but I feel very confident with myself and have the power to make more money because of my looks.'
So hopeful is Pamplona that her new plastic surgery will change how the world sees her(self), the former businesswoman and now aspiring model reckons her latest procedures will ensure that she will be able to model all the way into her late 60's.
Reiterated the aspiring beauty via Caters News Agency: 'When you're not happy with yourself, feeling upset and not great, you're not going to succeed, now I love myself and I feel happy looking in the mirror.
'If I had to, I definitely would do it all again, all of the surgeries and procedures, but for now I know it's time to focus more on my career, life and business.
'I chose this photoshoot style, because it's similar to some of Kim Kardashian-West's most famous photographs.
'I love when Kim Kardashian does these photoshoots, for me she looks beautiful and I feel like I look great too.
'I gain more confidence every time I do a photoshoot without clothes on, I feel comfortable posing naked with body paint now and could be doing this for a long time.
'When I saw these photographs, I thought it was the most beautiful one I have ever done, I have a more mature look now.
'I think I will still feel confident doing naked shoots into my old age, I did all of my surgeries to remain beautiful – whether I'm 30, 60, 70 I'll still be beautiful, with age comes beauty too.'
Jennifer Pamplona: 

'I wanted to have more done to my butt, but for some reason my doctor said no….'
Pamplona's dizzy ascent in the aspiring fame and beauty stakes, follows the death of her boyfriend Celso Santebanes, who was also was well known for his 'modified look.'
Encouraged to 'follow in his footsteps' and to 'live her dreams', Pamplona went on to have no less than nine back to back surgeries in the space of 24 hours.
But that it seems was just the beginning, with the aspiring Kim Kardashian look alike saying she can't wait to now make her butt even bigger.
Explained the aspiring beauty star, 'I wanted to have more done to my butt, when I travelled to turkey, I wished I could do it then, but my doctor has refused.
'He said he would not do it currently, but maybe in the future we can, I never say never, especially when talking about surgery.
'My doctor thinks I am addicted, so he put a stop on me if he didn't I would have kept on doing it, he didn't reject me because it's dangerous, he's just very responsible.'
But it's not just her body that Pamplona wants to continue changing, it's also her face too.
Explains Pamplona who is giddy with the prospect of more than ever looking like her Hollywood make believe hero:
'I wanted my face to look more similar to Kim Kardashian, when I woke up it was the most beautiful nose I could have seen, it looks very natural and not like I've had surgery at all,'
'He broke my nose and cut it to make it smaller, then worked to remove the fillers and reconstruct my face.
'He took out my cheek fillers and gave me a facelift to stop them from sagging with the weight.
'I see my body more like a woman's and not a girl anymore, I'm growing up and finding fewer insecurities with myself.'
Kim Kardashian'a benzemek istediğini ve bugüne kadar 11 ameliyat geçirdiğini söyleyen Brezilyalı model Jennifer Pamplona, burun, çene ve yanaklarını yaptırmak için İstanbul'a geldi. pic.twitter.com/bV20SNGffn

— ÇapaMag Magazin (@CapaMagMagazin) January 19, 2018
Jennifer Pamplona: 'A woman can stay sexy and beautiful, while still being honest with herself and the world….'
To celebrate the modifications, the aspiring model recently underwent a Kim Kardashian-West styled photoshoot.
Explained Pamplona: 'After my nose job I wanted to do something really nice, I wanted to show my body completely.
'It was very sexy, very amazing and using great colours that overall enhanced my confidence.
'I was five kilos (11lb) heavier too, I was not fat but a little curvier and felt very confident within myself.
'I don't like to be skinny, when I'm too skinny I don't feel great because I like bodies with curves and was very happy with all my results.'
Pamplona who is now taking advantage of her new looks and 'buzz' recently launched a perfume and chocolate line, with the aspiring beauty star saying she wants to show other women that they can be both sexy and a successful entrepreneur.
Contemplated the Kim Kardashian clone, 'People don't understand that beautiful woman can do business as well, some think beautiful woman are not smart.
'This is part of the reasoning behind why I like Kim Kardashian so much, she's really beautiful, very sexy, very smart and a savvy business woman.
'I want to show myself and others that I'm a confident woman but can still go to meetings and because I'm a business woman.
'A woman can stay sexy and beautiful, while still being great with business.'  
Jennifer Pamplona butt: How I injected $470K pints of fat to have a bum like Kim Kardashian
Pictures: Kathy Ferreiro, the Cuban Kim Kardashian and Worlds Best Booty. 
How Jo'Anne Patton, Kim Kardashian look alike earns $54K a year.
Jordan James Parke, male Kim Kardashian wannabe spends $150K to look like his hero.
Brazilian Woman Injects 4 Pints of Fat Into Her Butt To Look | https://t.co/hdAlc4VDKZ | #JenniferPamplona pic.twitter.com/Ugd9Vmwp4r

— Artarius Media (@ArtariusMedia) July 20, 2017