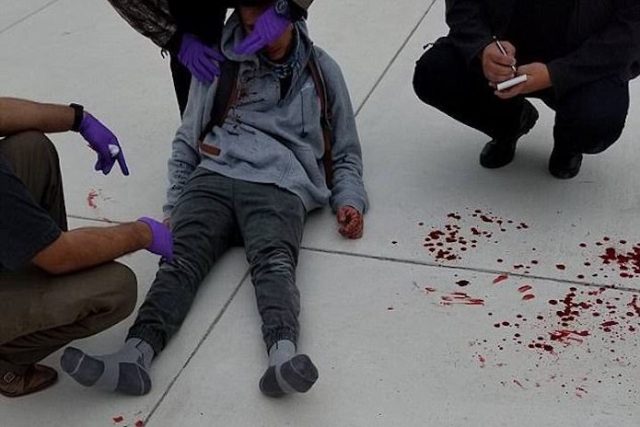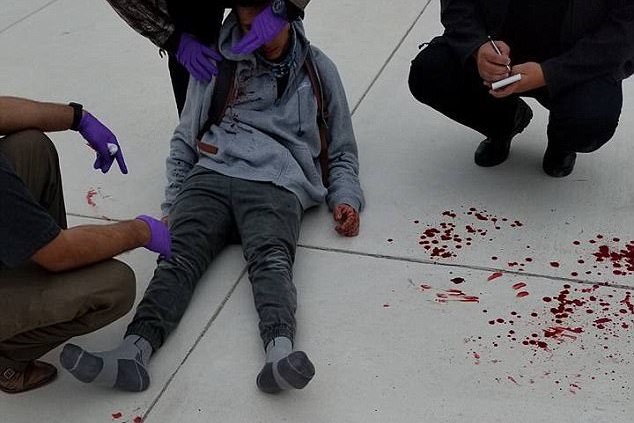 Valerie Ann Lozano bullied son beaten at Resnik Middle School; furore ensues after a San Antonio mother posts images of her son's beating blaming school members for failing to intervene.
Valerie Ann Lozano, a San Antonio, Texas mother has caused disconcert after posting 'graphic' photos of her teen son being bullied during one recent violent episode at the boy's school.
Lozano's son was in gym class when a school bully 'threatened to beat him up after school,' according to a report via KSAT. The mother claimed her son telling the coach that another student wanted to fight him, who'd allegedly responded, 'Don't worry, I got you.'
In the end, the coach did nothing to prevent the attack from happening claimed the mother.
Lonzano subsequently shared photos of her battered son following the fight, his bloody torso strewn on the ground with blood splattered around him.
The mother's postings come as Lonzano seeks to bring attention to what she believes is the school's lack of follow through in protecting her son and the degree of violence that takes place at the educational facility.
Posted Lonzano in Facebook following the attack, 'The Principal, my son and I had a meeting the next morning (and) the coach was called up to the front office for the meeting,'
The coach, according to Lonzano never showed up for the meeting.
Wrote Lonzano, 'I want something to be done about this because the coach knew my son was going to be in a fight (but) he never did anything about it this'.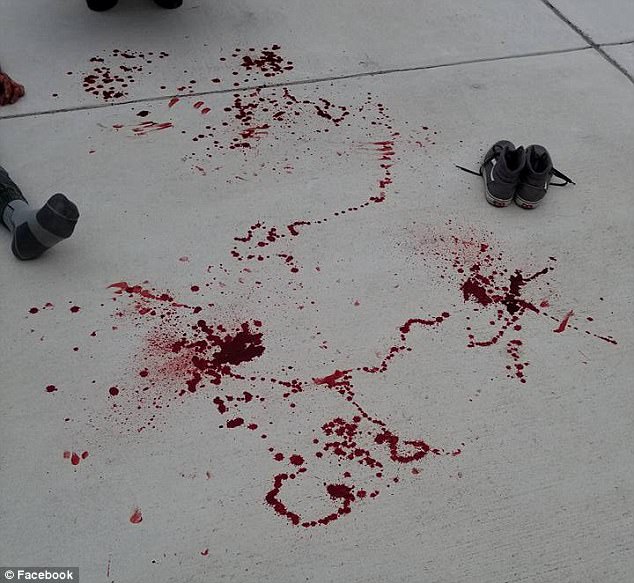 Valerie Ann Lozano bullied son: Are school officials going far enough to thwart violence?
Following the posting, Southwest ISD, the boy's school district, issued a statement saying that they 'take these types of matters very seriously.'
Read a statement from school officials, 'On Thursday, January 25, 2018 we had two students that were involved in an altercation in the bus loading area of Resnik Middle School. The altercation lasted about six seconds and was immediately intervened by one of our SWISD officers and a teacher',
'Both students received minor injuries, one was punched in the nose the other student was punched in the eye. Both received immediate medical treatment. Prior to Thursday, there had not been any incidents reported concerning either students. However this is an ongoing investigation and appropriate administrative action will be taken as needed.'
Following Lonzano's social media post, commentators condemned the school coach for failing to step in.
Wrote one commentator on the web, 'If you are a parent who has monsters for kids and refuse to acknowledge it, you are to blame. If you work with kids and DO NOT help, you are to blame. I am sick over this'.
While another posited, 'I recall when I was in school, there were good teachers who stepped up, and lame pathetic ones who pretended not to see children getting bullied by classmates'.
Others, however, felt that the coach shouldn't necessarily be held responsible if the fight took place outside of his class.
Wrote one commentator, 'Was the coach even present when this happened? A coach saying, I got your back, during PE does not extend to the entire day. That it happened is awful, but I think the mom's anger may be displaced. Texas law needs to change. I am a Texas teacher. Legally, if children get into a fight, I am supposed to call for support from someone with the right to restrain'.
Adding, 'Only certain teachers can do that. It is all ridiculous. If I ever need to protect a child, I will do that and then probably be fired. All of my children go to private school. There are so many children in regular ed classrooms that should not be in them. More and more people need to put their kids into private school.'
And then there were these comments too that made this author wonder, see what you think?
'Teach your kid how to defend himself. Not to fight but to defend. People raise there kids to be pussy's and wonder why they get beat up. You will never end bullying we all grew up with it and came out fine. Why is it such a big deal now?'
'Go after the school for damages. The school has insurance for things like this. You followed the proper procedure and the school staff failed to keep your son safe. Insist that the boy who threw the punch gets kicked out of the school. Get your son counseling and enroll him in self defense classes.'
'Schools are all talk when it comes to bullying. They put on programs and make lots of nice posters with catchy phrases, but there really is zero action taken to stop it.'