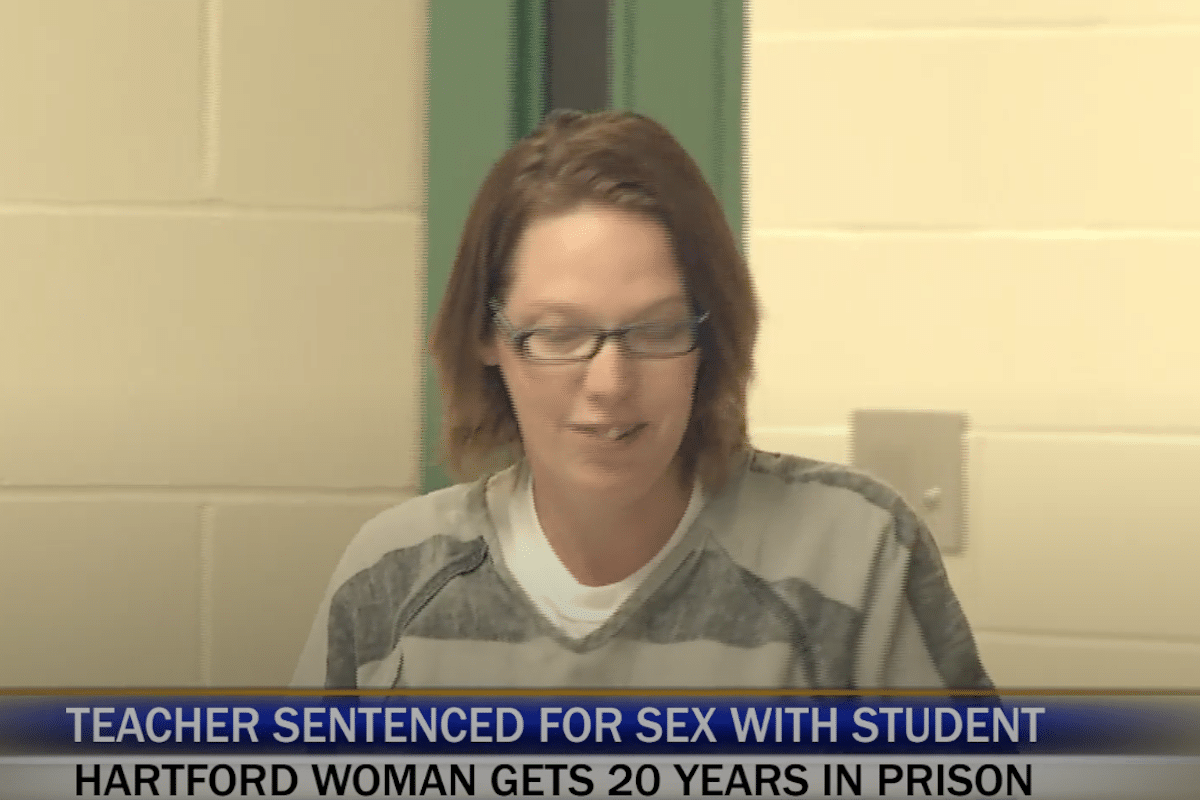 Kari Jo Boll a former South Dakota special educations teacher is sentenced to 20 years jail after maintaining an illicit sexual tryst with a teen male student in her charge.
Kari Jo Boll, a former special education teacher from South Dakota has been sentenced to 20 years jail after maintaining a three to four months long sexual relationship with a 15 year old male teen student.
The woman's sentencing comes after Kari Boll, a married mother of two had previously pled guilty to fourth degree rape and sexual contact with a child under 16 after admitting to having sex multiple times with the student, who was 15 at the time.
Boll initially faced 21 charges that could have led to a maximum 300 years in prison upon conviction. A plea deal capped the sentence at 30 years reported the Argus Leader.
Boll was a teacher at West Central High School for three years before her arrest in 2016. 
Court documents cited the then teacher saying her relationship with her victim beginning after the boy she had been tutoring started working at her Hartford farm. Soon after the boy allegedly told her his teacher he had feelings for her.
An illicit tryst between the female educator and the boy began in May 2016, continuing until shortly before Boll's arrest in August 2016.
Boll relapsed and violated bond in spring 2017 and made contact with the victim. A friend of the victim found out and spoke to Boll on the phone. Boll reportedly told the friend to "shut the f*** up" and not tell anyone.

— Danielle Ferguson (@DaniFergs) February 12, 2018
Kari Jo Boll victim mother: 'She taught my son it was ok to exist in a web of lies and deceit….'
The Minnehaha County Sheriff's Office launched an investigation into the suspected sexual misconduct after receiving information from a mandatory reporter, who provided several text messages in which Boll admitted to having a sexual relationship with the teen.
When interviewed by the authorities, Boll confessed but initially claimed she and the boy had waited until he turned 16 years old to have sex, because the age of consent in South Dakota is 16.
The married teacher later admitted that their affair began earlier, and that they had sex more than 20 times, including in her car, in a barn on her property and at her home.
Leading into Boll's sentencing, a certified sex therapist who'd been treating the former special education teacher for her sex addiction and trauma testified that Boll had made great progress in her treatment and that a long incarceration would undo any progress she had made. Never mind the long wrought emotional process her teen male victim and his family would spend a lifetime dealing with.
During Boll's sentencing hearing on Monday, the victim's mother read a statement to the court, saying the boy and his family have been greatly impacted by what had happened to him. 
'He was robbed. He was taught deception and lying is okay,' the mother said, before addressing Boll directing, 'I hope your kids never have to go through something like this,' reported KDLT.  
The mother added her son following the ordeal lacks knowledge on how to express feelings.
Following Boll's sentencing, the woman's husband and her mother claimed the former special education teacher could be rehabilitated, while vowing to be there for her when upon her release from prison. 
As she was being led out of the courtroom in handcuffs, Boll and her family said 'I love you' to each other.
Prior to her sentencing Boll had no prior criminal history, a factor that the presiding judge took into account, along with the fact of Boll abusing her position of trust, authority and power to sexually prey and subjugate her male victim.
Offered Judge Robin Houwman, 'A sex offense between a teacher and (student) is something greatly disturbing in our community,'
Adding, 'It's something every parent fears.'