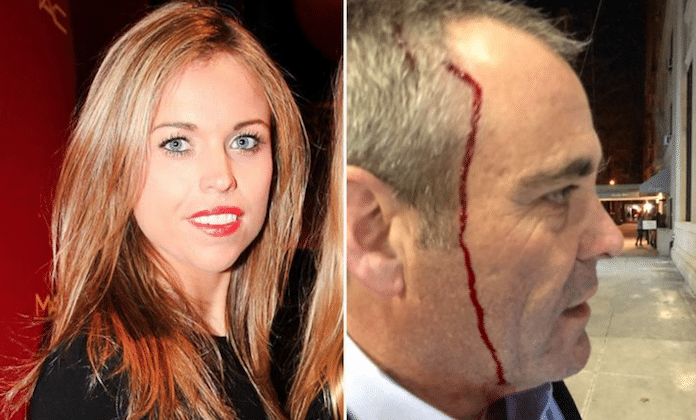 Socialite, Jacqueline Kent Cooke is accused of having gone on an anti semitic ran and beat down against a lawyer during New Year's Eve at a chic Manhattan eatery. 
Jacqueline Kent Cooke, the millionaire socialite daughter of former Washington Redskins owner Jack Kent Cooke — was arrested for assault Wednesday after allegedly making an anti-Semitic slur to a stranger at an upscale Manhattan restaurant and then beating the man him with her heavy glass purse on New Year's Eve, police sources say.
Walloped was Bay Area area, California lawyer, Matthew Haberkorn outside the Upper East Side restaurant Caravaggio, leaving the attorney with a bloody gash on his head reported pagesix.
According to the lawyer, Haberkorn had just finished dining with his wife, mom and four daughters at the venue where choice items include $55 veal chops, when according to Haberkorn, the socialite hurled the slur at his mom on the way out of the eatery.
'I went to the bathroom as we were leaving,' Haberkorn told via pagesix. 'She made a comment to my mother, 'Hurry up you Jew,' as she was getting her jacket.'
Added the lawyer, 'My wife goes, 'What did you say?''
Haberkorn's wife Linda Thomas, 51, reported the nydailynews told of Cooke responding, 'Hurry up, Jew. I got places to be.'
When Haberkorn confronted the woman about the comment, Kent Cooke responded by beating the man.
Told the lawyer, 'She clocks me on the head with her glass purse'. 
The purse is thought to be a Lulu Guinness Women Chloe Mirror Perspex Clutch, valued at $300.
But it gets better…
EXCLUSIVE: Millionaire socialite Jacqueline Kent Cooke accused of hitting a lawyer in the face with a glass purse, calling his mother a "Jew" in a dramatic UES scene caught on video https://t.co/Ev4Wal9Gap pic.twitter.com/mCAtLaLuzO

— New York Daily News (@NYDailyNews) January 3, 2018
Jacqueline Kent Cooke:

 

'Why don't you use your money to get a nose job?'
From there, Haberkorn told of the woman's boyfriend becoming involved with the socialite striking him again.
At some point, Cooke told the lawyer, 'Why don't you use your money to get a nose job?'
Cooke claimed that she was also hurt in the incident, sources said.
Haberkorn told The Post that the woman 'appeared' inebriated and fell down before running off.
Of note, at the time of the incident, Haberkorn said he didn't know who the woman was but got her name from restaurant workers, he said.
The nydailynews reports Cooke since repudiating the whole incident, insisting, 'I was here in my apartment.'
This despite Haberkorn having filmed parts of his 'exchanges with Cooke'. 
Cooke's finger was observed in a sling, with the socialite responding having gotten her finger stuck in a cab door and dislocating it. Do you suppose?
Haberkorn, his mom and one daughter are Jewish, but Thomas and her three daughters are not.
Back in 2007, Cooke sued the executors of her father's estate for $275 million, claiming that her $50,000 a year allowance wasn't enough. Her dad left behind an estate worth $825 million according to the Washington Post.
This is not the first run-in with the law for Jacqueline Kent Cooke. She was arrested in June 2008 in Boston for driving under the influence, according to Boston.com.
Come Wednesday evening, Cooke who went in at the 19th Precinct for questioning was charged with assault and was expected to be arraigned at Manhattan Criminal Court.