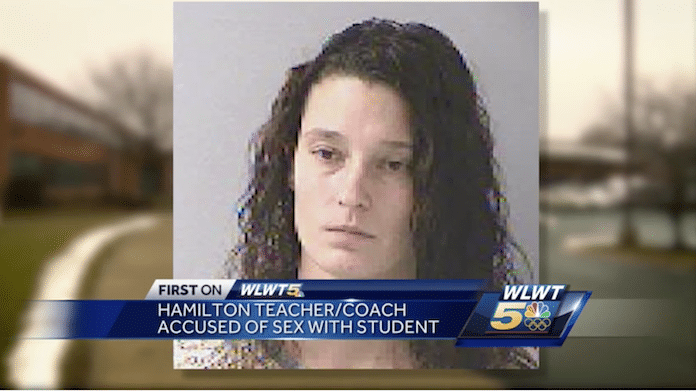 What led to 

Hilary Dattilo an 

Ohio, Hamilton High School volleyball coach and science teacher allegedly sexually engaging a female student? 
Hilary Dattilo a 30 year old married Monroe, Ohio teacher has been accused of carrying on a sexual relationship with a female student, according to police.
Come Tuesday, the Hamilton High School volleyball coach and science teacher was charged with sexual battery and contributing to the delinquency of a minor after reports that she was sexually involved with the un-named student, news station WHIO reported.
According to investigators, Dattilo allegedly engaged in sexual encounters with the student off-campus between Aug. 3 and Dec. 8, 2017.
The woman's trysts were exposed after parents of students tipped off police about the relationship allegations.
Told Hamilton police Sgt. Brian Robinson, 'A mother of a student at Hamilton High School was concerned about a possible inappropriate relationship that a staff member was having with her daughter, so she notified the school administrators at Hamilton High School.'
Court documents indicate the sexual encounter took place between Nov. 1 and Nov. 22 of last year. Dattilo is a volleyball coach at the school. Dattilo posted bond. She is on administrative leave from her job. @Local12 pic.twitter.com/0VO9furw39

— Brad Underwood (@BUnderwoodWKRC) January 9, 2018
Hilary Dattilo lawyer seeks low bond citing strong family ties.
School officials said Dattlio was placed on administrative leave following the accusations.
'As a result of an ongoing investigation conducted collaboratively with the Hamilton City Police Department, the Hamilton City School District has placed a teacher at Hamilton High School on administrative leave pending termination proceedings,' Joni Copas, school director of communications, told the Hamilton Journal News.
The Hamilton School District said Dattilo started working there last August.
Of note prior to coming on board at the school district as a volleyball coach, Dattlio had previously played the sport professionally.
Her attorney argued for a low bond saying Dattilo did not have a criminal record, lived in Butler County and had strong family ties. Her mother and husband were both present at the arraignment.
Dattlio is being held in custody on $5,000 bond.
To date it remains unclear what led to the female educator abusing her position of trust, authority and position of power to sexually prey on the female student.
Dattlio is scheduled to appear in court Feb. 8.
Hamilton teacher Hilary Dattilo was just arraigned. She's being taken in to custody. #wlwt pic.twitter.com/KKs2o9yRhf

— Karin Johnson WLWT (@karinjohnson) January 9, 2018