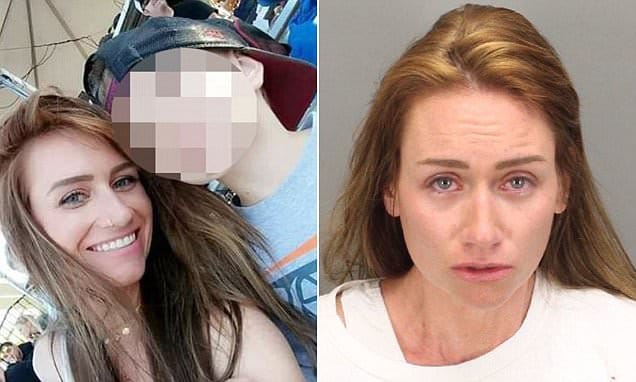 Samantha Ciotta a former Beaumont High School, California teacher is formally charged after video of her engaging with a teen student (and another teen) makes the rounds.
Former California, Beaumont High School teacher, Samantha Ciotta has claimed a teen boy she had sex with 'ruining her life' after appearing in court on Monday where she was formally charged with sexual assault.
Patch reported the ex English teacher and married mother of two being formally charged with oral copulation with a minor and unlawful sexual intercourse.
The charges follow a Snapchat Video of Samantha Lee Ciotta, appearing in only a 'shirt and panties' making the rounds after an alleged threesome the female teacher had with her teen student victims and a 19 year old teen.
The video led to cops soon after launching an investigation into the 32 year old teacher's 'extracurricular activities.'
A student who posted the footage reportedly told a friend he was 'Getting; in deep… been f— (Ciotta).' The other teen who appeared in a video told an unnamed adult that Ciotta — a married mother of two — had sex with a student.
Samantha Lee Ciotta Snapchat video: Teacher busted partying in panties with teen students
Samantha Lee Ciotta photos: Married teacher has sex with teen student
Samantha Ciotta teen victim relents and decides to talk to police investigators.
When police first questioned the former Beaumont student about his relationship with Ciotta, he angrily stated, 'I'm done and I've moved on. I'm not f— talking!'
The alleged victim told cops he 'tried to cover for Ciotta so she would not get in trouble.'
But he had a change of heart when he learned that the teacher — after having sex with the boy's 19-year-old friend — reportedly said her former student 'had ruined her life.'
'He decided to no longer lie for her,' documents filed in support of a search warrant state.
The boy, who was reportedly 16 at the time of the affair, told investigators he had sex with Ciotta at least five times and that she'd performed oral sex on him multiple times but that he had been 'intoxicated during most of the times.'
Ciotta allegedly had sex with her former student over the course of six months starting in June, after meeting him in a class she taught.
She was arrested Sept. 20 and remains free on $150,000 bond.
After her arrest, police searched her home and found a torn-up note addressed to her husband that detailed her relationship with the teen.
Cops also found the boy's school records in her home office, and said the teacher described herself as his 'advocate' because his mother is dead and his father is in prison.
His guardian was charged with child neglect in January, police records show.
Ciotta, who remains on paid leave from the school district, is set to appear in court Dec. 27.