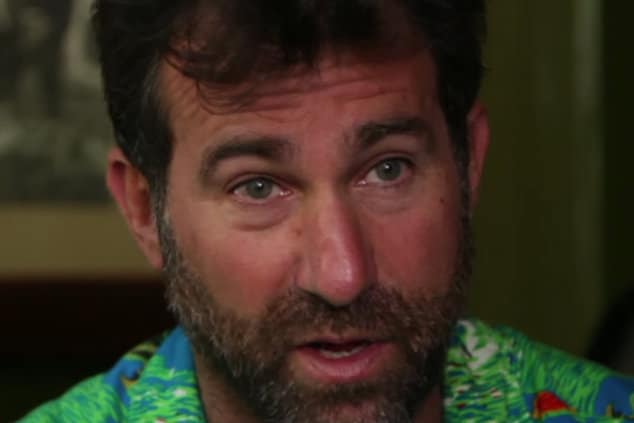 Ken Friedman 

Spotted Pig restauranteur takes permanent leave after nytimes sexual harassment expose: Bullying one's way into sexual favors.
Ken Friedman, the owner of NYC chic West Village eatery, The Spotted Pig and other notable establishments has taken 'permanent leave' following an expose which alleges the restauranteur sexually assaulted and harassed female employees.
According to a nytimes feature, no less than ten former female employees accuse the 56 year old restauranteur of routinely groping female employees and demanding sex and nude photos from them, all of which is allegedly took place on the third floor of the established boîte.
So rampant was the abuse, Friedman allegedly allowed, (steered?) 'buddies' to molest the female workers as well, with public sex ongoings coming to be well known and given the moniker of the rape room, presumably where some of he more serious infractions occurred, including doing drugs until dawn, Friedman forcibly kissing employees along with heavy touching, petting, biting body parts and sex as well.
Past workers told of Friedman having frequent consensual sexual relationships with employees. Openly hiring, promoting or firing servers based on their physical attractiveness along with accusing Friedman was often intoxicated at work and pressured staff members to drink and take drugs with him and guests.
According to one former longtime server, Trish Nelson accuses Friedman of once grabbing her head as she was kneeling down behind the bar, telling her 'while you're down there,' and pulled it toward his crotch in one 2007 episode in front of diners.
'Aside from hanging my head in painful humiliation, I did nothing,' Nelson wrote on Facebook in October. 'I can't even retell this story now without getting teary.'
A few years later, Nelson said, Friedman invited her to his car to smoke pot.
Then he lunged at her and stuck his tongue in her mouth, she said.
Soon after she gave her notice.
Workers told of living in fear and trepidation with the knowledge that Friedman had retaliated against employees who stood up to him by firing, blacklisting or harassing them via phone, text or email.
The workers said after hours, Friedman brought celebrity guests and buddies upstairs to a third-floor room — where nudity reigned, public sex occurred, where he and patrons groped the help.
Employees believe Friedman was basically able to continue unchallenged for years given the restauranteur's good-natured playfulness and generosity (pay off) which made it possible for them to ignore the fear, chaos and power imbalance in the relationship.
Notes the nytimes, 'Servers at the top of their game can earn six figures in a year. Working with Ms. Bloomfield confers prestige in restaurants around the world. Mr. Friedman has treated favored employees to after-work drinks, field trips to his beach house and top-tier concert tickets.'
The Spotted Pig — which opened in 2004 with the help of investors Jay-Z, Bono and celebrity chef Mario Batali, himself contending with sexual misconduct allegations and having now taken permanent leave — is one of a slew of high-profile restaurants owned by Friedman and top chef April Bloomfield. The pair also own city establishments such as the Breslin Bar & Dining Room, the John Dory Oyster Bar, Salvation Taco and White Gold Butchers.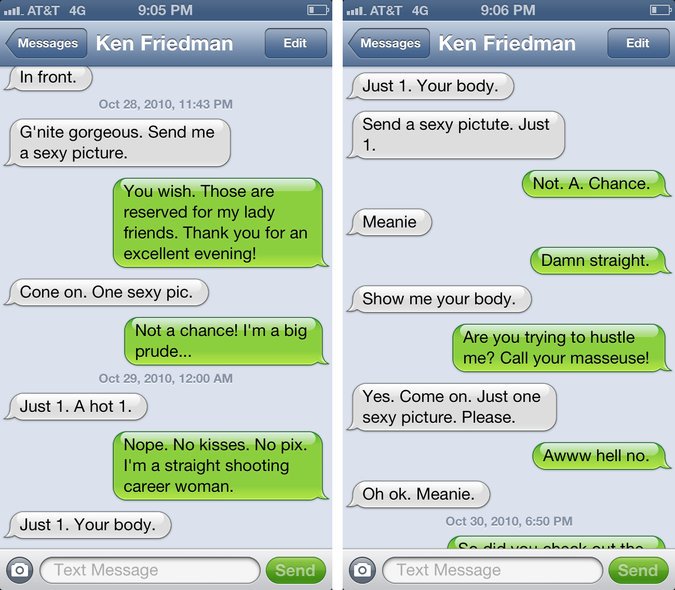 Ken Friedman Spotted Pig restauranteur complaints: 

'That's who he is. Get used to it. Or go work for someone else.'
Rza Betts, the former wine director at Breslin, said Friedman once suddenly kissed her in 2009 while they were at a new bar near the Breslin to check out its drink selection.
'In the moment, you are not thinking at all,' she said. 'He's your boss. You don't punch him. You just don't kiss back, and pull away and try to shake it off.'
She said she left — but then the texts started coming.
'G'nite gorgeous. Send me a sexy picture,' she said Friedman wrote.
According to the women featured in the times, any complaints they took to Bloomfield would be met with the following,  'That's who he is. Get used to it. Or go work for someone else.'
Come Tuesday, Friedman's company released a statement saying that the restaurateur, who is married to a former Spotted Pig hostess, will be taking an indefinite leave of absence from the management of his businesses.
Friedman had earlier said in a statement, 'I own my behavior, which can accurately be described at times as abrasive, rude and frankly wrong. The women who work at our restaurants are among the best in the business, and putting any of them in humiliating situations is unjustifiable. Some incidents were not as described, but context and content are not today's discussion.
'I apologize now publicly for my actions.'
Bloomfield for her part denied she'd ignored complaints against her business partner.
Told Bloomfield in a statement, 'In the two matters involving uninvited approaches that were brought to my attention over the years, I immediately referred both to our outside labor counsel, and they were addressed internally,'
Adding, 'I have spoken to Ken about professional boundaries and relied on him to uphold our policies. Nonetheless I feel we have let down our employees and for that I sincerely apologize.'
Will you be making dinner reservations at the Spotted Pig later tonight….?