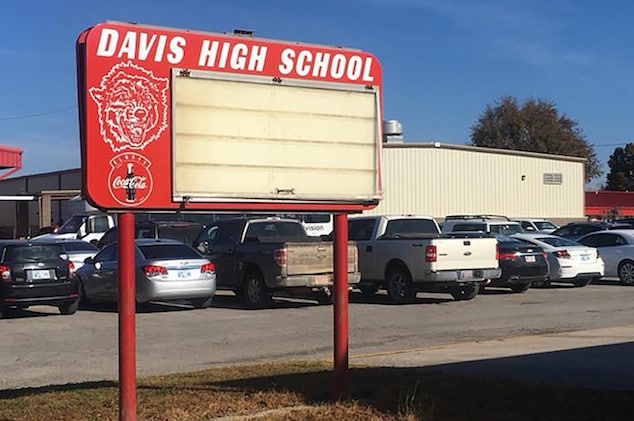 Cassandra White a Davis, Oklahoma teacher is fired after filing for a marriage license with a 16 year old male student. Police launch investigation.
Cassandra Renae White, a 34 year old school teacher at Oklahoma's Davis High School has been 'relieved' of her teaching assignments after filing for a marriage license with a 16-year-old male student.
KFOR reported school officials firing the female educator a day after going to the local courthouse with a male sophomore to apply for the license.
'The district is currently cooperating with law enforcement in the investigation of these allegations,' the school said Friday via KTEN. 'The teacher in question is no longer employed by Davis Schools.'
Of note, court records revealed the teen's father signing off on the marriage to the teacher Wednesday at Cleveland County Courthouse. Under state law, a 16-year-old can get married with a parent's consent.
A report via newson6 quoted the teen's father, William Mann, saying he was broken.
Told the distressed father, 'I'm sick. I'm sick about it. I didn't want it to happen.'
Adding, 'I weighed out the ups and downs of it and I thought, 'Who am I?'"
The father revealed Cassandra White being a single mother, with his teen son fearing the woman might lose her three children if she was arrested.
Mann went on to say his son claims he hasn't had sex with White.
While authorities have made no arrests, second degree rape charges could be filed against White if she was involved in a sexual relationship with the teen in her capacity as teacher. It is illegal for a teacher to have sex with a student enrolled in the same school system.
Noted the school: 'Any romantic or sexual affiliation between school personnel and students, including students who have reached the age of majority (18) during school hours will have a negative impact on the educational process and shall constitute a violation and suspension or termination for the employee.'
Authorities said they launched an investigation two weeks ago into misconduct allegations involving the teacher.
'We started hearing rumors around the first of December of a possible inappropriate relationship between a teacher and student,' Davis Police Chief Dan Cooper told KFOR.
At present, the case is being investigated by Davis Police Department's Domestic and Sexual Assault Crimes unit.
No charges have been filed.
'I love football students' Oklahoma teacher arrested after marriage application with minor student.