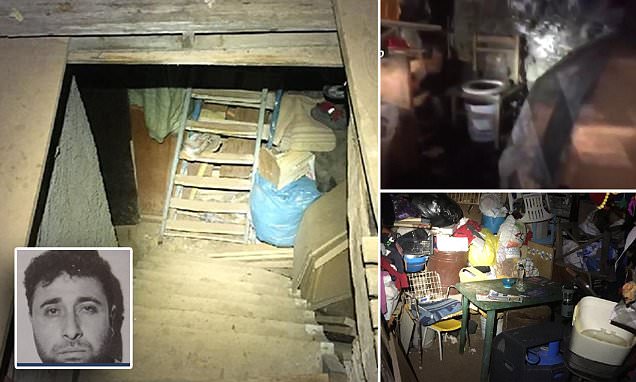 Italian Fritzl case: Aloisio Giordano a local man from southern Italy is arrested after having kept a woman as a sex slave in a dungeon for ten years, giving birth to two of his children.
The Italian Fritzl case: Aloisio Francesco Rosario Giordano a 52 year old Italian man has been arrested after imprisoning a Romanian woman in a a sex dungeon for a decade where she was tortured, raped, and forced to give birth to two of his children.
Giordano's arrest over the weekend reported local media follows accusations Aloisio Giordano kidnapped the now 29-year-old woman before imprisoning her in a dungeon at the bottom of his house in southern Italy.
Giordano since described as the Italian Fritzl drew comparison by Italian media to Austrian abuser Josef Fritzl, who imprisoned his own daughter and fathered seven children with her.
Of note, it wasn't the first time Giordano had been accused of such crimes, having been imprisoned in 1995 for kidnapping, raping and torturing another woman.
On that occasion Giordano was locked up for just five years before being released early in 1999 for good behavior.
After regaining his freedom, Giordano returned home to care for his terminally ill wife and two children, recruiting the help of a then-19-year-old Romanian who would become his second victim reported Repubblica. 
Aloisio Giordano: Italian Fritzl sex slave victim forced to live in horrendous conditions over ten years.
When his wife passed away police say Giordano offered the carer support and a place to stay – before locking her in a basement under a shed.
There she spent the next 10 years chained to a metal bar in a decrepit, rat and insect-infested room without running water or electricity. 
All the while she was beaten, tortured, and repeatedly raped, she said.
During that time she gave birth to two children by Giordano, a boy now aged nine and a girl now aged three.
The children were forced to watch as Giordano abused their mother, police said, with the young boy made to participate in torturing her – or face a beating himself reported the dailymail.
Police footage of the place where the woman was held show a dark and filthy basement made of corrugated iron, wood and cardboard boxes. 
The toilet comprised a plastic bucket placed underneath a wooden chair. The woman, together with her two children, had to sleep on beds made of cardboard. 
Next to the bed police discovered a metal bar that the woman had been constantly chained to.
The police found wounds all over here body, including to her breasts and crotch, many of which were 'treated' by Giordano himself. 
Officers said he attempted to close some of the deeper wounds with fishing wire.
In the ten years she was held captive, the woman said she never saw a doctor.
Italian Fritzl case breakthrough: But how was the crime able to continue for so long?
The crimes took place in the tiny village of Gizzeria, in southern Italy, going entirely unnoticed until police discovered the man's secret by accident. 
Matters began to unravel, when police picked Giordano up during a routine traffic stop because of the bad condition of his vehicle, when they noticed the nine-year-old boy in his back seat.
The disheveled appearance of the boy, who was described as dirty and malnourished, raised suspicions, with police demanding to see Giordano's home and speak with the boy's mother.
When they arrived they discovered the woman, who was also filthy, holding a second malnourished child and decided to investigate.
It was only then that they discovered the conditions she had been kept in.
The woman told police she hadn't had any contact with the outside world and that she hasn't washed herself for a year.
Upon her rescue, the woman, whose identity wasn't publicly revealed, she was taken to a secret location along with her children.
Giordano was arrested on charges of aggravated sexual abuse and mistreatment. 
The case mirrors an episode in 1995 where Giordano was arrested in the kidnapping and torturing and repeated rape of 23-year-old woman, Maria Rosa.
Local media at the time reported her assailant holing Maria hostage in similar conditions, and also made her pregnant twice.
But on that occasion he decided to abort the children himself – the first by kicking her in the stomach and the second time using rudimentary scalpel and a spoon reported Il Post.
After Giordano's arrest, police found the scalpel used in the second abortion and a wooden stick with which he apparently sodomized Maria. 
During trial proceedings at the time, Giordano's wife, Raskaovi Bouchra, is reported to have said of her husband, 'He is a good man, it was her who instigated it.'