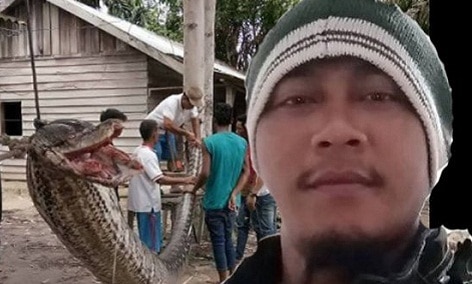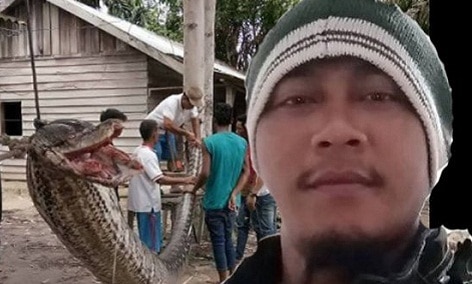 How Robert Nababan a local Indonesian mans fought to the death with a giant python snake and was left with horrific injuries. 
Robert Nababan a local Indonesian man has been left with horrific injuries after fighting to the death against a giant python snake.
Local reports told of the 37 year old man making his way home from work when he came across two pedestrians blocked from crossing a road by a giant 23 foot long snake. 
Nababan decided to step in and became locked into a bloody battle with the snake as it sunk its teeth into his arm.
After an exhausting struggle he killed the reptile but was rushed to hospital for his wounds to be treated reported the dailymail.
Pedestrians had looked on in horror as the 'man versus beast' wrestled in the middle of the road in the Riau Province of Indonesia as the pedestrians looked on in horror.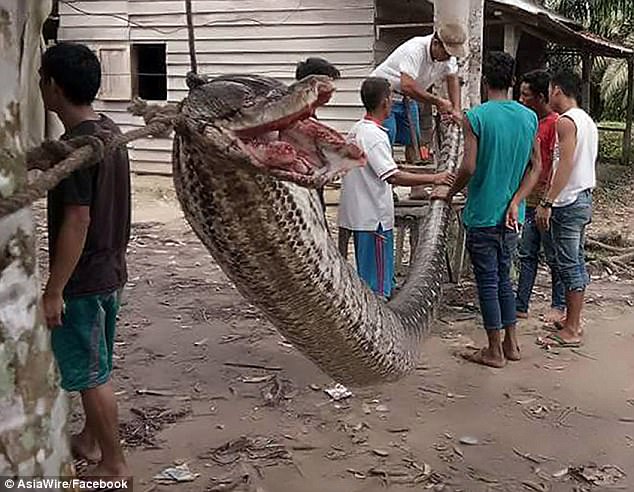 Naas, Beginilah Nasib Ular Piton Raksasa yang Menggigit Robert Nababan, Warga Geram, Selanjutnya https://t.co/d5uO5KwRC7 pic.twitter.com/FNufALzH1H

— Leni Siau (@lenisiau99) October 3, 2017
Robert Nababan vs giant Indonesian python snake: Man vs nature.
The security guard, who works on a palm oil plantation in the Indragiri Hulu Regency area of the country, is now fighting for his life in hospital.
Speaking from his bed, he said: 'I tried to catch it. It bit my arm, and we wrestled for a while.' 
He won the fight and killed the snake after an exhausting struggle. Its body is shown in pictures strung across his village like a washing line.
The 'incident' left Nababan suffering deep wounds to his left arm and hand and suffering from exhaustion because the fight went on for 'some time'.
The Guinness World record for the longest snake ever to be held in captivity was for a reticulated python called Medusa reared in Missouri, Kansas, that measured a whopping 7.67 metres (25 feet 2 inches).
Indonesian media noted an encounter with a similarly huge snake in March had gone much worse for 25 year old, West Sulawesi man, Akbar Salubiro, who was found dead in the reptile's stomach. 
Photos: Akbar Salubiro Indonesian man eaten alive by python found.
Graphic pictures: Python snake eats crocodile after 5 hours battle.
William Buchman, teacher arrested after finding 400 dead pythons.
Security guard strangled by 15ft long python in front of luxury Bali hotel.
Python eats man in India. But is it just a hoax?
Video: Here is a python snake regurgitating a fully grown dog.