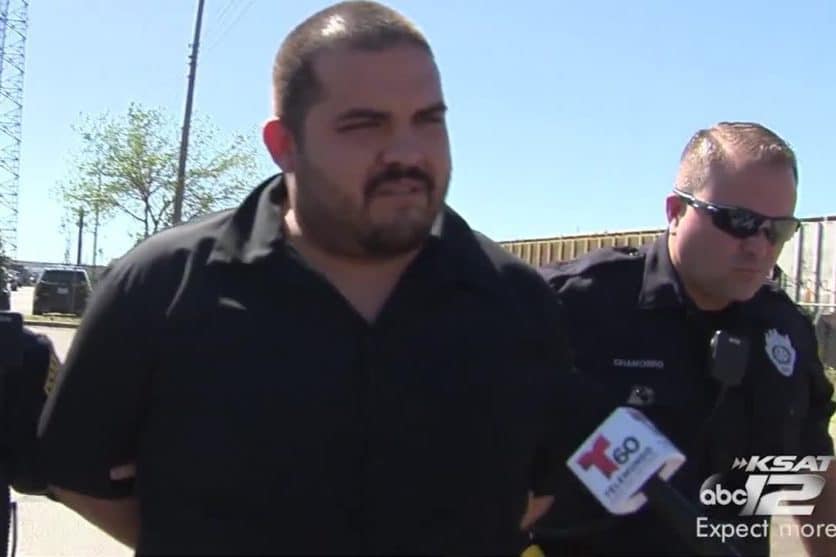 What led to Juan Ontiveros San Antonio Uber driver raping an unconscious female passenger. A sex assault kit comes back positive. 
Juan Ontiveros a 28 year old San Antonio Uber driver has been accused of raping an unconscious female passenger.
Cops say Ontiveros sexually assaulting the woman after picking her up from a downtown San Antonio bar and taking her to his nortwest Bear County home, on February 25.
Come Monday, the Uber driver was charged with one count of sexual assault reported My San Antonio.
Told Ontiveros as he was being taken into custody, ' She was drunk. I did my job. I took her home.'
The arrest affidavit states that the unnamed woman called police the day of the alleged assault after she woke up in Ontiveros' home, saying her genital area felt 'different', but she had been so drunk the night before that she didn't remember having sex.
A sexual assault nurse investigation, which Ontiveros agreed to, found the victim's DNA on his penis upon results being returned in September. 
Ontiveros claims the woman, who 'appeared to be very intoxicated' and wasn't 'able to communicate with him coherently', fell asleep during the ride.
Upon reached her destination, the Uber driver told investigators he woke the woman up only for the woman to exit the car looking 'dazed and confused' before getting back into the front passenger seat and falling asleep again.
But it gets grimmer.
Juan Ontiveros' explanation to reporters for rape charges against him: "She was drunk!" https://t.co/efQE3ldoTC

— Alex Zielinski (@alex_zee) October 24, 2017
Juan Ontiveros San Antonio Uber driver: I kept the ticker running to increase my earnings.
From there, Ontiveros said he drove around the block a few times, with the woman 'failing' to wake up, he drove her to his home, keeping the Uber tab open so he could increase his earnings. 
He told police that when they got to his house she was able to walk on her own, with the man directing her to lay on his bed. She then allegedly fell asleep until she woke up, used the restroom, and asked Oltiveros to take her home, which he did. 
Oltiveros denies having sex with the woman.
'She trusted that she would be home safely,' said spokesperson for the Bexar County Sheriff's Office spokesperson, Sandra Pickell, according to Click 2 Houston.
Adding, 'She did everything she could. In this case, it was a predator that took advantage of the situation. Nothing she did wrong.' 
Juan Ontiveros San Antonio Uber driver: Uber responds to increasing spate of sexual assault on passengers. 
Uber told the Current that they revoked Oltiveros' access to the app as soon as they heard of the allegations of sexual assault.
The Bexar County Sheriff's Office believe there may be more victims and are encouraging them to come forward by calling 210-335-8477. 
The 'incident' comes off the back of an increasing spate of contentious incidents where Uber passengers have been assaulted. The app limousine driving service continues to receive criticism of its hiring policies and checking new hires history.
To date it isn't necessarily understood why the Uber driver allegedly sexually preyed on the powerless woman….
And then there was this comment on the web that caught this author's attention, see what you think?
'Their turnover rate is crazy, and that is why the standard for hire is low. A real background check takes time and while many can pass it, they may find another job in that time or decide it's a hassle. In your link it clearly states there may be more victims. What they mean is system wide. A known issue with the reporting of sexual assault and rape is less than half ever report,'
'Some fear victim blaming others aren't quite sure what happened, and some just don't know if it happened at all. The victim in this case was blackout drunk with only a sensation of something not right. I hope she finds justice and is able to have a good life in her future. In Austin TX there were so many sexual assaults reported the city demanded fingerprint background checks. UBER applies political pressure to get their way, and Austin did not back down. UBER's work around was to lobby the governor for state legislation. All we have learned is there are many victims, and that UBER,Greg Abbott, and ride share users are not concerned. Unfortunately the victim of this attack will not be the last.'