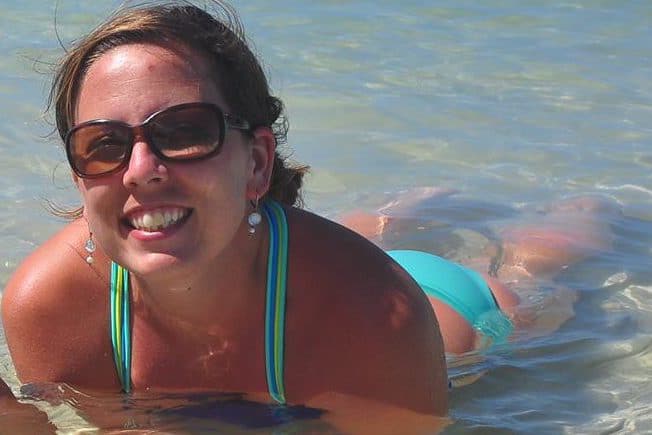 Jill Lamontagne indicted: A former Kennebunk High School teacher faces 14 sexual abuse charges after having a sexual tryst with a 17 year old student. 
Jill Lamontagne a former Kennebunk High School teacher turned herself into police Wednesday after being indicted on multiple sexual charges.
Cops told of the 29 year old married Maine woman and mother of two young children being charged with six counts of Gross Sexual Assault, two counts of Unlawful Sexual Contact, and six counts of Sexual Abuse of a Minor. In total, Lamongtagne was booked on 14 sexual abuse charges. 
Lamontagne's indictment comes after the former health teacher allegedly had a relationship with a juvenile, male student under the age of 18.
'The indictment was the culmination of an investigation into a relationship Lamontagne allegedly had with a juvenile, male student while she was a teacher at the school,' said Kennebunk Deputy Chief of Police Michael Nugent.
Kennebuck teacher pleads not guilty to having sex with suicidal student
Jill Lamontagne photos: Teacher sex teen victim attempts suicide
BREAKING: Kennebunk HS teacher Jill LaMontagne indicted on 6 cts re: alleged sexual relationship with male student @Kennebunkpolice pic.twitter.com/R5BSFgrdgv

— Matt Byrne (@MattByrnePPH) October 4, 2017
Jill Lamontagne indicted: 17 year old student attempt suicide following sexual tryst.
Initial claims against the mother came to light mid June after the purported tryst led to the boy attempting to commit suicide. At the time, the boy was hospitalized, after having ingested ingesting a cocktail of medications in a failed attempt to end his life, including ibuprofen, Tylenol, cold medicine and a blood thinner.
The incident led to Biddeford District Court Judge Daniel Driscoll placing an order of protection, demanding that the Kennebunk High School (KHS) teacher avoid contact with her student victim for two years.
A previous report via the Portland Press Herald, told of Lamontagne being placed on administrative leave on June 12, after her student's family contacted school officials claiming that he had had sexual contact with the teacher.
Lamontagne, who taught health at Kennebunk High School for five years, resigned from the position. Her resignation reported seacoastonline was accepted by the RSU 21 board of directors on Sept. 18.
Wrote the former teacher of her 'Mission Statement' on her blog, 'My mission is to be an exceptional role model for my students. As a health teacher, I educate students about many aspects of their lives/lifestyles and I believe that I need to practice what I preach.
'To be successful in teaching students about these very sensitive topics, I am trustworthy, honest and reliable. I strive to be all of these things, along with kind, healthy and responsible so that I am a great role model and mentor for my students.' 
Lamontagne is now scheduled to be in York County Superior Court on December 22.
Lamontagne has been released on $1,000 bail. If convicted, the female teacher faces up to five years prison.