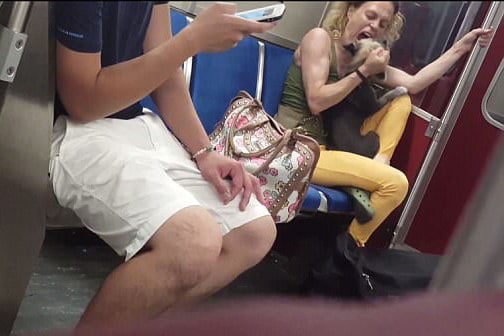 Toronto subway woman biting her dog goes viral as video leads to commentators expressing disbelief as the abuser's identity is now sought. 
Animal rights activists and social media commentators have been left aghast with the posting of a video (see below) showing a woman on a Toronto subway abusing her dog.
The three minute video as posted by Roxy Huang to Youtube shows a woman since identified by social media as Teresa Rutledge repeatedly striking and even biting her dog, during a Friday afternoon ride. 
Over and over the woman is heard rambling, 'stop it now you hear me,' all the while biting, slapping and hitting the cowering animal.
At various times the whimpering dog attempts to escape only for its owner to tighten up the slack of the puppy's leash.
Also of disconcert is that the female passenger appears to be excessively fidgety throughout the incident, with Roxy Huang suggesting the dog owner may be on drugs.
One social commentator said the woman was on crack cocaine.
Others suggested the woman may have been afflicted with mental health issues.
At one point a fellow subway rider reprimands the woman, 'You gotta stop hitting your dog'.
Responds the woman, 'Pardon?' adding, 'What the fxck are you talking about?'
She then complains the man is standing near her, telling him to move to the other side of the train.
Another passenger is heard complaining to a Toronto Transit worker 'She keeps biting its tail.' 
According to Huang, the dog owner was eventually escorted off the train by three transit workers.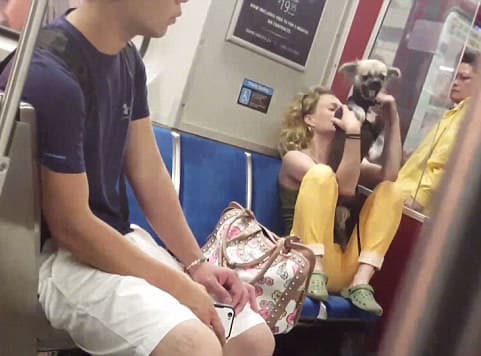 Teresa Rutledge. Possible name of woman with dog in Toronto hittng biting her little dog #TorontoHumaneSociety pic.twitter.com/J4MqnmQg3W

— Kaz whitehead (@Kazwhitehead1) August 5, 2017
Reiterated Huang after she'd stopped filming, 'The whole train stopped, more than three TTC staff walked to her and then she got off the train. Someone like her should never own a dog or a pet.'
Adding, 'Someone like her should never own a dog or a pet'.
A report via Toronto, Canada's cp24 cited Const. Allyson Douglas-Cook saying police were called to St. George Station where they spoke to the woman, as well as several witnesses.
She said police were not able to locate any visible injuries on the dog.
They released the woman with a caution and no charges were laid.
In the interim, commentators have faulted fellow passengers for failing to have stopped the woman, called authorities and had her dog taken away from her, with one individual going so far as to say, 'whoever recorded this is a fxcking coward. I would have hit the alarm while recording and physically taken the dog from her. Recording the abuse and doing nothing is almost as bad. Fuck this shitty society where everyone sat and did nothing. No one even backed up the guy who did stand up.'
The matter has since been referred to the OSPCA for further investigation as social media commentators now seek to unearth the troubled woman's identity.