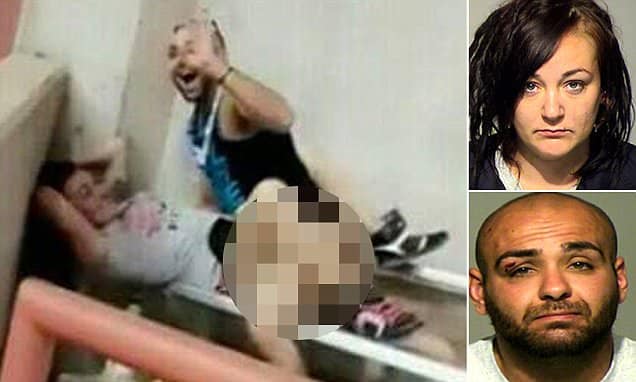 Robert Beasley and Desiree Anderson arrested after Wisconsin State Fair sex video goes viral. Authorities seek what charges to lay against the couple.
Also taking their rightful place on the tabloid sheets are Milwaukee couple, Robert Beasley, 28 and Desiree Anderson, 28 after the pair were filmed having sex in public over the weekend at the Wisconsin State Fair.
Havoc and commotion came to the fore when an unassuming witness caught the pair 'deep in the throes' (no pun intended) as the couple 'physically engaged' each other along the bleachers without regard for whom might be in the vicinity.
At one point, realizing he was being filmed by an impromptu voyeur, Beasley continued thrusting while waving at the film-maker, along with telling them, 'say hi to mom.'
You better werk it gal!!
Needless to say, shit went viral and that's when Beasley and Anderson soon found themselves also saying 'hi to police'.
A report via the smokinggun told of the amorous couple being taken into custody by Wisconsin State Fair police and released upon posting $400 each for bond.
As of yet, it wasn't clear what charges the pair were facing.
The 'incident' while lauded by some bemused viewers has also drawn scorn with fair goers saying they were 'disgusted' by the pair's 'public' antics.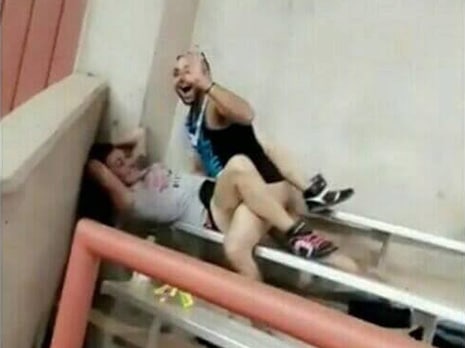 Told one witness via Fox 6, 'We're here for a horse show or a dog show — not to make babies.'
Others wondered why the pair couldn't wait and just go home, with some calling the incident, 'inexcusable,' and 'appalling.'
Despite the criticism the pair have received, Beasley remained defiant (do you suppose?) suggesting that critics 'didn't know the real life shit that people are going through'.
According to his Facebook page, Beasley lives in Milwaukee and works as a machine operator at a leather tannery, while working as a part time wrestler in his spare time (which is to say- public adulation is par for the course).
Assuming the alter ego of 'Bobby Valentino', Beasley concedes relishing in his character which he says at matches is referred to as 'the gay superstar'.
To date the couple have declined to speculate if they intend returning to the Wisconsin State Fair this upcoming weekend….