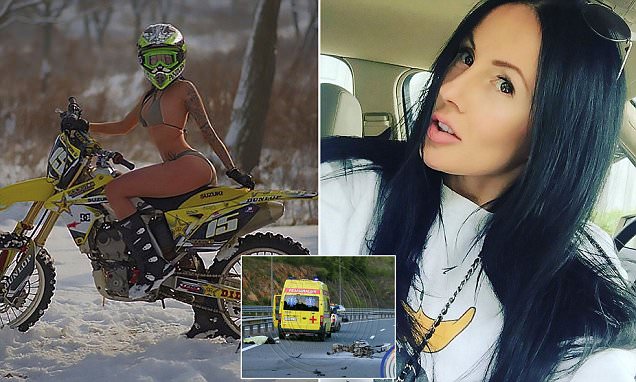 Olga Pronina famed Russian motorcyclist Instagram star dies in horror crash Monday night as fans react to the daredevil's sudden death. 
Olga Pronina a 40 year old Russian Instagram star and famed motorcyclist known for her audacious stunts has died in a horror crash while racing down a motorway.
Local reports told of the social media star racing through the city of Vladivostok when she lost control of her BMW motorcycle and plowed into a side railing on Monday evening.
The 40-year-old divorced mother of a 16 year old daughter, who was known as Monika to her legion of fans on Instagram, was thrown from the bike and died before the emergency services could reach her reported the UK's Sun.
At the time of her death, the daring brunette using the handle, Monika9422 had over 165,000 followers on Instagram and was described by friends as an adrenaline junkie who loved riding at high-speed.
In one of her last videos posted on Instagram last month, the thrill-chasing biker – who also worked as a hairdresser – is seen straddling a motorcycle sideways and drinking from a straw while riding at high-speed.
Posted Pronina ominously at the time, 'By the way, doing 250kmph and holding one hand is very uncomfortable. I do not recommend But I got my adrenaline dose.'
Local media reported Olga clocking no less than a dozens speeding offenses over a recent period.
The motorcyclist's sudden inevitable death prompted pal Eduard Hasanov to tell local media: 'She was breaching every rule of safety and riding at high-speed pretty often. Her death is incredibly tragic.'
Another friend who arrived at the scene 10 minutes after the accident said: 'She was high-speeding and the rear wheel of the bike was lying 600 meters from the scene.
'We tried to find her action camera, but could not find it.'
Police are not treating her death as suspicious.
Posted one fan, 'Condolences to the family and friends, this is huge tragedy. Sleep calm, crazy girl.'
While another fan, aaterihoff wrote: 'I wish you good roads in heaven.'
While Katilda wrote, 'She got her adrenaline dose all right, once and for all…'