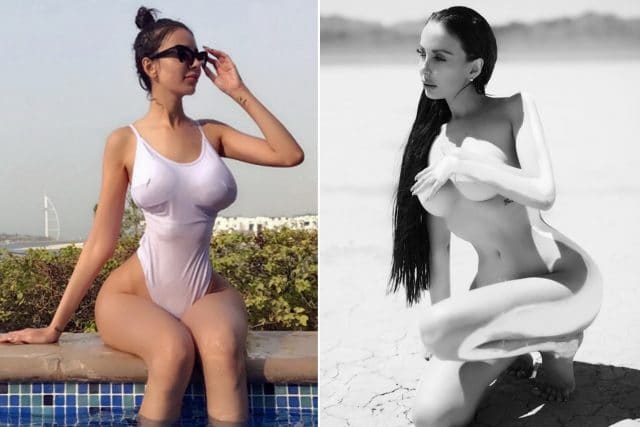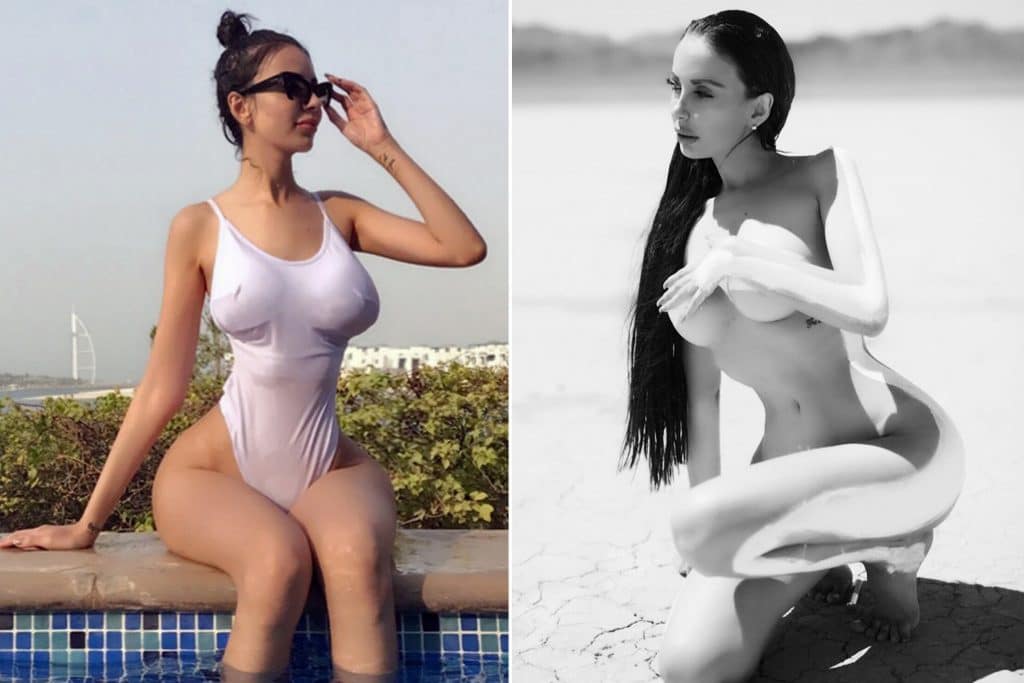 How Jennifer Pamplona a Brazilian model injected $470K pints of fat to have a bum like Kim Kardashian in her bid to become rich and famous. 
Jennifer Pamplona, a 24 Sao Paolo, Brazil model has spent more than $470,000 to inject nearly four pints (1.89 liters) of fat into her bum in a bid to replicate the derrière of her idol, Kim Kardashian.
'My doctors have asked me if I am scared to die from the surgeries, but, in my opinion, if it happens I will die happy and beautiful,' told the woman via news agency Caters of her plastic surgery, which eight doctors declined to perform because it was too risky.
In a bid to copy the curvy Kardashians, Pamplona — who says she was a slender girl growing up — has had two boob jobs, liposuction, a nose job and four ribs removed in the past seven years. Fame and beauty at any cost doesn't come without its sacrifices it seems.
Explains Pamplona, 'Before, whenever I looked in the mirror all I could think was that I needed a bigger butt,'
Adding, 'Now I'm so much happier. Having surgery has changed my life and helped me to overcome depression.'
Of note, it wasn't easy sailing getting doctors to agree to the procedure, with Pamplona conceding she was rejected by eight plastic surgeons that deemed the procedure too risky, before eventually finding having 900cc of fat injected into each buttock.
Sao Paolo businesswoman spends $500K to become Kim Kardashian clone.
Pamplona's cosmetic procedures perhaps none too surprisingly have also given her a ticket to fame and fortune. The Brazilian beauty has modeled for Versace, jump-started her own cosmetic line along with starring in 'Plastics of Hollywood,' a reality show that documents the lives of human Barbie dolls.
That said our collective hero concedes there are drawbacks, including the time her mother refused to talk to her for two weeks after seeing her new derriere.
'People say I'm stupid, but I have achieved a lot,' she says. 'I came from a poor Brazilian village . . . [now I'm] famous and [have] created a company.'
'I'm a good person, I support my family, support charities, I don't drink or do drugs, I do my best for the world and try to be a better person every day.'
Contemplated Pamplona, 'I finally have my Kim Kardashian butt. I've spent a lot of money to become Jennifer Pamplona, but I don't see it as an expense more as an investment, I will become more famous than Kim Kardashian.'
Which merits the awkward question how far are you willing to get ahead in life and at what cost? Even if it means spending your life trying to be someone else ….
JENNIFER PAMPLONA 24, FRM SAO PAOLO> Model Injects Butt With 4 Pints Of Fat To Look Like Kim Kardashian https://t.co/5NjO87KinW via @nypost

— ERIC WRIGHT™???? (@therealeric916) July 19, 2017
Brazilian Woman Injects 4 Pints of Fat Into Her Butt To Look | https://t.co/hdAlc4VDKZ | #JenniferPamplona pic.twitter.com/Ugd9Vmwp4r

— Artarius Media (@ArtariusMedia) July 20, 2017