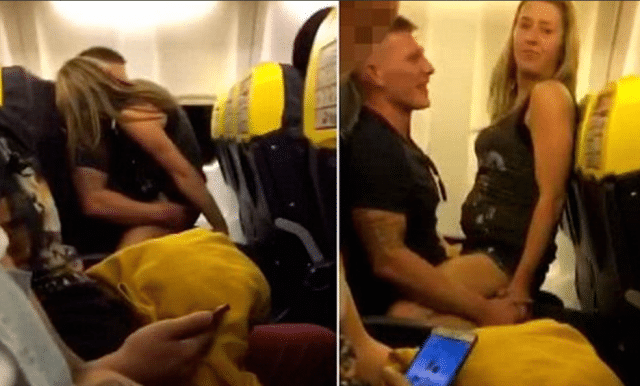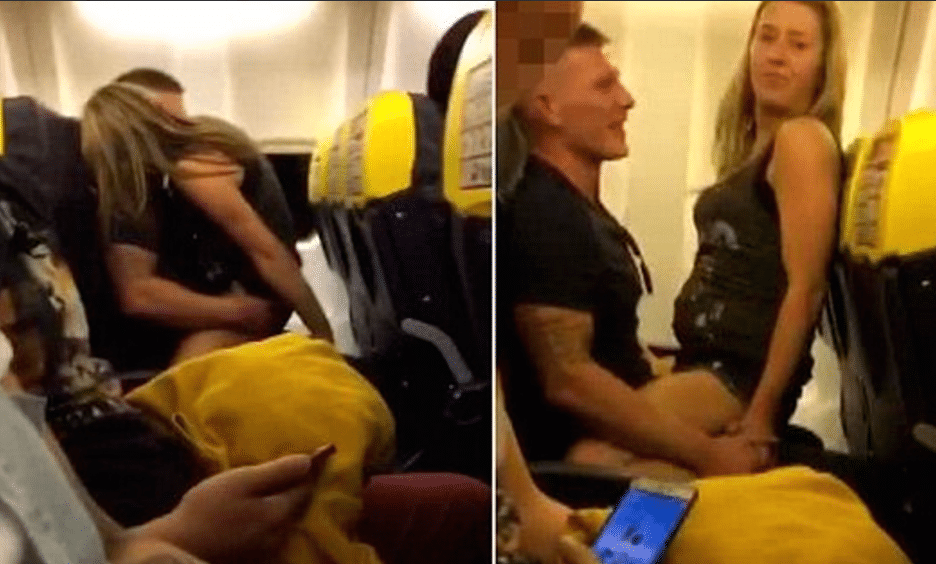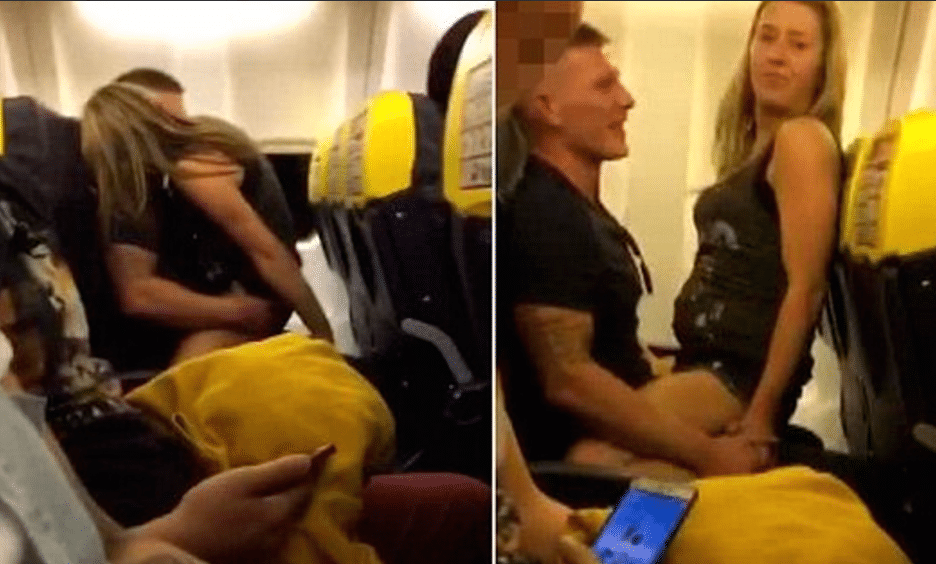 Ryanair Manchester Ibiza sex romp: An unidentified British couple have sex an hour into a flight while flight attendants do nothing. Havoc ensues.
Also entering the tabloid sweepstakes is a recent episode which saw kindred passengers on a Ryanair bound flight from Manchester to Ibiza having sex in front of disbelieving passengers.
So enamored were the couple with their outward affections towards each other, they didn't even bother the tried and tested having a 'romp' in the lavatory, instead choosing to 'get it on' in front of incredulous passengers on Thursday's 8.20pm flight.
Passengers watched as an unidentified woman clambered on top of her giddy companion, with the pair shamelessly displacing their underwear as they began to romp an hour into the flight en route to the party island. With Ryanair now becoming the de-facto party island in giddy anticipation of what lay ahead for a group of British thrill seeker travelers.
Told astonished passenger, Kieran Williams, from Preston, Lancashire via the dailymail: 'I heard them talking about it but I thought they were joking. The guy was shouting, "Anyone got a jelly?" meaning condom.
Adding, 'We all laughed but then ten minutes later they actually did it. They seemed so drunk, they brought a lot of attention to themselves.
'You could see the girl taking off her pants and he pulled his trousers off. She started riding him.
'I had to get my phone out. I have never seen anything like that.'
'I'm mortified' Tracey Bolton i'd as Ryanair Ibiza Manchester sex romp girl
No words … Drunk couple joins mile-high club on Ryanair flight from Manchester to Ibiza https://t.co/0yEEmMePLq pic.twitter.com/lojWeWaZJu
— Luchtzak.be (@LuchtzakBelgium) June 9, 2017
Unsurprisingly a female passenger who was sitting next to the couple asked to be moved, but Mr Williams said that the crew did nothing to stop the couple or even reprimand them. Do you suppose?
Reiterated Williams: 'A woman was sat next to them and she stood up and asked if she could be moved. About twenty minutes after it happened, someone complained about it. But the crew did nothing.'
Williams, who was flying to Ibiza to work as a barman over the summer, said that the passengers were 'gobsmacked' by the couple's raunchy antics. Define gobsmacked?
He said: 'They were starting and stopping but it was completely obvious what was going on. We all had a good laugh about it. It was pretty funny.'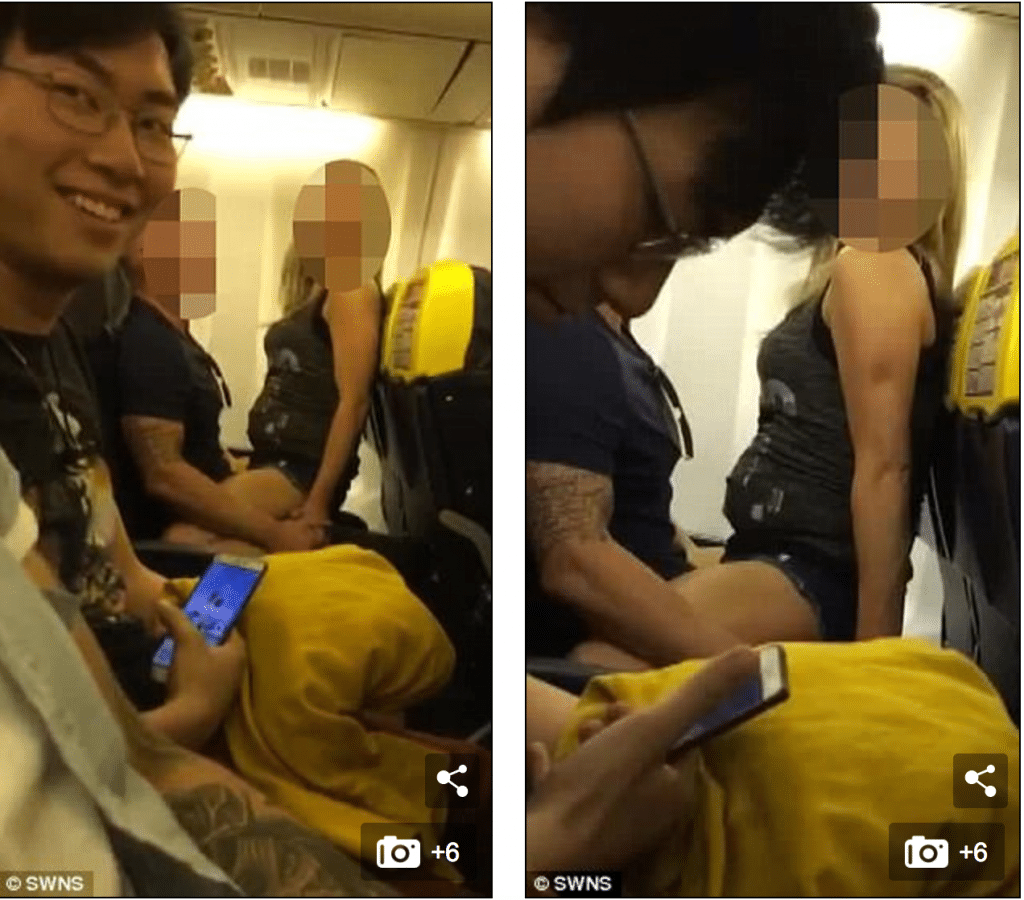 A Ryanair spokesman said: 'We are looking into this matter. 
'We will not tolerate unruly, disruptive or inappropriate behavior at any time and any passengers who appear to behave in an unacceptable manner may be liable for further sanctions.'  
Shouldn't you be riding Ryanair on your next fun filled anticipation sex vacation too…?
And then there were these comments on the web that caught this author's attention, see what you think?
'First thing that crossed my mind was: "what if there're kids on that plane? And why isn't a flight attendant stopping this!"
'The typical RyanAir drunken cunts.The Ibiza flights particularly, the smell of vomit, alcohol, BO and bodily fluids punctuated by a cacophony of farts, drunken brawls and hollering, then they land in Ibiza and the fun REALLY starts.'
'No respect, no consideration, no manners, no class. This is the state of British culture today.'
'Wow, I'm booking with Ryanair. Seems like they have a ton of leg room.'
Couple romp on Manchester to Ibiza Ryanair flight US News https://t.co/BZnEiytVpC pic.twitter.com/6N4UnCJEJn
— Ilhame Louisa Maria (@IlhameLouisaMar) June 8, 2017