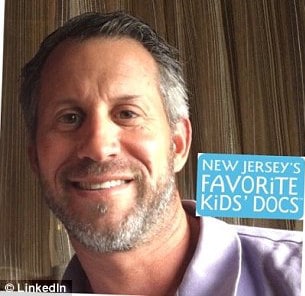 Brett Holeman NJ school psychologist fired: Was one educator unfairly dismissed following an arbitration hearing following claims of erratic behavior? 
Brett Holeman a 43 year old East Brunswick, New Jersey school psychologist on a $93,329 yearly retainer has been fired after allegedly calling a student's ex girlfriend a slut.
Other egregious acts according to Freehold Regional High School District included the teacher yelling at students, labeling staff members as 'fxcking bxches' and 'mentally ill' along with threatening the school principal.
The allegations led to Holeman being fired from his post following an arbitrator's decision in May pursuant to a tenure hearing where it was claimed he'd exhibited a string of 'erratic and concerning' behavior. 
According to tenure charges, an investigation in the spring of 2016 revealed a 'a trail of lies, willful deceit, manipulation and frightening conduct' by Holeman, who had served the school district since 2004 and holds a doctorate in psychology, the Asbury Park Press reported. 
District administrators said that Holeman spoke with a male student that was upset over breaking-up with his girlfriend and allegedly told the boy that his ex was a 'slut'.
But it gets better.
Holeman allegedly recommended that the student read a profanity-filled self-help book titled 'F*** Feelings: One Shrink's Practical Advice for Managing All Life's Impossible Problems'. 
He also allegedly told the student that he would 'f*** 40 girls' once in college. Holeman in turn denied the allegations. 
Among the other charges against him, Holeman was accused of 'soliciting' students for his private counseling by using the private administration lists of students who were withdrawing from school.  
Holeman was also alleged to have referred to a former student as 'my little girl.'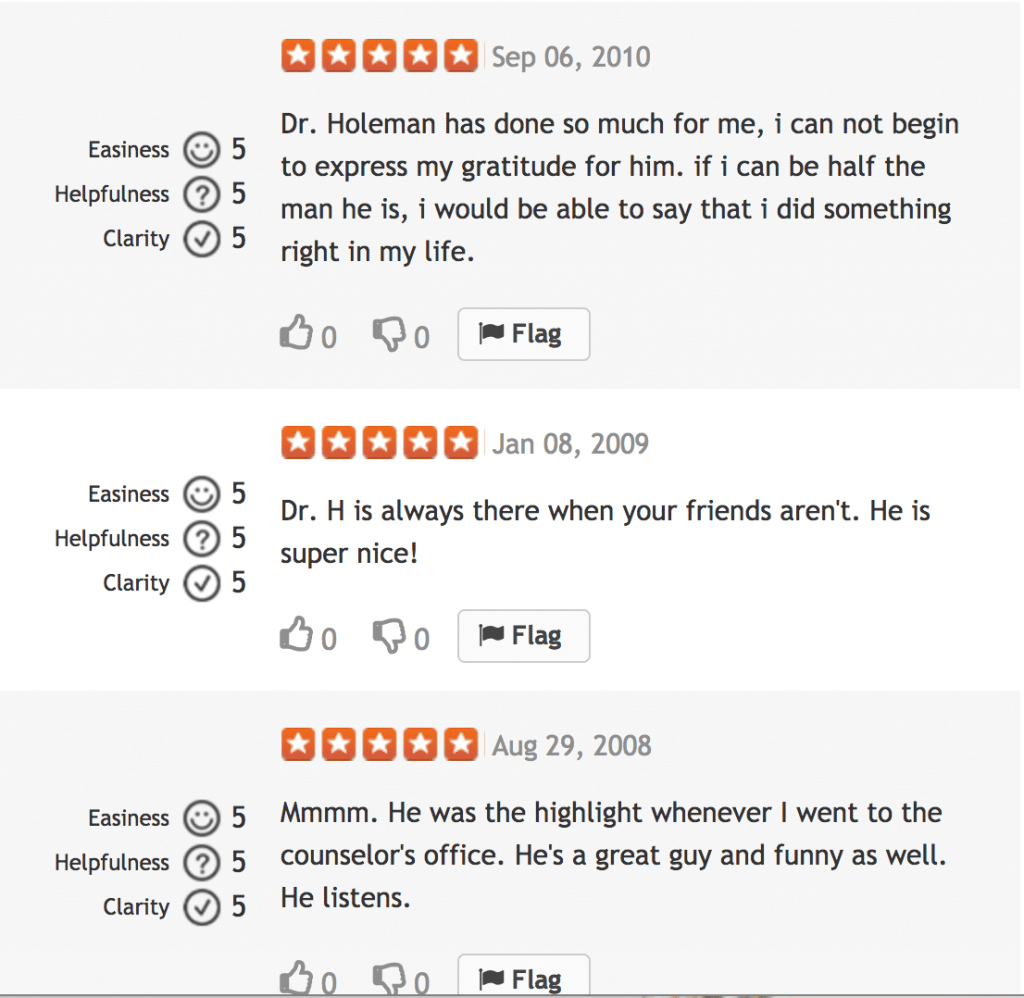 The arbitrator's decision noted that Holeman's blood test found no evidence of steroids, which were suspected by district administrators. Also, a psychiatric evaluation determined he was fit for work.
Holeman denied using school facilities or work time for his private practice, while also denying that he took money from current district students. 
That said, the educator admitted to using the school email for his private business, according to the arbitrator's decision. 
In addition, Freehold Regional Education Association President Deborah Gates-Kane testified she'd witnessed Holeman threatening Freehold High School Principal Linda Jewell.
Holeman is alleged to have warned Jewell, saying, 'You better sleep with one eye open.' He denied that accusation.  
High school administrators said they went through Holeman's email, finding Holeman having discussed confidential student information with his wife and a former student. 
According to the arbitrator's decision, Superintendent Charles Sampson stated that Holeman does not respect authority and 'exhibits narcissism in the extreme.' 
Of note, no student or parent testified against the psychologist during his hearing, with a teacher's rating board giving the man high marks during his 12 years tenure.
In his defense, Holeman said he was never provided an adequate opportunity to respond to the allegations or speak with his colleagues or administrators regarding the raised issues.
He said the investigation failed to find additional witnesses or corroborate statements. 
Holeman said Jewell, the principal, relied on 'uncorroborated, non-supported, hearsay by unproduced witnesses.'  
Arbitrator Stephen J. Rosen ruled in the district's favor and agreed that Holeman should not be reinstated to his position as psychologist for the district. 
In the interim, various students have come out supporting the ousted man, claiming he saved lots of lives.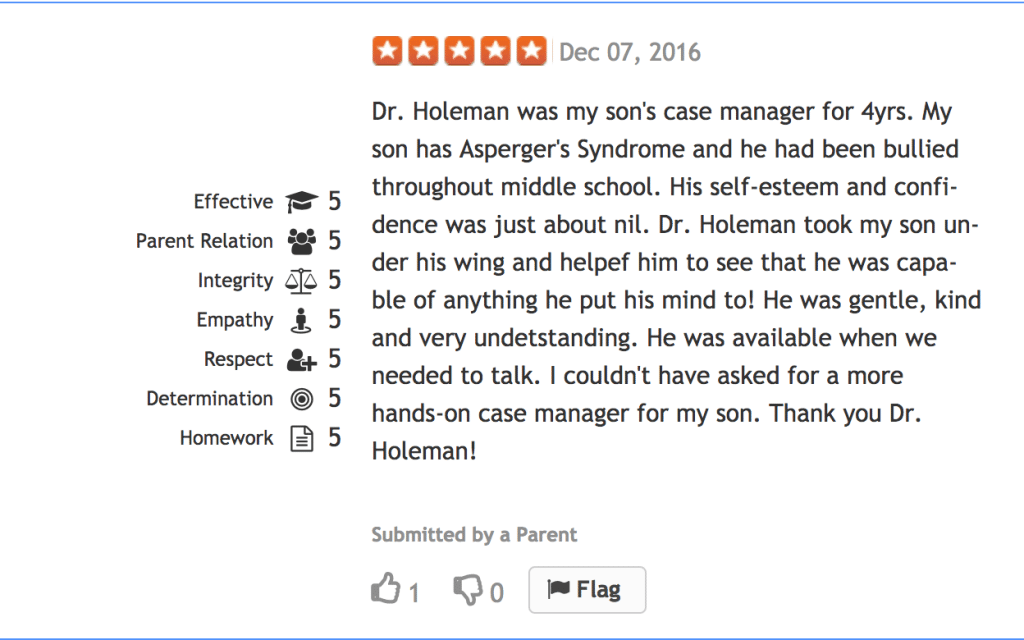 And then there was these comment on the web that made this author wonder:
'Some things do not add up — one is the fact that he was employed for 12 years and had satisfactory evaluations. There were apparently no complaints.
The principal now states that things were not good with his employment and it was discovered after an investigation that his behavior and conduct was questionable. Really?
So for 12 years he was a good school staff member and then all of sudden he is the devil. The Board of Education will hear a recommendation from the superintendent as to either retain or terminate. The public will have their voice and their chance to support or condemn. Very few BOE vote against the superintendent's recommendation. Even if he is terminated, this will be the beginning of a long legal battle to sue the BOE for "wrongful termination".'
'Let's use our brains critically people! Before judgment let's make our own opinions fairly. Look at rate my teachers.com page where kids can freely voice positive and negative opinions on staff. Dr Holeman's reports are glowing year after year…interesting. Every comment I read from former students allegedly or parents is positive and it seems this man saved a lot of kids lives from suicide etc. from the decision I read attached, it seems like the district couldn't get the man to resign though they tried to.'
'Did he use some salty language? Maybe.
'Is it anything a high school kid hasn't heard before? I don't think so. Frankly, it was good advice for a high school kid who thinks his life is over becasue his girlfriend left him.
Kids need to be taught toughness these days. This "my feelings are hurt" victim culture is why we have school shootings and a high suicide rate these days.'
Maybe, but did he have to be blatantly misogynistic?  Speaking so disparagingly of a female, probably an underage female,  is not anything anyone associated with a high school should be doing.