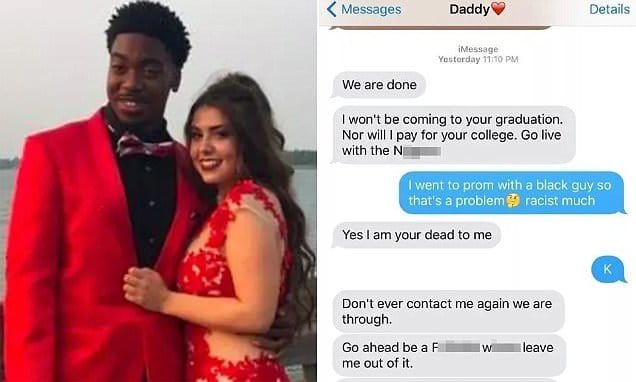 Anna Hayes father disowns her after she posts photos of her and a black man attending prom. In turn twitter erupts in overwhelming support of the father and condemnation of the daughter.
A shocking tirade of racist vitriol directed at a daughter has gone viral after Anna Hayes a Lake Village, Arkansas teen girl posted pictures on social media of her attending prom last week, with male friend, Phillip Freeman– who happens to be black.
It went all downhill pretty fast when the father – whose daughter does not live with him, saw the photos, leading to the man unable to contain his rage, firing off a series of racist, sexist text messages informing Anna he was disowning her while also calling her and her date offensive names.
In photos shared on Facebook, Anna and Phillip looked the part on their way to the prom night. Anna wore rad lipstick matching a lacy scarlet mermaid gown, while her date, Phillip layered a matching red suit jacket over a black button-down and slacks.
Anna said that though Phillip is just a friend, he's also 'really funny' and 'super cute', so she snatched him up as her prom date. 
It was when Anna's father, who has always according to his daughter been openly racist came across the images of her and Phillip that the man lost it, letting his daughter know to what degrees he was appalled. 
'We are done,' texted Anna's father to his daughter. 'I won't be coming to your graduation. Nor will I pay for your college. Go live with the n*****s.'
Anna explained to BuzzFeed that she and her dad have had a strained relationship for years. Her parents are divorced, and though she lived with him briefly as a child, she's been in her mom's house since her early teens. 
That said, Anna conceded her father's recent tirade went beyond any 'uncomfortable words' they'd shared in the past.
Responding to her father's initial texts, Anna wrote: 'I went to prom with a black guy so that's a problem … racist much.'
'Yes I am,' her dad wrote back unabashedly before continuing with the grammatically incorrect pronouncement: 'Your dead to me.'
'Don't ever contact me again we are through,' he added. 'Go ahead be a F***IN wh*** leave me out of it. [sic].
Anna's dad also told her that he was canceling her cell phone and car insurance, to which she replied, 'I didn't do anything wrong.'
'Shut the f*** up you have no right to talk to me anymore. Go live with the F***IN n*****s. Your pictures are already off my walls.
'You can go to hell. What the f*** is wrong with you? … You want to mingle with Subhumans I'll treat you accordingly. [sic]'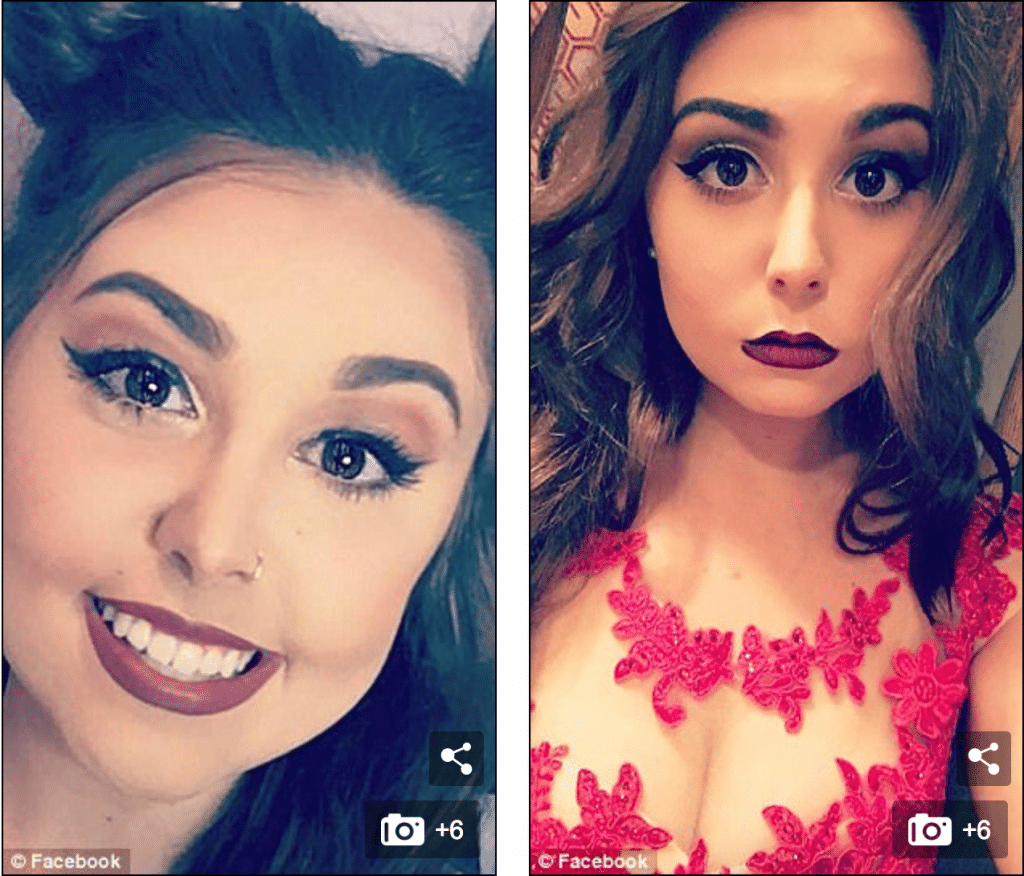 While Anna was never a stranger to her father's racist attitudes, she conceded being 'incredibly sad' with her father's savage reaction.
'He has told me that if I ever dated a black guy that I will and would be dead to him,' she told BuzzFeed. 'I stood my ground for what I believe in. He has called me several horrible things before.'
She added: 'This just hurt more because I can not believe how anyone can hate someone they don't even know because of their skin color… 
'My mother was horrified and felt terrible but there isn't anything she can do.'
Her date, Phillip, also shared screengrabs of the exchange on Twitter, where they've been steadily earning attention and horrified reactions.
'It's important for people to see that racism is very much alive,' she said. 
Of note, Anna Hayes said that ever since the text messages went viral, her father, his current wife and his ex-wife have received threats.
Responding to the threats against her father Anna said, 'there is a peaceful and classy way to fight for what you believe in. Threatening someone and calling them all sorts of terrible things makes you just as wrong as my father was.' 
What do you think? Is there a peaceful and classy way to respond to racism, or is racism so deeply embedded in America that it betrays the fears, prejudices and aspirations of a greater subset of people ….
And then there were these responses on twitter that caught my attention, see what you think?
@anna_m_hayes @Og__Regg You went to prom with not your boyfriend? Just to show racism is "still around?" ? That seems weird. Or was it to show your dad is? Huh?

— Eric (@mr_amaesing) May 5, 2017
@anna_m_hayes @Og__Regg ,GOOD JOB DAD ,, GOD BLESS HIM ,WE ALL SUPORT THE FATHER….

— kevin huddy (@scootertrash197) May 6, 2017
@anna_m_hayes He asked of you to not associate with blacks, you do just that and you're surprised that he feels betrayed? What kind of daughter are you?

— Teodor ?? (@teodor_ns) May 6, 2017
@anna_m_hayes Your life will be hell..your either be beaten or murdered..99% yr future will b alone with a child in some shitty apartment in a black area.

— Take the Red 1 (@mrinside007) May 6, 2017
@anna_m_hayes Your father tried to teach you one thing and you had to fuck it up. It is not about just the skin colour. It is about the race and genetics.

— Homma Botti (@Hommabotti) May 6, 2017
@anna_m_hayes You must really hate your father.

— Enoch Was Right (@RiversofBlood68) May 6, 2017