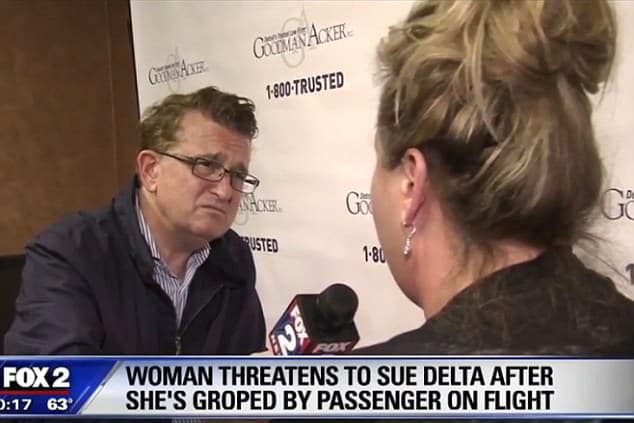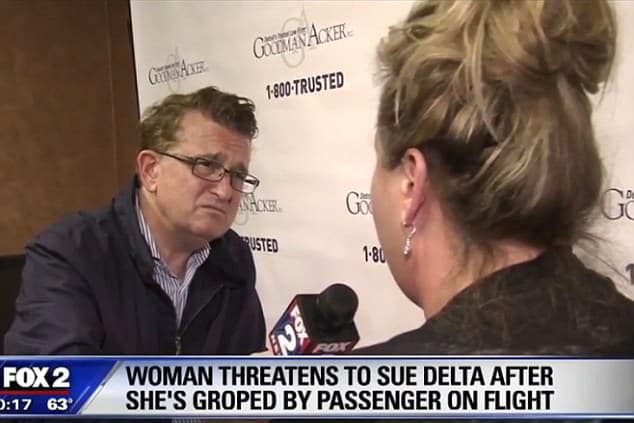 Rhonda Costigan has filed a lawsuit against Delta Airlines for failing to stop masturbating passenger, Christopher Finkley groping her during a flight. 
The friendly skies over America continue to be turbulent as yet another episode of airliner discontent emerges.
A report via mlive has told of Rhonda Costigan a Garden City, Michigan woman launching a lawsuit against Delta Airlines after failing to stop a first class passenger, Christopher Finkley, 41, masturbating next to her.
The suit which also alleges Finkley, a 41 year old long-haul trucker assaulting the woman, a waitress and mother of a 15-year-old girl which took place during a flight from South Carolina to Detroit, July, 2016.
Of note, the lawsuit comes a month after Finkley was convicted of simple assault and indecent exposure as the man 'pleasured' himself shortly after take off.
Told the woman's lawyer, Gerald Acker via CBS Detroit: 'And this gentleman, if I want to call him that, was fondling himself in first-class – he was noticed about 40 minutes into the two-hour flight by a flight attendant – the flight attendant apparently called down to Detroit to make sure that police would be there to arrest this man'.
Finkley, according to a sentencing memorandum, went to the back of the plane to use the bathroom because the one in first-class was out of order. On his way back to his seat, Finkley sat in an empty aisle seat next to the woman.
'Shortly after the defendant sat down, he placed his hand on the victim's upper thigh and began to rub her bare skin,' the court document reads. 'While he was doing this, the defendant told her that he 'liked white women' and asked 'where's your man?' The victims told him to 'please stop' and stated 'my kids are behind me.''
Finkley continued touching the woman's bare thigh, saying he was merely massaging her leg, before putting his hand underneath the woman's shorts. He then returned to his seat after realizing the flight was about to land.
'After his return, he resumed rubbing his penis, this time observed by a second flight attendant,' the sentencing memorandum reads. 'Upon landing, [the woman] immediately texted her daughter and told her to stay in her seat because she was scared.'
Upon landing, Finkley was taken into FBI custody where he told of having two drinks before and during the flight. The man initially denied masturbating, claiming the zipper of his shorts must've malfunctioned and was spotted by flight attendants as he tried to fix it.
After being told he could be prosecuted for making false statements, Finkley admitted that he liked to sit with his hands in his pants and massage his penis, what he called 'his happy place,' (do you suppose…?) according to the sentencing memorandum.
'He stated that he did not mean for the flight attendants to see his penis but that it is possible that they did,' the document reads. 'Defendant then admitted to touching [the woman] on the outside of her knee and making a 'caressing motion.''
Noted the government in the sentencing memorandum, 'The victim did not have the ability to get up and walk away with the defendant seated in the aisle seat blocking her path,'
'She was effectively trapped.'
Which raises the awkward question, where was Delta Airliens personnel in all of this?
Reiterated Costigan's attorney: 'What they should've done after they found out he's masturbating and exposing himself in first class… they should've monitored that man and not allowed that predator to run through the cabin,'
Adding, 'It is simply unconscionable that Delta Airlines staff would witness a man exposing himself, and instead of restricting his movements and preparing the cabin for his arrest, they allowed him to roam freely, where this sexual predator was allowed to assault Ms. Costigan,'
While noting, 'Airlines freely use force to remove passengers from overbooked planes, while overlooking the safety of passengers like Ms. Costigan.'
Finkley pleaded guilty to simple assault on Nov. 2 in connection to the incident. He denied masturbating on the flight, however, admitting only to touching the woman's leg, claiming that his zipper was broken and that he does not wear underwear.
In his sentencing memorandum, Finkley's attorney wrote that he has worked as a long-haul trucker since turning 22 years old.
The stress from being away from his wife, children and other friends for weeks or months at a time, combined with him drinking two shots of Bombay gin, contributed to his actions on the Delta flight in July 2016, his lawyer argued.
Finkley was later sentenced to seven days in jail and one year of probation, WJBK reports as well ordered to pay $1,000 in fines and pay $400 in restitution. 
Yet to be necessarily understood is why Delta Airlines declined to protect Rhonda Costigan and other passengers at risk from the lewd behaving man.
Delta Air Lines, have to date declined to comment on the lawsuit.