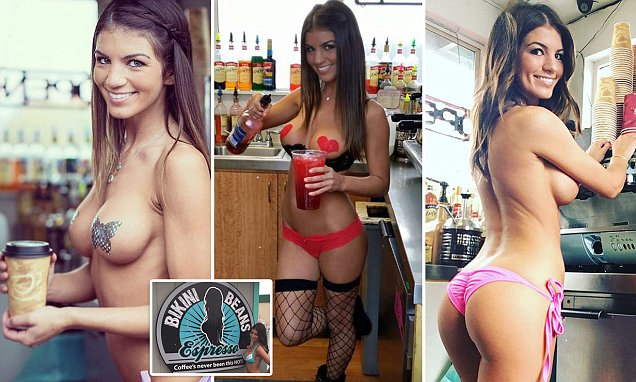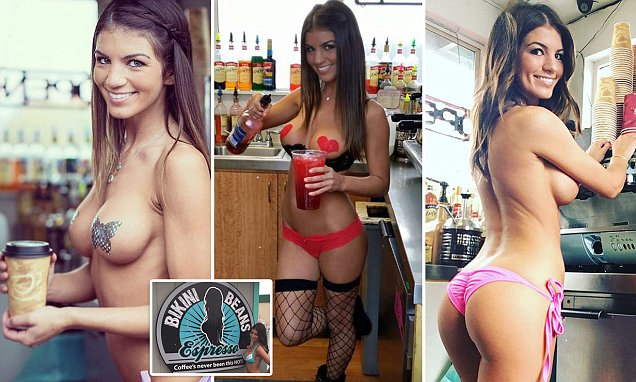 Bikini Beans Espresso baristas: Has one coffee entrepreneur, Carlie Jo gone too far in having bikini clad baristas now serving with just nipple pasties? 
Does it make the coffee taste any better? Shop boss and owner of Bikini Beans Espresso might be apt to think so, and so do many of her thousands of converted customers. But try telling that to the locals who are enraged.
Making what some would argue is the most delicious brew in Washington is Bikini Beans Espresso, except what sets this outlet, which also has branches in Arizona, apart from other coffee makers is the servers serving the 'special brand of brew'.
With buxom baristas the mainstay, clad in bikini's (naturally), owner Carlie Jo has gone one over according to locals with baristas having forgone their bras and now simply wearing nipple pasties.
I think I'll have a double shot thank you very much!
Notes the dailymail, 'while a bikini dress code may seem like a step backwards for gender equality, the shop's owners insist it's to empower women.'
And how, according to Carly Jo.
Notes the coffee chain on its website: 'As the first bikini barista shop in Arizona, we want to empower women to be, and feel good about, themselves,'
'Women everywhere have the right to vote, to be gay, to be successful community leaders and business owners, or even run for president!
'We have the right to work with grace, confidence and dignity, regardless if it's in a business suit, scrubs, or a bikini.' 
Not surprisingly the chain's philosophy has been a bit hit with a certain quotient of the population. Men.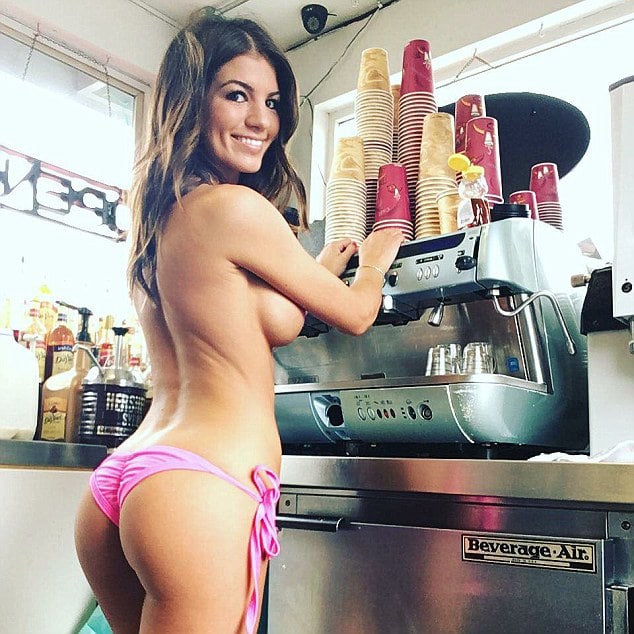 But not everyone is feeling the joy and buzz of the firebrand espresso shots served by  Bikini Beans Espresso and their skimpy clad baristas.
Seething is city councilor Mike Fagan who unsuccessfully tried to impose limitation on the bikini barista stands.
According to Fagan and he might be right, the stands promote to exploit women. But then again couldn't one argue the same of the many billboards, magazine covers and movie screens full of skimpily dressed women proudly exhibiting/selling their sexuality for their piece of the American dream?
Which is to ask how does society see women and is the value of a woman markedly appreciative when she appears a certain way? Even when serving a hot cup of coffee? Might that explain why there are no coffee stands with men in the buff making headway? And maybe at the end of the day Bikini Beans might just be a strip joint lite masquerading as a coffee stand?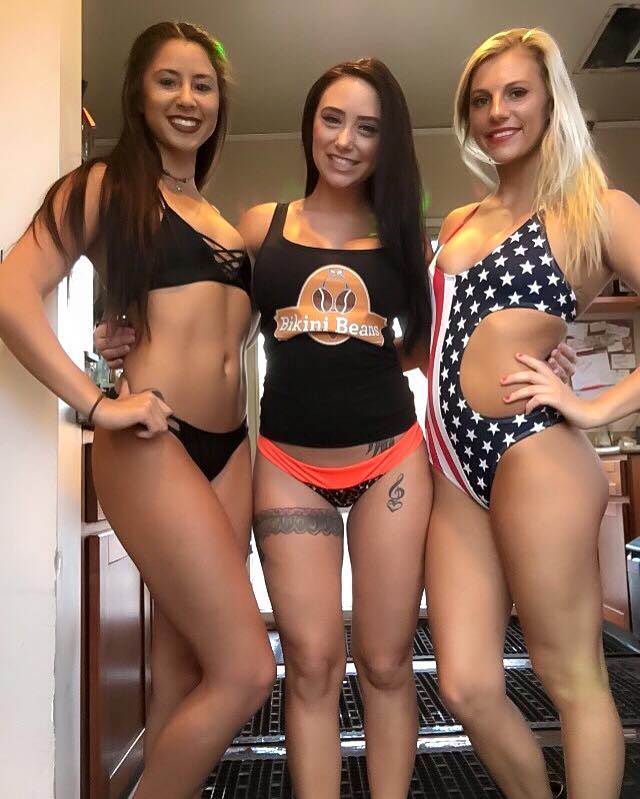 Explained Fagan via Zagat: 'It should be all about the coffee and not about the body.
'Having frequented at least one time in each of these shops, just to see what the consumer is subjected to, we're talking about three stickers strategically placed – and I'll leave it up to everybody else's imagination as to where those stickers are placed.'
He added: 'I don't want to pound on the "It's for the children" argument, but that is what it's all about.'  
But is it? Says who? And to be fair, no one is forcing the female baristas to work at Bikini Beans Espresso (but one imagines the tips help) and of course no one is forcing customers to turn up to the vendor either.
But tell that to the locals who are struggling coping with the eyesore.
Told mom of four, Kimberly Curry via Zagat: 'The problem wasn't as much what they saw,'
'It was having to explain to my eight, seven and five-year-old kids why there are women without shirts on serving coffee and why there are men in line to get this coffee,'
'I'm all for people doing what they want to do. But I don't want it imposed on my family.'
Barista shop lays off its employees because they weren't hot enough.
Espresso Stand Busted for Prostitution
Java Juggs owner had sex with cops who promoted prostitution
It's time to watch a police home video of Java Juggs baristas cuddling their breasts in your face.
Pictures: Carmela Panico of Java Juggs made $2m with bikini barista prostitution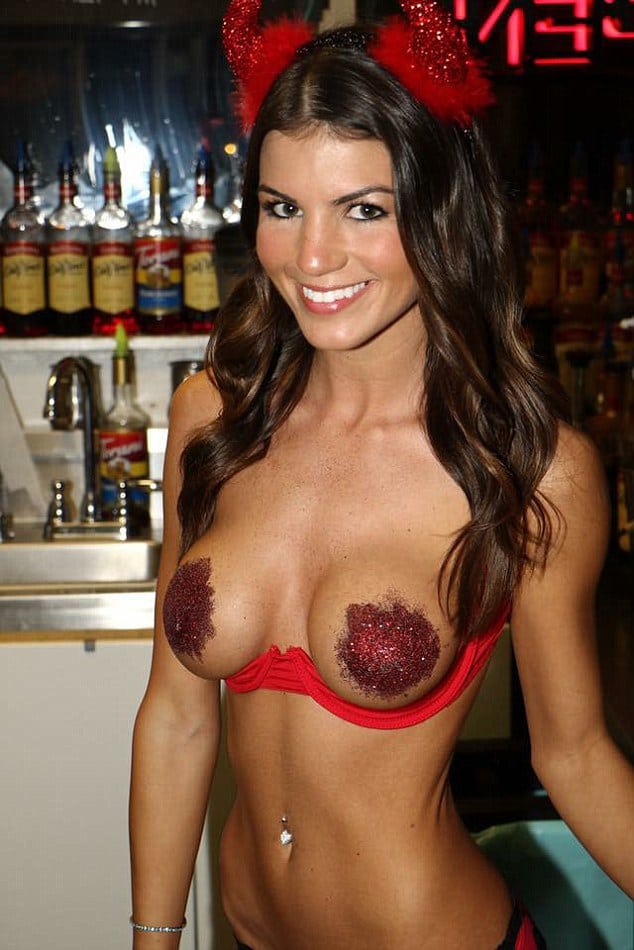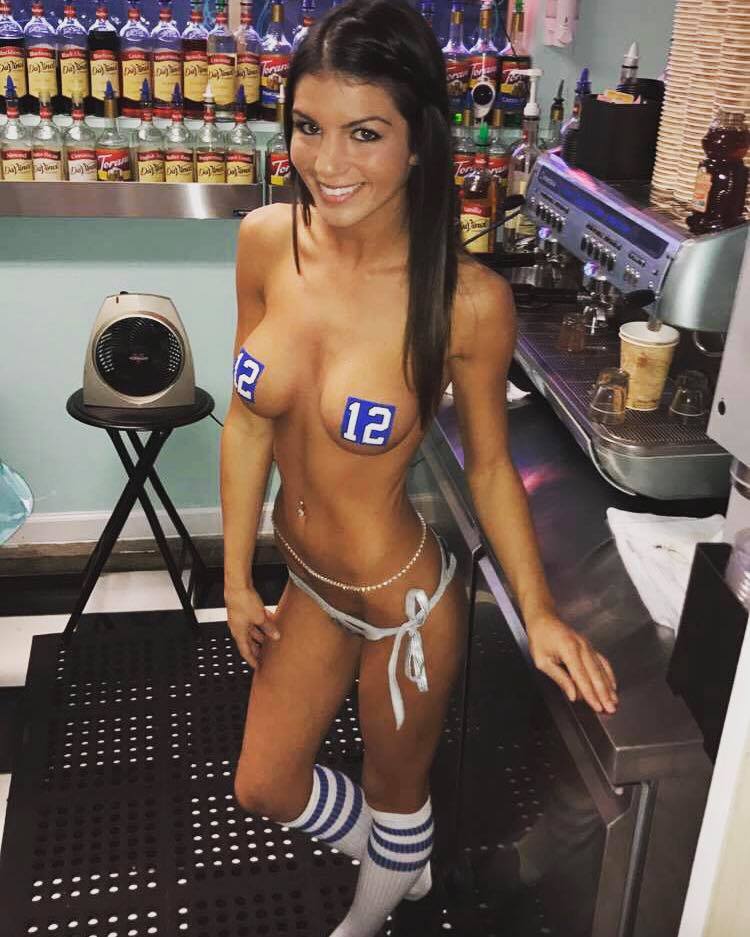 However, staff member Brittany Paterson told People that the scantily clad staff do not put off customers with children.
'I have full families that come in that love me,' she said. 'Whichever stand I'm at they bring their whole family. They bring their kids, you know, I've offered to babysit before. 
'So it really doesn't affect kids at all, I think they are just trying to find another thing to be offended by.' 
What do you think? Will you be dropping by Bikini Beans Espresso and trying one of their mouth watering cappuccinos? Of course, don't forget to tip the baristas….