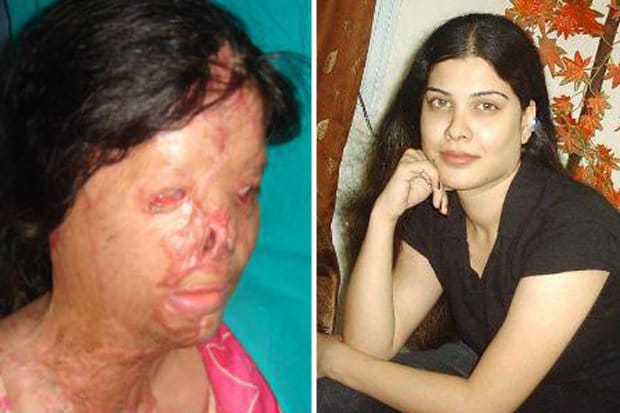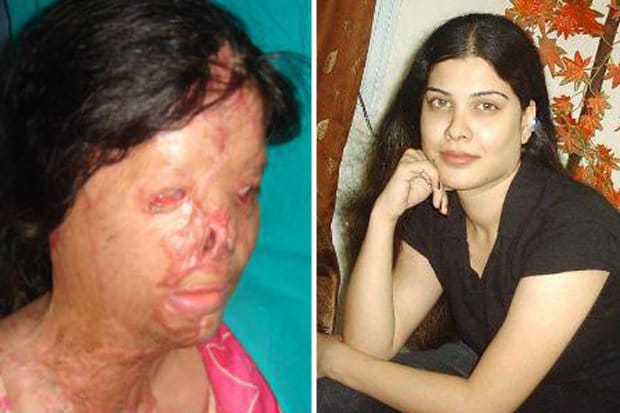 How Kanwal Qayyum Pakistani acid attack victim has fought to reclaim her humanity and dignity after a horrific incident at the hands of a jealous friend.
Kanwal Qayyum a 29 year old Pakistani woman who had her entire face burned off in an acid attack has fought valiantly to reclaim her humanity and dignity, ten years on after an incident that forever changed her life.
Set to take on a role as an air hostess, the then 19 year old woman and young mother's life was irrevocably changed when a jealous girlfriend, bitter that Kanwal was advancing in life doused her with sulphuric acid as she slept. 
Tellingly, the acid which was used in the attack against Kanwal can still be bought for next to nothing mere blocks from where Kanwal lives, with no questions asked.  
Despite the horrific injuries, Kanwal incurred, the woman refused to be defined by the tragedy and has since fought valiantly to reclaim her identity and self respect.
With the attack burning off the woman's nose and facial features, surgeons soon embarked upon the process of 'painstakingly' rebuilding the young mother's features over the ensuing years notes the dailymail.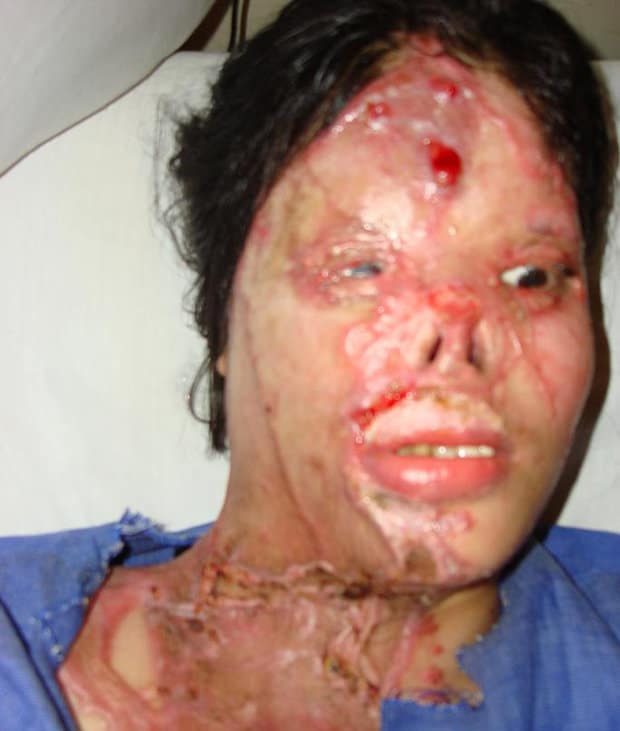 In a show of courage and intent to regain her life, Qayuum has bravely shared pictures of her remarkable transformation after medics rebuilt her nose using tissue from her thigh.
Instrumental in the woman's rehabilitation is hair transplant surgeon, Asim Shahmalak from the UK's Manchester, who recently returned to Karachi to inspect previous surgery efforts.
Two years ago, the surgeon rebuilt two new eyebrows and eyelashes in the left eyelid from hair taken from the back of Kanwal's scalp. A process which led to follicles naturally taking root.
Prior to surgery, Kanwal used a black marker to give the impression that she still had eyebrows.
Kanwal, now planning fresh surgery on her nose and building on previous progress expresses her gratitude towards the surgeon, with the woman revealing she has gotten married since first being helped by Dr Shahmalak.
Told Kanwal: 'I cannot thank the doctor enough – he has completely transformed my face and I love my new eyebrows and new eyelashes.'
Told Dr Shahmalak: 'Kanwal is one of the bravest women I have ever met.
Adding: 'The surgeons have done a remarkable job completely rebuilding her features and I was delighted to be able to help with her eyebrows and new eyelashes.
'It was wonderful to hear how she has turned her life around, found happiness and got married.
'She is now having her nose remodelled and making amazing progress every time I meet her. It has been so rewarding to be part of her recovery.'
Reflects the surgeon who often personally funds ventures to help other similarly targeted woman: 'I wept when I heard these women's stories. Being doused with acid because you refused a man's marriage proposal – people were treated better in the Middle Ages.
'Helping to rebuild their faces is some of the most rewarding work that I do. Just seeing their smiles after the surgery makes it all worthwhile.'