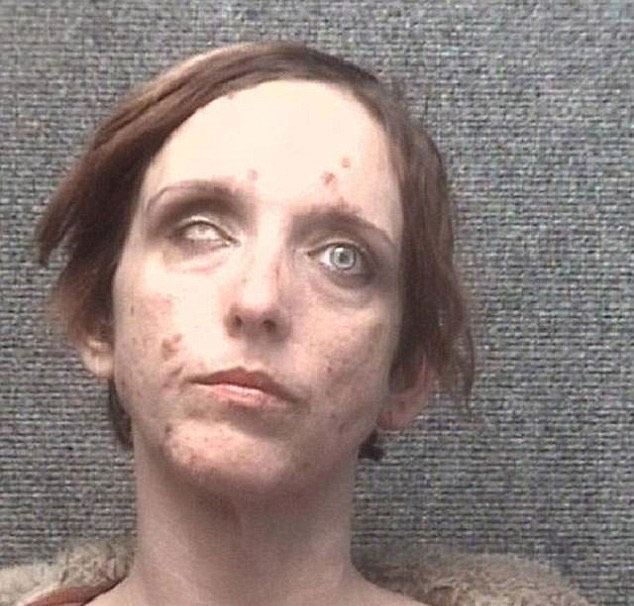 How Tiffany Dawn Evans a one eyed woman came to be caught up in a Myrtle Beach, South Carolina sweep courtesy of undercover police. 
Also making their tabloid foray is 30 year old South Carolina woman, Tiffany Dawn Evans, who came to be caught in a sweep courtesy of Myrtle Beach police.
Arrested amongst ten men and women ranging from ages of 24 to 58 years old off South Kings Highway for a variety of offenses, including drugs peddling and prostitution.
What though makes Tiffany Dawn Evans arrest particularly beguiling is the the fact that the streetwalker is one eyed.
Which of course warrants the awkward question. Which one of you out there has been having sex with a one eyed prostitute? How does a one eyed individual end up thrown to the wolves instead of getting the care and help they need?
According to arrest reports, so cloudy and 'almost non existent' was Evan's right eye that the streetwalker was also distinguished by other features on her face and 'stringy hair.'
Upon her arrest the woman, who probably needs our sympathy and some time in rehab was charged with an assortment of charges.
Charges included being booked with prostitution, drugs and unlawful to advertise for sale along with manufacture or possess.
WMBFNews.com, Myrtle Beach/Florence SC, Weather
In a press release cited by WMBF, cops said the group were busted during an undercover prostitution operation in the area. At the time, arrested individuals entered undercover vehicles and agreed to sexual activity for prices ranging from $20 to $200.
Arrested in Wednesday's sweep were also: Daniel Quardre Bryant, 23, Christy Michelle Renee Rowan, 24, Ashley Janay Pearl, 25, Amisha Nichole Eller, 28, Tiffany Dawn Evans, 30, Lynn Patterson, 32, Jose Juan Cruz-toribo, 32, Desiree Dawn Mcgill, 35, Jules Roy Hixenbaugh, 56, Gary Lewis Clark, 58 and John Henry Brown, 58.
Of note, the batch arrest was the second large-scale prostitution bust at Myrtle Beach after police arrested 10 other women, aged between 25 and 54 years, just last week.
Myrtle Beach police spokesman Lt. Joey Crosby pledged at the time to continue working to address prostitution.