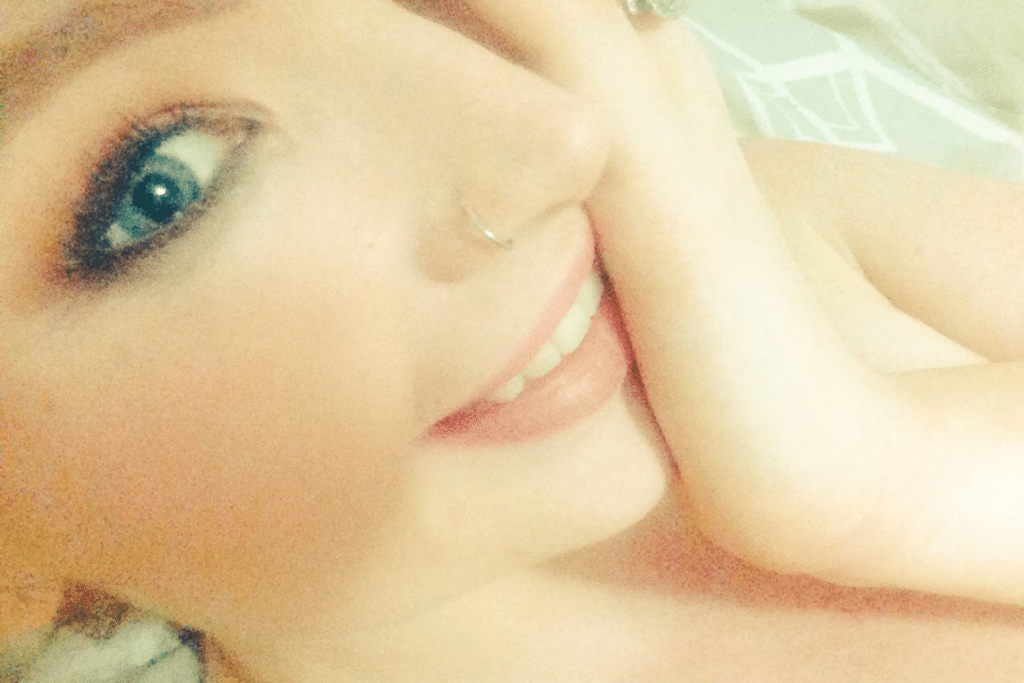 Rosie Renee webcam girl. The flourishing rise of young women appearing in erotic webcam forums continues to escalate. Four Aussie women explain why.
Four young women from Australia have revealed what it's like working as a camgirl model, where for tips and bonuses, girls like Rosie Renee act out fantasies in front of men from all over the world.
Leaving nothing to the imagination, the young women tell how they role play in front of the camera, often performing sex acts for strangers online.
All that is required is an internet connection and a web camera that one can acquire for less than $100.
According to a report via the dailytelegraph, the women get paid well for their efforts and best of all don't have to leave their rooms to get paid, or better still up turn up for a minimum paid job.
One of the girls, Rosie told of becoming a camgirl in May because she wanted a job where she could choose her own hours and work from home.
The 21-year-old from Queensland says 'you can't just sit there, look pretty and take your clothes off,' – that customers want someone who is real, who they can form a relationship with. 
The curvaceous young woman proudly boasts a menu when she is online – in the form of a whiteboard which shows her viewers what she will do and how much it will cost them. 
Sample feats includes the 21 year old woman having bathed in beetroot, set her nipple on fire and admitting spending having 16 hours at a time on camera. 
Explains Rosie Renee: 'There's a sexual element, but there are also a lot of people who are lonely,'
'I've had people tell me I've stopped them from killing themselves.'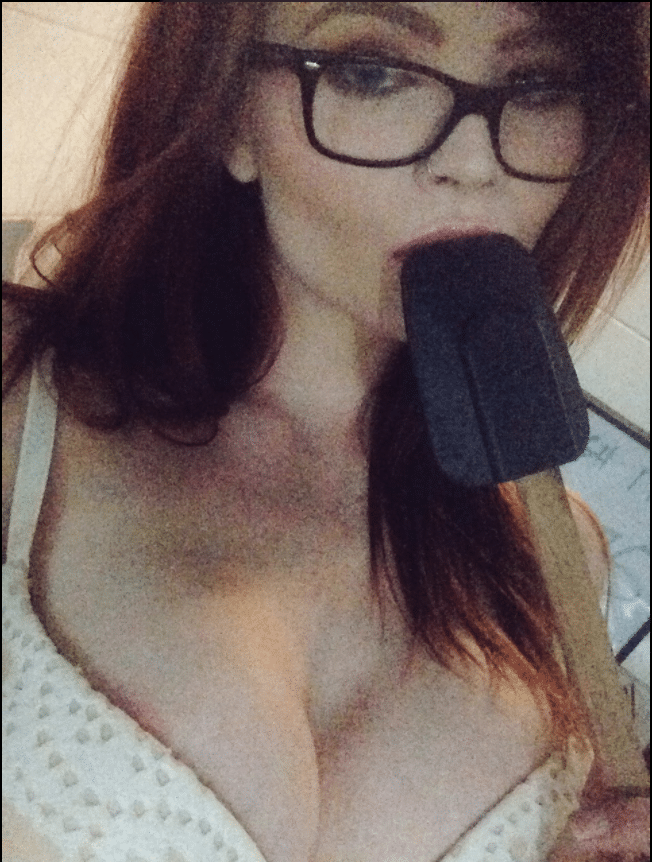 Making coffee, taking some more pain killers for good measure and have set up in the lounge for today. See you soon! pic.twitter.com/bH1QjiUlqS

— Rosie Renee (@DailyRosieRenee) September 6, 2016
Another camgirl, Heidi, 23 a university student from Melbourne, has bright blue hair and once sat on a kitchen bench and painted herself while more than 40 men – paying customers – tuned in to watch. 
Her first session netted her $400, and left her 'mind blown.'
Some sessions earn her $10 – others $2000 depending on how much the men on the other side of the screen are willing to give her in tips. 
To boot, Heidi had sold her underwear for $100 and even performed sex acts on other girls for her followers. Performances that one wonders camgirls are more than willing to participate in, virtual fantasy and escape into the forbidden.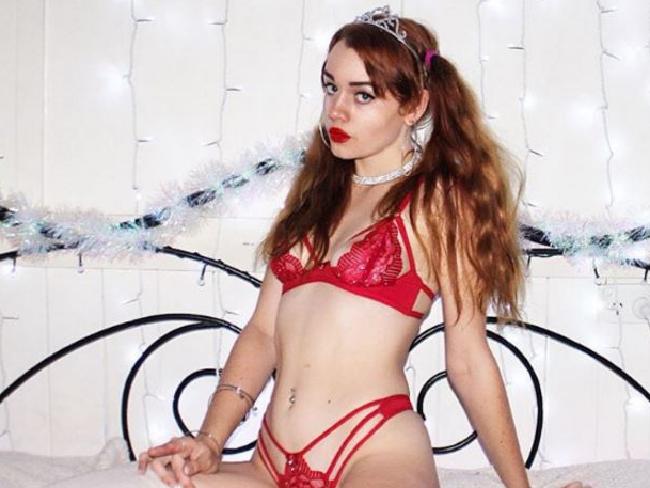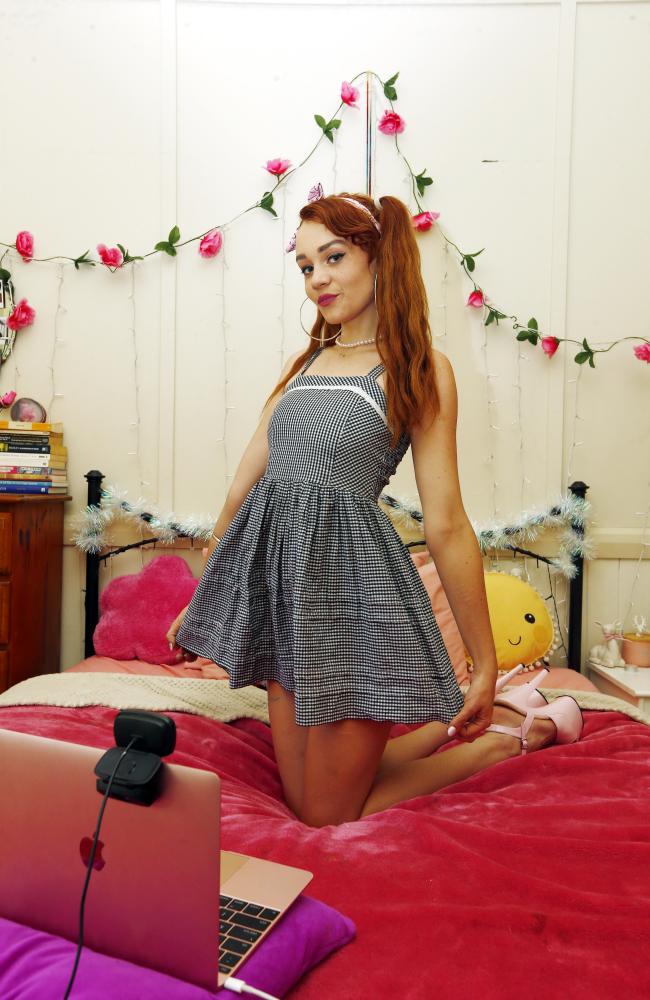 Another cam girl named Tegan gets paid $5 per minute to be in the buff online and currently makes about $60,000 a year while studying full time. 
While conceding she started as a nervous 18-year-old girl, she went from strength to strength as she cashed in on her signature 'innocent' look – pulling her hair into pigtails before she heads online to meet her guests.
And then there's Lola from Byron Bay, who according to one Australian media report concedes to sitting at home choking herself for clients.
Told one client recently: 'Now spank yourself,'
'Harder, harder. I want it to really hurt.'
Nothing about it turns her on, but Lola needs cash and she knows this client will pay her well. She's never seen his face, while conceding it's hard not to lose oneself in the online world.
'It's so far removed from what I like sexually it's hard to imagine that they're getting off on it,' she says.
Some of the girls broadcast risqué photos of themselves for free using sites like Instagram and Tumblr while others only use sites which require payment before viewing. 
Of note, in the US, camming is a $1 billion-a-year industry.
At any one time there are about 20,000 'cam models' live on the most popular sites.
Despite concerns of overtly sexualizing themselves and dealing with less than savory characters the women intend to continue with their extracurricular activities. Others worry, camming serves to contributing to adult movie addiction along with emotional detachment. Along with normalizing the idea of appearing tawdry without clothes and being available as a sex object.
What do you think, have Rosie Renee and other camgirls like her gone too far, or should they be free to do as they please with their bodies? As long as there are customers willing to pay and women willing to indulge them why should one ponder on moral or aesthetic concerns?
Never mind the real life possibilities of stalkers and negotiating with one's reputation in the real world.
Or as some have wondered where do we draw the line in a society that so often glamorizes women for their appearances, from billboards, magazine covers and even social media payolas which often encourages women to sexually preen for as many dollars as possible.