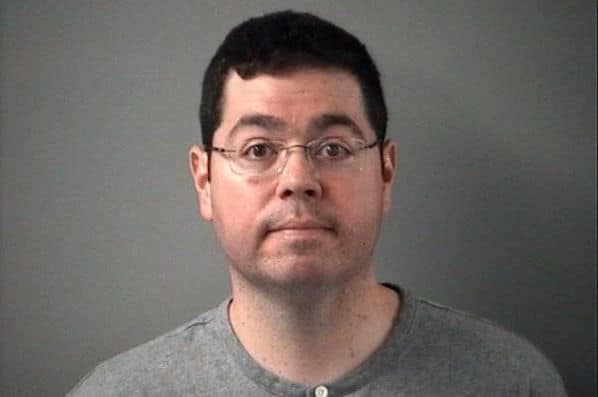 How did Justin Hubly a Crystal Lake high school choir director come to have alcohol fueled parties with the students with little resistance from educators?
Justin Hubly a 35 year old Illinois high school choir director has been arrested after the teacher was accused of holding alcohol fueled parties with pupils along with having sex with at least two former female students.
Upon his arrest the seemingly clean cut bespectacled choir director was booked on a series of charges including two counts of misdemeanor battery and unlawful delivery of alcoholic liquor.
Hubly was soon there after released after posting $10,000 bail.
Interestingly Justin Hubly's arrest comes after the high school choir director quit his post at Crystal Lake Center High school three weeks ago after a probe into alleged transgressions involving the teacher were initiated.
At the time, the resignation told educators was described as being prefaced on 'personal matters.'
According to ABC Chicago a probe was launched after allegations Hubly had plied the two women with booze before then having sex with them.
Crystal Lake Deputy Police Chief Tom Kotlowski confirmed that the females had graduated from Central prior to their alleged sexual encounters with Hubly.
Cops are also probing whether Hubly had at least one improper relationship with a current student.
Peace.love.Justin Hubly @clcactivities pic.twitter.com/qavhap7pP8

— camilleseban☁️ (@camillesebann) April 3, 2014
Hubly had been choir director at Central for 12 years — and was the president of the teachers association. A tenure that has since been marred with 'rumors' that the teacher had been hosting parties involving students at his home for a while.
Whether there may have been previous transgressions involving the student body isn't generally understood.
How or why school educators failed to act on such suspicions has yet to be revealed.
In a statement released Wednesday, the Community High School District 155 said 'we have taken appropriate actions to ensure there is no interruption in our student's learning. We are also cooperating with local authorities.'
Told a parent who declined to give their name: 'I've seen it before, it was unfortunate. He went to prison as he should have and if this man's guilty, I certainly hope he would face jail time, a long time, and if not then not.'
To date cops have told of weighing additional charges against the former high school choir director.
Prior to his resignation, Hubly was earning a salary of $85,290 a year, not counting benefits, according to school records. The educator had also served five terms as the president of the District 155 Education Association.
Justin Hubly's next court date is scheduled for December 27.