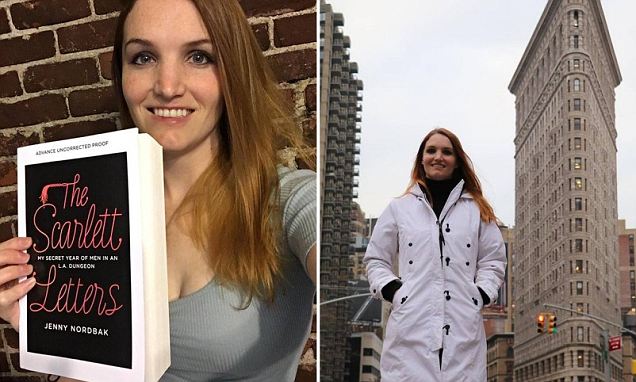 Jenny Nordbak Hollywood dominatrix double life: A tell all memoir, The Scarlett Letter in which the author explores high stakes kinkiness and domination.
Jenny Nordbak otherwise (covertly) known as Mistress Scarlett in certain Hollywood circles has told of her upcoming memoir, 'The Scarlett Letter,' in which she doled out kinky high jinks.
In an interview with pagesix, the construction manager by day and Hollywood dominatrix by night tells how she came to mix with a who's who of Hollwood's creative class where she was hired to 'whip, beat and bind' her clients along with 'playing out their fantasies.'
The soon to be released tell (next spring) comes as Nordbak has hung up her spikes and whips, where she reigned over household name musicians, famous screen writers along with A list actors (and yes accountants too).
According to the dailymail, Jenny Nordbak a USC graduate led her double life for two years, working in the male dominant arena of construction while in turn dominating men in the evenings at Los Angeles' longest running dungeon.
Notes the author in her upcoming memoir: 'When you're at the more exclusive private fetish play parties, that's when you start to see more famous people, and I did see more celebrities in that sphere.'
While declining to name names (oh well…, surely we have our hunches?), Mistress Scarlet writes about a number of submissive clientele including a 'mega famous actor' who paid her to yank on strings attached to a certain private piercing.
Then there was the Hollywood screen writer who couldn't resist starring in his own script which according to the former dominatrix involved 'over the top scenes, full costumes and a whole production.'
Yes kids, we're all salivating.
In her tell all, Nordbak reckons her 'kinky profession' is popular in Hollywood because so many stars are surrounded by 'yes' men.
Of course one can't happen to wonder to what degree dominating men and usurping a form of power over them added to Nordbank's sense of exhilaration?