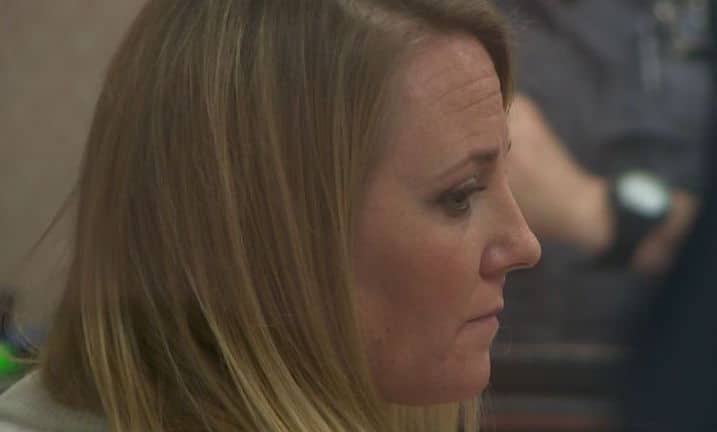 Elizabeth Dillett kindergarten teacher sentenced. What led an educator sexually preying on a 16 year old boy while betraying the boy and his family?
Elizabeth Dillett a 31 year old former Franklin, Wisconsin kindergarten teacher has been sentenced to two years jail after having sex with a sixteen year old teen boy.
The woman's sentencing comes after Dillett pleaded guilty in October to two felony charges — two counts of sexual assault of a child by a person who works or volunteers with children reports Fox6. Six other charges were dismissed.
Addressing the court on Friday, the victim's father said: 'She preyed on my son and used our friendship for access to him.'
The sentencing comes where at one point Elizabeth Dillett is alleged to have to begged the boy's parents not to report her to the police notes the Milwaulkee Journal Sentinel.
Texts sent to the boy's dad said she would 'do anything to keep her name out of the public.' 
Dillett, who pleaded not guilty to the charges, was the athletic director at St. Peter-Immanuel Lutheran School where she taught kindergarten. 
The victim was not a current student at the school it is believed the pair got to know one another through athletics training. 
Dillett first had sex with the teen at her home in late February, before their next encounter inside the school in mid-March.
According to the dailymail the teacher gave the boy condoms for each session. 
Teacher Elizabeth Dillett pictures,sleeping with a teenage boy at school https://t.co/MRran7rb7N pic.twitter.com/DHJTlahM5f

— infowe (@infowe) December 5, 2016
It wasn't until April that the kindergarten teacher was put on paid leave after allegations of the illicit tryst first coming to light.
During trial proceedings Dillett's defense attorney told the court that his client had a 'rough childhood' and had never gotten in trouble before.
Argued the lawyer:'This isn't a circumstance where my client had some plan to have a relationship with the victim.'
Claims that the prosecutor challenged, describing the kindergarten teacher as scheming and manipulative.
Assistant District Attorney Kristin Schrank said 'salacious texts' recovered from the boy's phone left no question about the sexual nature of Dillett's interests and the relationship, all during a time when the victim 'should be learning how to maintain healthy relationships.'
Told the victim's father in a statement where he described his son's innocence being robbed:
'We have recognized that our son believed that he was in a healthy relationship. His opinions regarding relationships has become distorted since this incident.'
In court, Dillett apologized to her family, as well as to the victim's family. 
Told the disgraced educator: 'I broke your trust and our friendship. I know I crossed the line with your son and your family and it was very inappropriate of me.'
Tended Judge Joseph Donald upon dispensing the teacher's sentence:
'I am certain that you were well aware of where it was and how dangerous this was. How irresponsible this was,'
'You're loved, respected and cherished. But for some reason you either lost sight of that or couldn't accept it.'
Dillett now has to register as a sex offender and is to have no contact with children under the age of 17 as well as be required to having three years of supervised release upon her eventual release from jail.