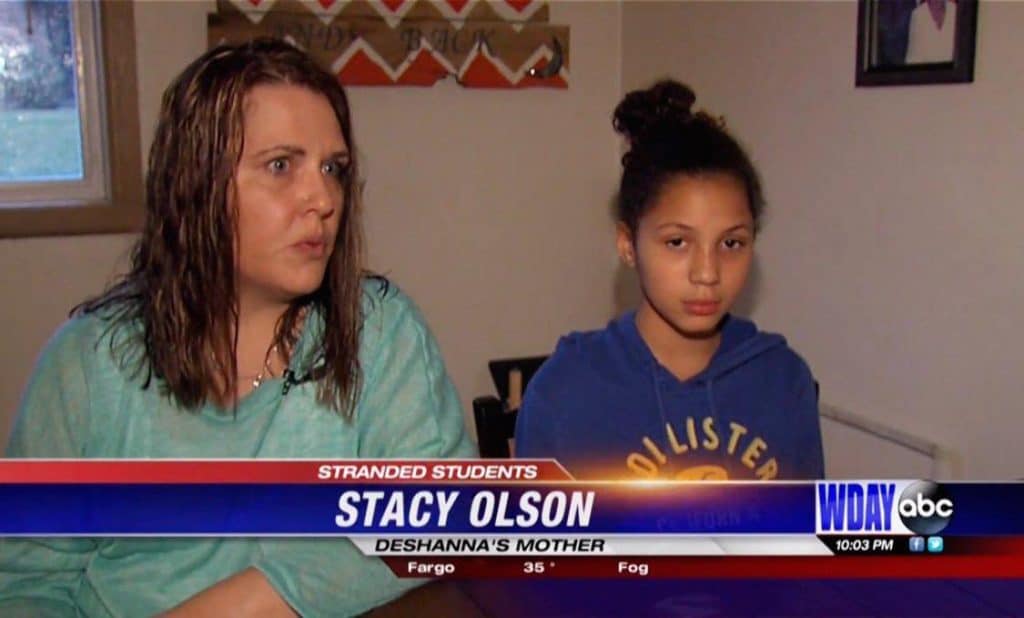 Moorhead Minnesota school bus driver strands students: What led to students being stranded along with being subjected to derogatory racial slurs? 
A Minnesota school bus driver has been accused of dumping off 20 middle school students on the side of the road near an industrial park and calling some of them 'nigger.'
The unidentified driver in Moorhead, N.D., east of Fargo, according to students on the bus claim that the driver 'became frustrated' and chose in turn to strand the students this past Tuesday afternoon.
DeShanna Dotson a Horizon Middle School student told WDAY that the man refused to take them home, and called her and at least one other student a racial slur as they exited at an intersection next to diesel fuel and storage facilities.
'If you can't control yourself for the little time you do drive the bus, then you shouldn't be working there,' said the student's mother Stacy Olson. 'At no point, even if the children were bad, should they have been called any racist name.'
Dotson and Olson also said it was a frightening place to be stranded.
'He dropped them off in the industrial park. It's not a safe area, there's no sidewalks to walk on,' Olson said.
The school district sent another bus to get the students, with superintendent Lynne Kovash saying that the 'fed up' driver, who works for a private company, would no longer drive for the school district.
Noted Kovash: 'We did find that there were students that were misbehaving on the bus.'
Kovash said the driver was wrong to leave the children stranded, but she said students were also to blame after taunting the man.
'Transportation on the bus is a privilege, it is not a right of a student to have transportation on a bus, so one of the things coming out of this is we need to investigate those students that were involved in this,' Kovash said.
Not mentioned was whether Kovash held the belief as an adult and by proxy of his contractual arrangement with his employer that the driver under no circumstances should have ever stranded the children, never mind using derogatory slurs.
Dan Bacon, the district's director of property services and transportation, said the bus driver works for Red River Trails, one of the district's busing subcontractors.
'We have asked them not to use him on school bus routes,' Bacon said. 'I don't know what his employment status is.'
Bacon said he couldn't describe what the students did to provoke the driver.
A request for comment to bus company was not immediately returned notes the nydailynews.
Kovash told Valley News Live that the district was also investigating students involved in the incident.