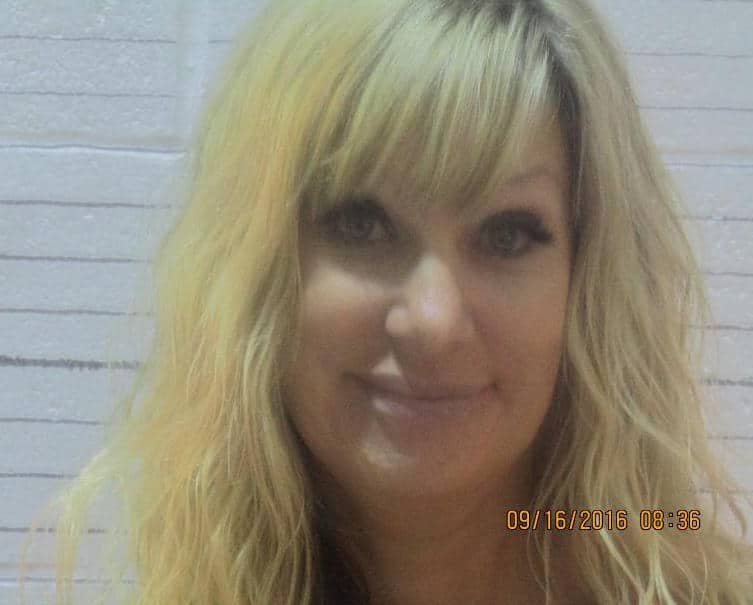 What led to Shelley Jo Duncan a school teacher and a head coach sexually preying on a minor student? Lewd texts discovered and acts at school.
Shelley Jo Duncan a 48 year old Tishomingo, Oklahoma school teacher has been arrested after allegedly maintaining 'inappropriate' contact with a minor student.
The teacher's arrest came Friday morning circa 9.30 courtesy of the Oklahoma State Bureau of Investigations (OSBI) in the parking lot of the Tishomingo High School where she taught.
A report via KXII told of Tishomingo police on Monday requesting that the OSBI investigate after the English teacher, who also doubles as a cheer coach, allegedly having inappropriate contact with a male student.
Upon gathering evidence and conducting interviews the Bureau recommended Duncan be charged, booking her on charges of lewd or indecent proposals or acts with a child under 16.
The teacher was summarily taken to Johnston County Jail.
Offered OSBI Spokeswoman Jessica Brown: 'We investigate when we are requested by a local law enforcement agency.'
Adding: 'We were searching for her this morning, and we found her at the school.'
Yet to be necessarily understood is if the alleged victim was a student at the school where Shelley Jo Duncan worked.
The investigation is said to have taken place after the mother of a 14 year teenage boy called last Friday to say she believed her son to be in a relationship with the 48 year old teacher.
Upon examining the teen son's phone, investigators told of finding numerous inappropriate text messages between Duncan and the boy.
Documents say Shelley Jo Duncan referred to the boy as 'boo' and 'love.' It also says the boy told police she had taken him back to where she worked, and they undressed and touched each other inappropriately.
Prior to her role as a teacher and as a certified school counselor, a report via kfor described Duncan working at the Office of Juvenile Affairs as a Juvenile Justice Specialist from 1998-2006. From there she moved on to the Department of Corrections, where she worked as a probation and parole officer. She resigned in 2012.
Aggravating matters is the disclosure teacher is married to Tishomingo Public School Superintendent Kevin Duncan with whom the couple are parents to an unknown number of children.
To date the woman's husband declined releasing a statement pursuant to his wife's arrest this morning.
Duncan posted $20,000 bond Friday afternoon. She faces up to 20 years in prison if convicted.