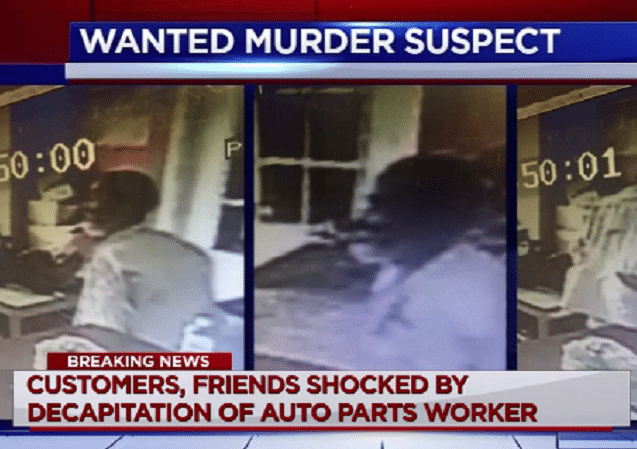 What led to Raymond Jackson, a homeless Texas man decapitating Enayatolah Khorsand, an Houston, Texas auto parts store owner?
Raymond Jackson a 62 year old homeless, Texas man has been arrested after decapitating an auto parts shop owner who long gave Jackson food, money and the occasional job around the shop.
Killed was 58 year old Iranian immigrant, Enayatolah Khorsand, whose mutilated, headless body was found inside his Houston auto shop, Thursday.
Known as 'Andy' to his friends and customers, the victim befriended Raymond Jackson four years ago.
Offered Connie Castillo, Khorsand's longtime friend via ABC 13: 'He gave him a job. He gave him money to eat, to live, and then he's the one who took his life.'
Police said Jackson attacked Khorsand inside Mykawa Auto Parts Store, Thursday night.
According to police, Jackson beat Khorsand with a baseball bat before chopping off his head with a machete.
The entire attack was caught on the store's surveillance camera.
After murdering his pal, Raymond Jackson put Khorsand's severed head inside a plastic bag and left it lying next to his beaten body before fleeing the shop, police said.
'He's caught on camera decapitating and beating this man to his death,' Houston Police Department homicide investigator Alex Vinogradov told the Houston Chronicle. 'It was brutal.'
Told a friend of Khorsand who happened upon the auto part worker's body after deciding to drop by: 'I see the body, laying down — a lot of blood. I was in shock. I was shaking.'
Cops arrested Jackson at his mother's home Friday, where he was then charged with murder.
Prior to his arrest on, Jackson had one previous violent crime in Texas on his record — a charge for assaulting a family member in 2008.
Khorsand's friends gathered at the shop Friday to pay their respects to the slain owner. Castillo — who met Khorsand 20 years ago through her husband — said he was a kind and thoughtful man, who loved spending time with his family.
Told Castillo: ''We enjoy our life' was his motto,"
"He was my best friend.'
To date authorities have yet to necessarily understand what led to Raymond Jackson turning on the auto shop owner, as some wonder to what degree mental illness pay may have played in the gruesome slaying?