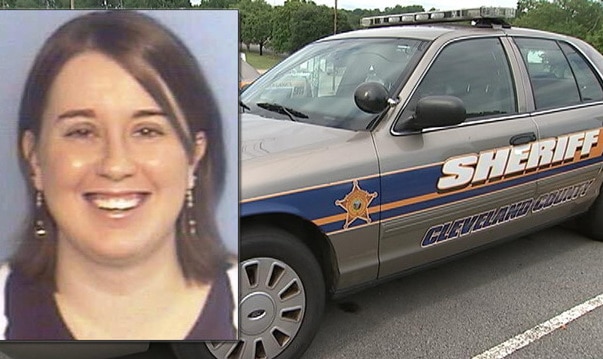 What led to Laura Bowling a high school secretary having affairs with not one but two male students? Teacher now pregnant, but whose child is it anyway?
Laura Bowling a 32 year old Shelby, North Carolina high school secretary has been charged with having sexual relations with two male students.
The woman's arrest comes after turning herself in to police Thursday after admitting carrying on affairs with the teen boys during her tenor at Crest High School over the last 12 weeks.
At the time of her employment, Bowling had been entrusted to guide students in their 'development.'
Matters came to a head after Cleveland County Sheriff's Office launched an investigation last Friday after a local mother reached out to deputies saying she'd found 'inappropriate' text messages and photos on her son's cellphone from Bowling.
A report via WSOC-TV told of the mother getting anonymous phone calls from someone congratulating her on becoming a grandmother. Investigators told at the time the mother receiving a number of calls from individuals thought to be fellow students of her son.
After speaking to several friends who knew Laura Bowling, the mother learned that the 32-year-old school secretary was expecting a baby.
Investigators interviewed Bowling and the teen, who reportedly admitted to having a sexual relationship for the past two months.
But it gets better.
Further investigations also uncovered evidence in which the Laura Bowling allegedly had an illicit affair with another male student at Crest High. The parents of that child disclosed having no idea Bowling had sexually preyed on their son.
Not necessarily understood is which of the alleged victims (if at all?) is the father of the unborn baby.
Bowling has been charged with five counts of sexual activity with a student and jailed on $50,000 bond.
Officials with the Cleveland School District said Laura Bowling quit her job on Tuesday.
An online search on Thursday revealed that the suspect is also a certified Zumba instructor offering classes in the Shelby area according to a report via the dailymail. Indeed.
Bowling is scheduled to appear for a preliminary hearing Friday morning in Cleveland County Court and has since waived her right to a probable cause hearing by a grand jury, meaning the case will go straight to the Superior Court of North Carolina.