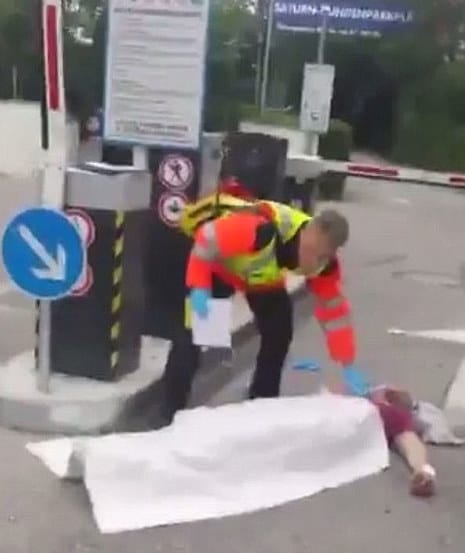 Munich shooting: What motivated three gunmen to target shoppers on a Friday afternoon at a Munich's Olympia shooting center? Fears of right wing extremism.
Pandemonium is running rein in the German city of Munich after three unidentified gunmen shot and killed at least 8 and injured 20 at nearby shopping center late Friday afternoon with reports that the three shooters have since escaped as a massive manhunt is underway.
Local reports also told of an unconfirmed second shooting at the Marienplatz metro station at Status Square, Munich's main square just three miles away from the Munich Olympia center where the initial shooting began outside a local McDonald's.
Police believe there may be several gunman on the loose with none yet to be caught.
Tweeted police: 'Currently we do not know where the perpetrators are. Please be careful and avoid public places.'
Told police in subsequent posts: 'At around 5.50pm (local time) today there were witnesses who called the police and said there was a shooting at the Hanauer Street.
'The shooting moved from that street to the shopping centre. The witnesses said there were three different people with weapons. 
'At the moment no culprit has been arrested. The search is taking place at high speed.' 
Ali David Sonboly: 'How I studied mass shootings for my revenge'
Ali Sonboly classmates: 'Psycho said he'd kill us'
Why did Ali David Sonboly Munich shooter create fake McDonald's page?
NSFW: Why did an Iranian gunman kill Munich McDonald children then self?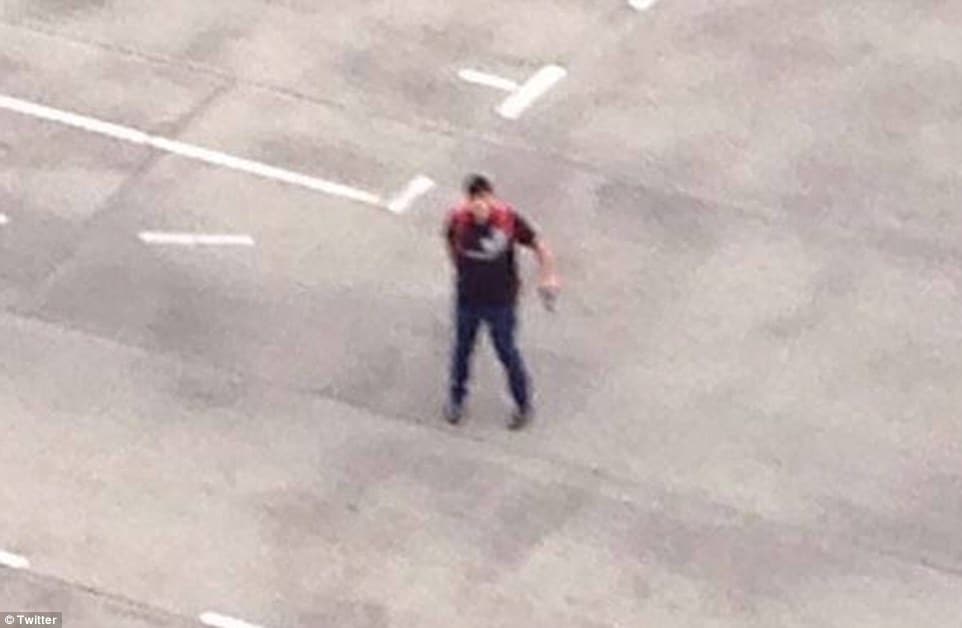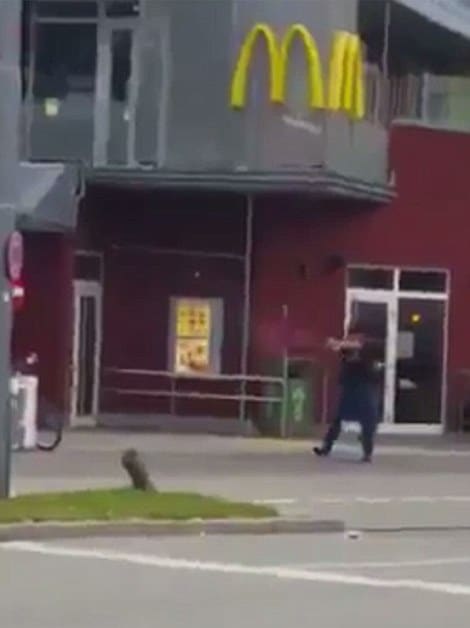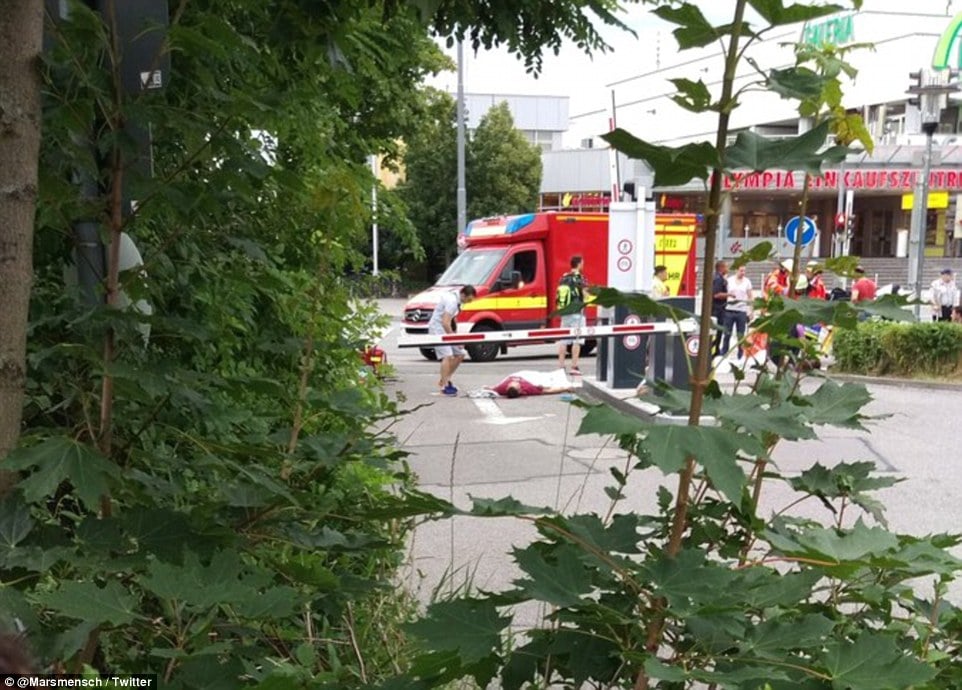 An initial report via bild told of one of the gunman shooting himself in the head at the shopping center with another also saying, 'I'm German,' and 'fxck foreigners' as they fired shots.
Witnesses told of the shooters speaking unaccented German with reports that the Munich shooting could be and extremist act by a right-wing individual(s).
The initial shooting began after a heavily armed man was observed wandering through the shopping mall in Moosach, Munich before opening fire in a coffee shop between 6pm and 6.30pm local time.
Local press said 15 people are believed to be dead at the shopping centre.
Police have confirmed six dead so far but said the number is likely to rise.
Images posted on social media show one of the shooters, dressed in black, firing 20 shots at a local McDonald's outlet near the Olympia-Einkaufszentrum metro station.
Reacting to the declared state of emergency, local authorities said all citizens should stay off the streets and not hinder rescue efforts.
Reports of a second shooting at Marienplatz station #Munich https://t.co/uMwFbEuveB

— Sky News (@SkyNews) July 22, 2016
Police suspect terror in #Munich mall shooting amid reports of at least 6 dead; hunt for 1 or more shooters underway pic.twitter.com/Vh0CVChsdC

— Fox News (@FoxNews) July 22, 2016
Multiple social media reports on gunman: spoke unaccented German; could be extremist act by a right-wing individual https://t.co/4soBVXnYs3

— Sky News (@SkyNews) July 22, 2016
Despite reports on social media of a second shooting, Munich Fire Department according to a report via the dailymail said it was not aware of a separate second shooting at the city's Stachus central square. Also yet to be verified is whether one of the gunmen had actually shot themselves dead.
It is reported that at least one of the gunman fled after his shooting spree on the city underground network, which has now been shut down. The country's train operator confirmed the main station had been evacuated.
Asked to comment on whether the shootings were believed to be a terrorist attack, Munich police declined to comment. That said, one leading security expert according to the UK's express said that the attack were likely linked to militant Islamic group, ISIS, as the group have been said to be focusing on Germany.
Raffaello Pantucci, the directory of international security studies at the The Royal United Services Institute, said the Islamist death cult have Germany high on its agenda as an attack site.
He said: 'It is unclear what we are looking at right now but looking at the German context about terrorism, Germany was one of the countries concerned about in respect of the threat.
'It's a country Daesh or Islamic State have expressed an interest in attacking.
'They see it as one of the countries fighting in the alliance against them, it's a a country with a lot of attention around immigration and it's a major European power.
'We have seen a number of attacks and scares in Germany so it makes sense Germany is a country that would be targeted but at the moment we don't know what we are dealing with.'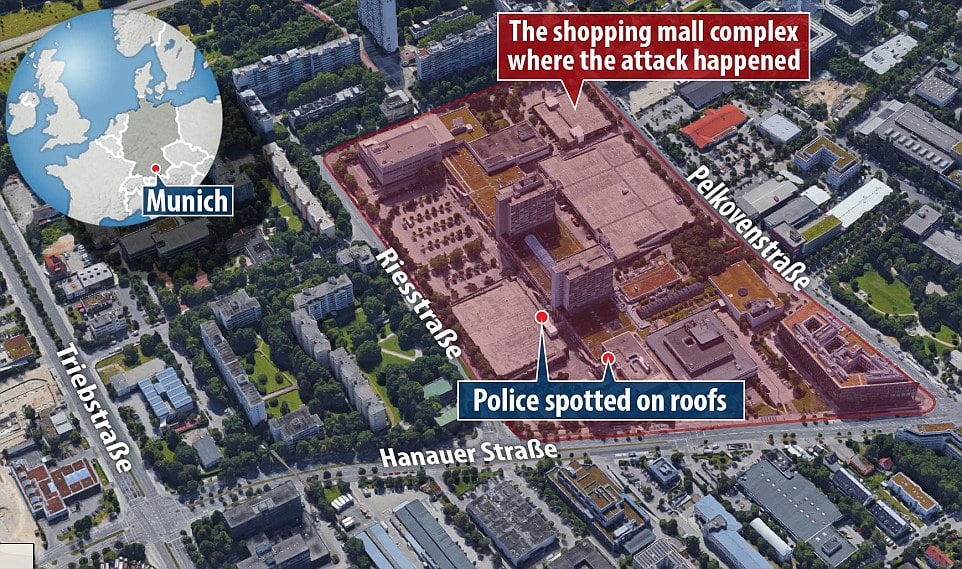 MOMENT Munich Shooting Shopping Mall Several Body Dead Killed- McDonald … https://t.co/rA6ZQngvDU via @YouTube

— ●ᐯ● (@Vagabond4ev) July 22, 2016
Raw footage: dead and injured after terror attack in #Munich pic.twitter.com/ByofmvKz7X

— Pegida UK (@UKPegida) July 22, 2016