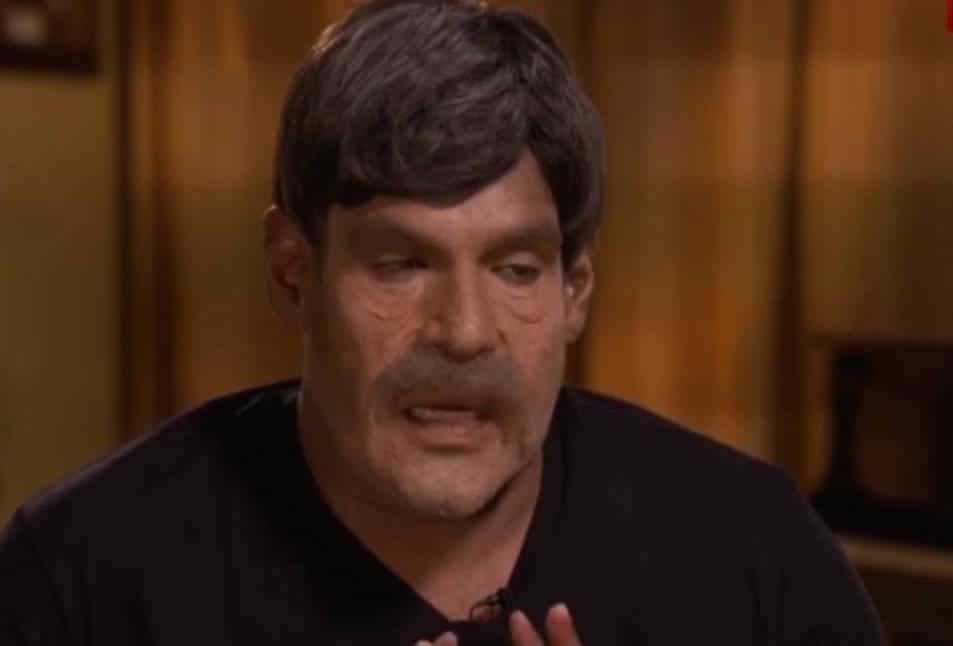 Omar Mateen gay lover: Did the Orlando shooter bear hostility with a Puerto Rican gay lover after discovering he may have been infected with HIV?
A Hispanic man identified only as Miguel has told he was Omar Mateen's gay lover and the seething disdain he held for a Puerto Rican gay lover, the Pulse nightclub shooter had a threesome encounter with.
Speaking with Univision, the Latin man told of the Orlando shooter's ire after finding out he had sex with a HIV positive man of Puerto Rican origin, and Mateen's desire to exact revenge.
In the exclusive (what to believe…?) Miguel tells how he and Mateen met through gay dating app, Grindr where the pair soon became 'friends with benefits'.
According to Miguel, the pair had met no less than 20 times at a hotel in Orlando, Florida.
In his interview, the lover tells of Mateen having been a confused gay man and a heavy drinker who was attracted to but felt rejected by Latinos.
In salacious detail, Miguel then tells how Mateen's massacre at Orlando's Pulse nightclub was an attempt at revenge after discovering that one of the two Puerto Rican gay men he'd had a threesome with was HIV-positive.
Cord Cedeno: 'I turned Omar Mateen down when he tried hitting on me'
Faces charges: Noor Zahi Salman knew Omar Mateen was planning attack
'Swapped numbers' Omar Mateen kept gay dating app Jack'd
Seddique Mir Mateen: 'Homosexuals deserve to be punished but only by God'
Was Omar Mateen a closet homosexual? Was regular at Pulse Orlando nightclub 12 times
'He hated blacks, Jews & gays' Daniel Gilroy former Omar Mateen coworker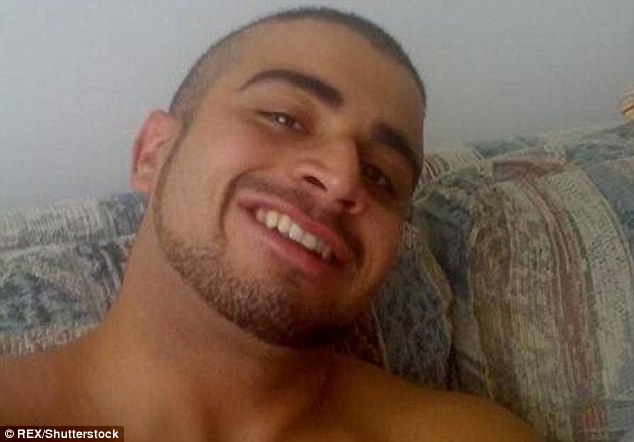 Speaking in fluent Spanish and broken English, Miguel said that despite tests coming up negative, Mateen feared not enough time had passed for an accurate result, and he wanted to 'make them pay'.
'The thing that makes me want to tell the truth is that he didn't do it for terrorism,' Miguel told Univision's Maria Elena Salinas. 'In my opinion he did it for revenge.' 
Prior to the massacre, Omar Mateen's gay lover told of the shooter being 'adorable' and 'sweet', adding that they often had oral sex and that Mateen 'loved to be cuddled… he loved to be embraced'.
Miguel told how the pair would meet at Orlando's Ambassador hotel, where they met 15 to 20 times between October and December 2015.
Univision said a representative for the hotel confirmed that Omar Mateen was a familiar face, and that he stayed at the hotel at least 63 times last year.
Man who claims to be Omar Mateen's gay lover says the Orlando shooting was revenge, not terrorism.https://t.co/o4K6a1dyBi

— Fusion (@Fusion) June 22, 2016
A man who says he had a sexual relationship with Omar Mateen: "Orlando massacre was revenge" https://t.co/0WjKu0h7A3 pic.twitter.com/Ce7QH1PDfa

— Univision Noticias (@UniNoticias) June 21, 2016
As the pair got to know each other, Miguel told of Mateen revealing that he was married with one child, while conceding his wife knew about his gay trysts. 
Asked if Mateen's father knew he was gay, Miguel said he couldn't be sure but he thought so. 
During their casual relationship, Miguel says, Mateen spoke about Islam, describing it as 'a beautiful religion in which everyone is welcome – gays, trans, bisexuals, heteros, everyone.'
But it became clear that Mateen fostered a deep hatred for his own sexuality and for Puerto Rican gay men. 
'He hated Puerto Rican gays for all the bad stuff they did,' Miguel said.
'Pulse is where he felt used, rejected,' he added.
'He was always there and he was there because he liked Latinos and he was attracted to dark skin. But sadly, from what he told me, he felt used. 
'He felt anger, a lot of anger towards Puerto Ricans.' 
Reiterated Omar Mateen's gay lover: 'I've cried like you have no idea. But the thing that makes me want to tell the truth is that he didn't do it for terrorism.'
Adding: 'In my opinion he did it for revenge.'
Miguel said he has reported his entire story to the FBI, and is currently being interrogated by federal officers.  
Univision disguised the man's identity with a prosthetic mask and altered the tone of his voice. 
Did Noor Zahi Salman Omar Mateen's second wife also leave him?
Omar Mateen: 'It's easier to ban Muslims than guns in America'
AR-15 rifle: Omar Mateen used same gun favored by other mass shooters
'Mommy I'm going die' Mina Justice missing son sends last text
Sitora Yusufiy Omar Mateen ex wife: 'He abused me'
Mir Seddique Mateen TV host: 'I support the Taliban'
Omar Mateen Pulse nightclub shooter: 'I got angry when I saw 2 men kissing'
Terrorism? Pulse Orlando nightclub shooting leaves 20 dead, 42 hospitalized, shooter dead
NSFW: Pulse Orlando nightclub shooter dead after leaving carnage
EXCLUSIVA: Presunto amante de Omar Mateen asegura que la #MasacreenOrlando fue una venganza. https://t.co/RPe5hEVBbV pic.twitter.com/Cjk77FquKH

— Univision Noticias (@UniNoticias) June 21, 2016
The insanity seems endless. https://t.co/rnqzPWB8KG https://t.co/68mULZ3Szo

— Esteban Trujillo (@Magic_Kingdom_D) June 22, 2016
PLOT THICKENS~~~Omar Mateen's Alleged Male Lover: 'He Did It For Revenge' Against Latino Men https://t.co/nCx3skIzVR #Orlando

— Aida (@Bellanieve) June 22, 2016