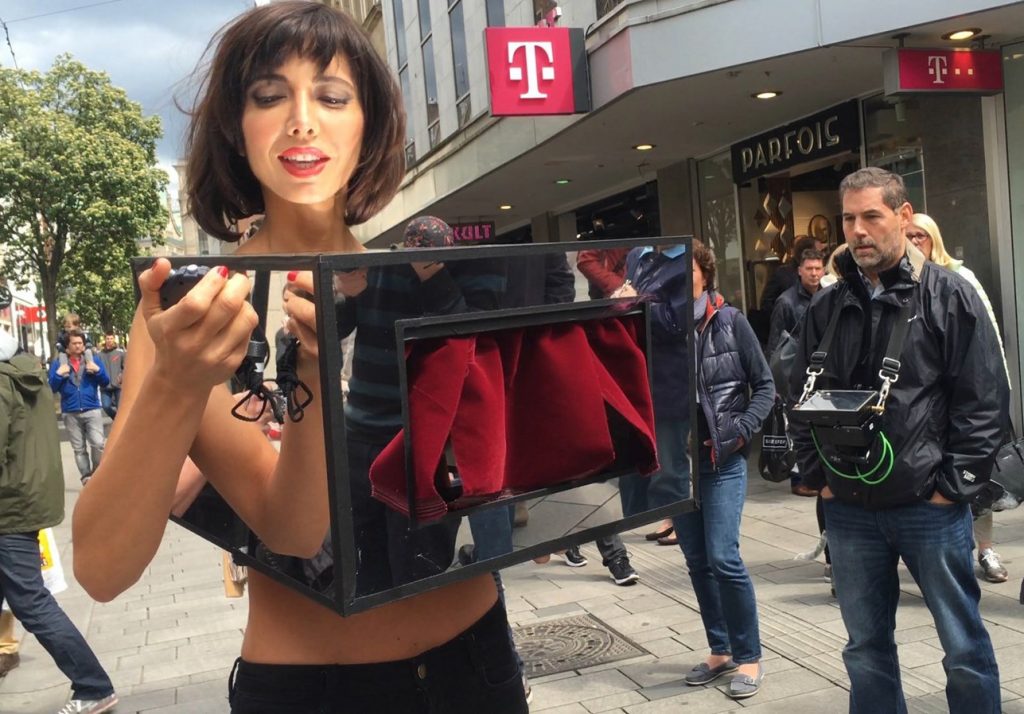 Milo Moire pushes the envelope in her latest Mirror Box performance art piece. Exploring female sexuality and consent or just pr stunt?
Swiss performance artist, Milo Moire has been arrested at London's Trafalgar Square after inviting strangers to fondle her breasts and stroke her vagina.
According to a report via artnetnews, Milo Moire's arrest comes as the performance artist in her latest controversial art project seeks to redefine the boundaries of what sexuality and consensual sex between willing partners ought to be and can be.
For her latest project, titled, Mirror Box, Moire wore a trapezoidal skirt made of mirrors with an entrance at the front covered by a red curtain and invited people via a megaphone to reach in and touch her vagina for a period no more than 30 seconds. The piece, explained Moire a press release, was inspired by the New Years Eve sexual assaults in Cologne.
That incident which had initially been suppressed by German media involved 1,000 women being sexually assaulted by a large group of unidentified men.
Told Moire of her latest art project where she hoped to challenge what constitutes condoned sexuality between willing partners:
'I am standing here today for women's rights and sexual self-determination,'
'Women have a sexuality, just like men have one. However, women decide for themselves when and how they want to be touched and when they don't.'
By assertively asking people to touch her body, Moire aims to demonstrate what a consensual act looks like. The mirror represents the cultural view of a woman's body as a mirror of male desire, and by reflecting viewers back to them, it makes them participants in the exchange rather than mere onlookers acting upon her as an object.
A report via complex told of the performance piece landing Milo Moire in jail for 24 hours, after which she had to appear in court and pay a four-digit fine. She noted that in Amsterdam, the police didn't take issue with her nudity during the same performance. They just had her register it because they were concerned the megaphone might disturb others. Indeed.
Upon her arrest, Moire said she hoped the UK remained in the EU while saying 'the laws within the EU would be regulated uniformly.'
Told a release upon her arrest: 'Moiré has taken the liberty of showing female desire, thus giving women a sexual voice'
'The audience's reflection on the mirrored box simultaneously becomes a visual metaphor for the role reversal from voyeur to the object of view: a constant play of inversions analogous to our roles in the digital world.'