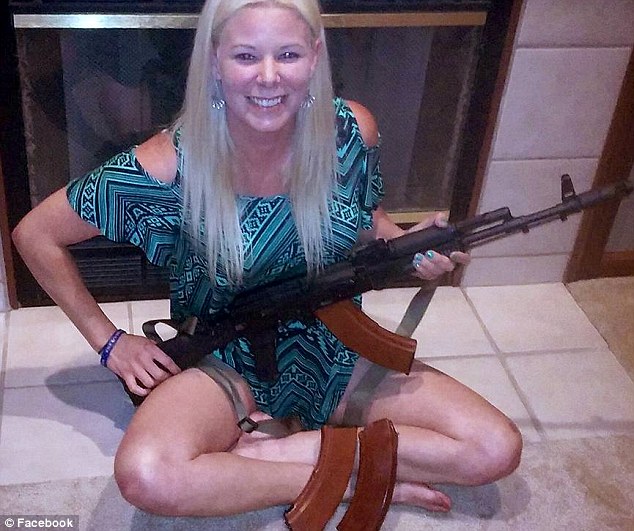 How Leslie Mills a Marion County, Florida came to threaten a man with his life after refusing to have sex with her.
Leslie Mills a 26 year old Marion County, Florida woman was arrested on Thursday after threatening a man with a hatchet after refusing to have sex with her.
Upon her arrest, Leslie Anne Mills was booked and charged with aggravated assault with a deadly weapon and domestic battery, according to police.
The incident told the victim occurred after Leslie Mills left his Ocala home the night before to go out for a drinking while he stayed home.
It wasn't until, according to a police report cited via the smokinggun that the man returned home from work the next day and went to sleep in the bedroom that he was woken up by Mills, who 'repeatedly asked him to engage in sexual activity with her.'
The man said he denied Mills' advances several times, even going to sleep on the living room couch. He said Mills followed him out there, sat on top of him, and continued to ask him for sex. 
Determined to be left alone, the man told going into the bathroom and locking the door.
Unperturbed, Leslie Mills began beating on the door, determined in her ambition to have sex with the man before eventually managing to open the bathroom door.
Upon entering the bathroom, it was then that the victim realized Mills was wielding a hatchet.
The two began fighting, with Leslie Mills allegedly raising the hatchet in the air and appeared to prepare to strike him, the victim told police.
The man managed to snatch the hatchet out of Mills' hand, slid it across the ground, and ran outside the house, police wrote. 
The arresting officer according to a report via the ocalapost noted the victim 'stated several times' that he feared for his life during the altercation. 
When police arrived, they found Leslie Mills outside, dressed only in a bathrobe and seemingly drunk.
An ensuing police report noted the victim had a large bite mark on his bicep.
Mills was booked in the Marion County jail on Thursday and was released the following day after posting $5,500 bail. 
Interestingly a regard of Mills facebook page shows the woman claiming she is single and working as a bartender and having studied Equine Science at Santa Fe Colleg after having gone to Central Florida Christian Academy.
According to a report via the dailymail, a judge issued a no contact order, prohibiting Mills from making physical or verbal contact with the victim while the case is in process, according to the Marion County sheriff's office.
Not necessarily understood is how more serious and egregious the charges would be if the roles of gender were reversed?