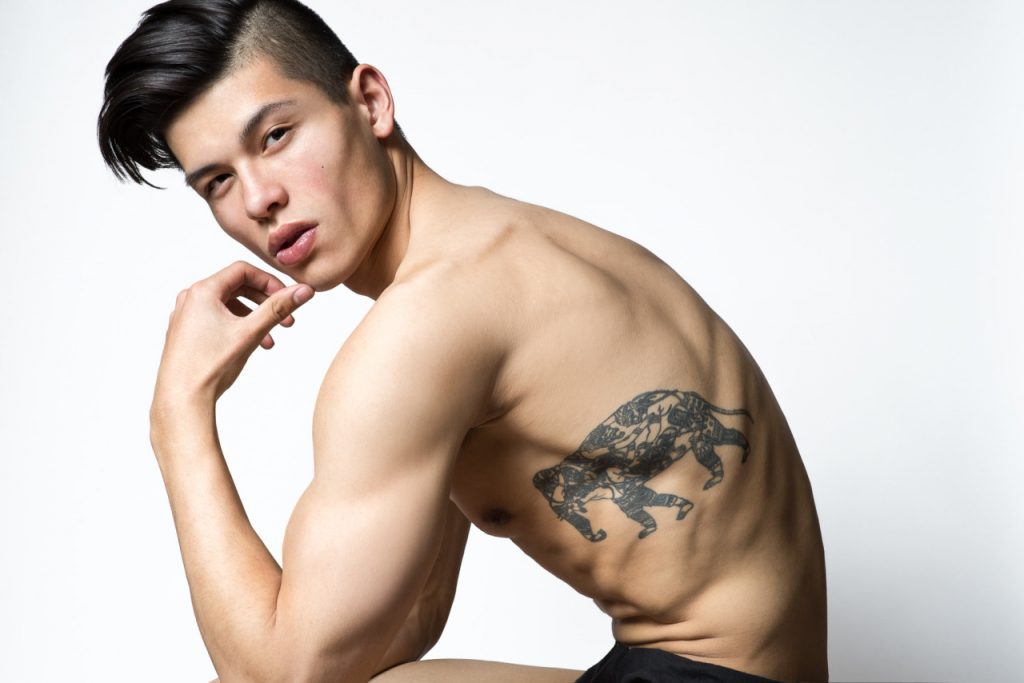 Krit McClean Times Square supermodel rants about Donald Trump: How a rising supermodel lost his marbles Thursday morning and gave NYC a wonderful spectacle.
Making their entry into tabloid fodder is the perplexing visage of international fashion model extraordinaire Krit McClean who Thursday morning gave New Yorkers more of an eyeful than what they may have bargained for as they went about their business in Times Square.
Having made a spectacle of himself before plunging 16 ft below and suffering degree of bruising (after missing the air bag that had been set up for him) questions are now being asked, who exactly Krit McClean is and what was he doing prancing about on a red stage in the buff screaming about Donald Trump?
Began screaming the disjointed model circa 8am Thursday morning while baring it all: 'Donald Trump, where are you?' during a very special personal runway performance that had Times Square and traffic below captive for an hour as Krit refused to heed police directives to get down.
##Update: Krit Mclean has been formally charged with public lewdness and disorderly conduct after breaking his arm after missing an air bag set up for him.
According to the nypost, witnesses told of the giddy fun runway times square bonanza starring Krit McClean beginning his new found gig when the 6'2 30 inch new daydream edible in your life started screaming at a random woman before taking off his wristwatch and throwing it in her direction.
From there McClean dressed in a yellow shirt and black pants proceeded to disrobe near the Disney store at West 46th street where he proceeded to take on his special one man show on the road.
Having by now totally stripped off all his clothes, our collective dream hunk then 'dashed up the red stairs' on top of the TKTS booth on West 47th st and 7th and started shouting obscenities .
Screamed the model who also as it turns out went to selective high school Stuyvesant High school and ivy league college, Columbia University:
'Donald Trump where are you, Donald Trump where the f–k are you?!'
According to Kit's personal blog, along with explaining he is a scholar of sorts, the blog reveals him being born in Bangkok and growing up in NYC before completing his bachelor's degree at Columbia University, while making time of course to be an uber model for the like of Versace and Dolce Gabbana, including an appearance in OUT magazine, while also making note that he was still a virgin. Do you suppose?
Update: NYPD source IDs "naked Times Square man" as Krit McClean, 21. Professional model & @Columbia educated. pic.twitter.com/qXm2ayw4XL

— Anthony DiLorenzo (@ADiLorenzoTV) June 30, 2016
Krit McClean pic.twitter.com/td1UHsfaWN

— lejames bron (@kirsmua) June 21, 2016
Making the most of his very own runway stage, Kit was then observed spitting at cops, taunting them, along with pulling on his private parts while (naturally) performing some sort of work out routine while atop the 20ft ledge.
Yes Kit darling, you are the hero rebel you always knew you were.
Taunted our collective hero as cops tried to get him to come down: 'I'm jumping, I'm jumping.'
Notes one passage from Krit McClean's personal blog: 'My style is inspired by experiences and interests including: sneakerhead culture, extensive travel through Asia, urban street-wear, art, hip-hop, and modeling,'
'The primary intention of this space is to showcase my aesthetic and lifestyle, though my larger message is to live life as your own individual. Be yourself, be open, be interested, be interesting, and dream!'
Krit may have forgotten the part about also being a tabloid hero. Never mind.
Adds the uber model in another area of his blog: 'Fashion is personal and subjective. To me, an outfit is a way to express your aesthetic to the surrounding world, but more importantly, to yourself. Ignore the noise- enjoy wearing what makes you happy!'
Or enjoy not wearing what you like and be happy?
At one point during his rant, the photogenic pretty boy and Times Square supermodel started screaming, 'I love fashion, it's taught me so much! while even taking the time to drop the names of iconic fashion photographers Bruce Weber and Mario Testino that the model may or may not (yet) have worked with.
By then New Yorkers below with their cellphone video cameras working overtime were heard wondering how high Krit must have been and how much coco pops he must have overdosed on earlier that morning.
With cops trying in vain to get Krit to come off stage (sorry NYPD, Krit is not just finished yet) the Times Square supermodel refused to budge until eventually jumping off the ticket booth ledge and narrowly missing a massive airbag cops had deployed.
Taken to Bellevue Hospital with minor injuries, Krit McClean, come Thursday morning ended up adding his own vibrant unique voice to the unswerving crazy drama that is NYC on just another busy weekday morning….
krit mcclean sounds like a toothpaste brand BUT HES SO BEAUTIFUL pic.twitter.com/2qCXvUVyOf

— destiny (@juniorkordei) May 31, 2016
The sad thing is Krit McClean will probably get interviewed by the cable networks & might get offered his own reality T.V. show. Just watch

— Amber Ferguson (@Ms_AmberDawn) June 30, 2016
The people of #NewYork got to watch @KritMcClean go crazy today and did not have to pay to get in. I wonder what it is like to go crazy?

— Shawn McHugh (@shawn_mchugh) June 30, 2016
src="https://scallywagandvagabond.com/wp-content/uploads/2016/06/Krit-McClean9-1024×1024.jpg" alt="Krit McClean" width="634″ height="634″ />