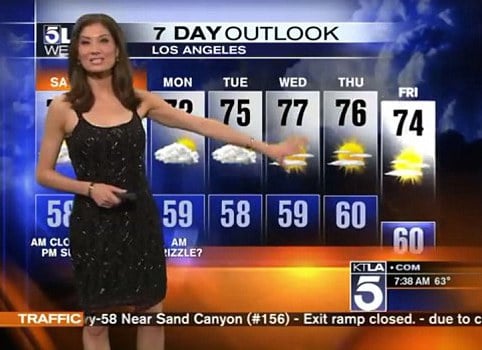 Liberte Chan KTLA meteorologist: Was she shamed? How a weather-girl's appearance raised questions of what constitutes appropriate dress sense for women?
Debate has ensued in the aftermath of Liberte Chan KTLA meteorologist being made to put on a cardigan/sweater live on air whilst reading the weather.
The gesture came after the Los Angeles media outlet received complaints over the news station's weather girl, Liberte Chan in the middle of her giving the morning weather report, which saw a male colleague handing her a sweater to cover up with. But should she have? That is the question that has now led to simmering debate.
While some disapproved of what they deemed Chan to be wearing a skimpy black 'cocktail' dress during the breakfast round up, others have questioned why Chan was allowed to be wantonly humiliated live on air and denigrated? In essence raising the question viewer's expectations of what a woman is allowed to wear and present herself professionally.
Equally dubious is the way Liberte Chan's judged dress sense was handled, leading to the KTLA meteorologist being humiliated live on air.
Notes hollywoodlife: Visibly confused, she had to stop the report and put the sweater on. "What's going on? You want me to put this on? Why, because it's cold?" she says incredulously, taking the sweater from her colleague and putting it over her pretty dress. "We've been getting a lot of emails," the man says, implying that people think her dress is too sexy. Gross! "I look like a librarian," she says, looking at herself in the camera. "That works," the man says, disappearing so she can finish the rest of her segment.
Since the segment, debate continues, whether the dress was too risqué and inappropriate and whether Chan was being admonished for exposing her shoulders and arms?
And then there were these responses on twitter below, what do you think? Did Liberte Chan KTLA meteorologist dress inappropriately, could the news station have handled things differently and what then are the expectations viewers and employers hold of females?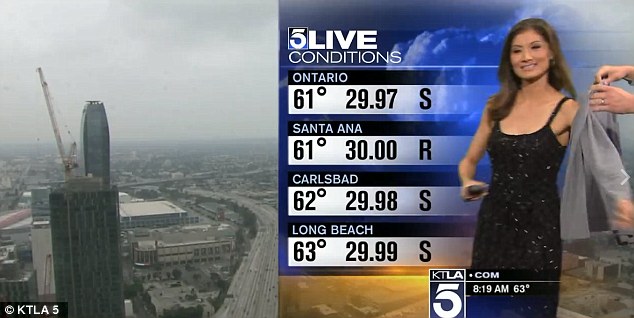 ★@KTLA "TheBeatOfSouthernCalifornia"
imposed IslamicLawDressCode WomenMustCoverTheirShame/Arms on meteorologist @LiberteChan LiveOnAir !★

— Celebrity Activists™ (@DeeJayVenus) May 16, 2016
The headlines keep getting better LOL @libertechan I love this dress, I'm so confused #shouldergate https://t.co/25qY5PpUot

— Amanda Korenowski (@mandykorenowski) May 16, 2016
Clearly those who emailed in were jealous of @libertechan stunning figure 😉 Xoxo body shaming at its worst https://t.co/cZnF4PsuxS

— KingRichard76 (@KingRichard76) May 16, 2016
@NYDailyNews @libertechan amazing:when would a man ever be asked to do this?

— Billy Bert (@BillyBert13) May 15, 2016
@libertechan @KTLAMorningNews Is that shoulder I see? Be careful, the station might make you wear a burlap sack if you keep this up

— Original Pirate (@Real_op) May 16, 2016