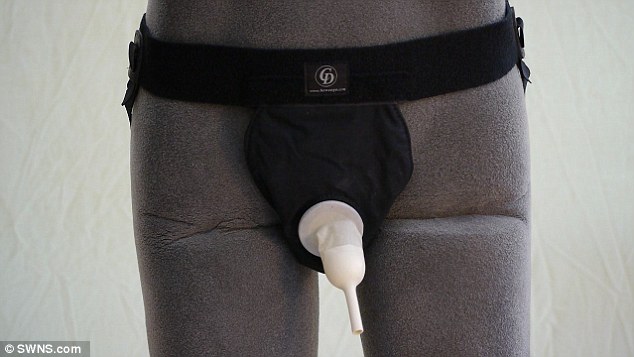 Introducing the HeWee Go Active device: A c

ondom that collects urine in a bag for the very busy man on the go set to revolutionize bathroom manners.
It appears us gentlemen have been offered a new reprieve with respect to bathroom manners. What reprieve you wonder? Come this way, take down your underpants and naturally slip on your very own must have HeWee Go Active urine bag.
Designed for the busy man on the go, and really who isn't these days, the maker of the HeWee Go Active tell of their new device which simply allows wearers to pee into a small tube with drops caught (up to a pint thanks) through a small tube and into a washable and tear resistant plastic bag.
All one need do is to remember to put on their HeWee Go Active device before heading off to work, where if need arise, one can casually relieve themselves without having to bother running off to the bathroom.
A perfect gift to oneself, especially if one has ever wondered how they are always caught short for time.
According to a manual cited by the dailymail, instructions tell of wearers simply adjusting the jockstrap device where they can nimbly insert their penis into one of three different sized condom like sheaths.
Tempting, I know.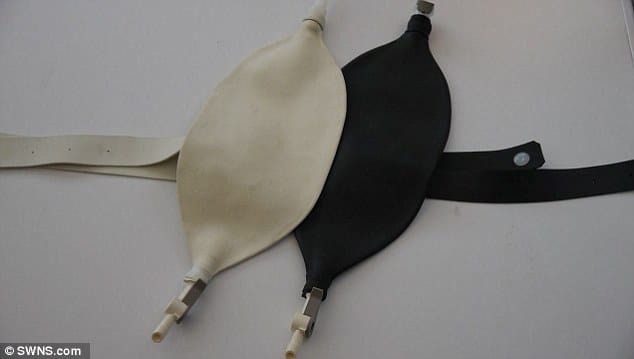 And just like that, whilst nonchalantly holding one's poise during that very important business meeting, one can delicately urinate through the accompanying small tube, never one the wiser. One's workmates are surely to be impressed and jealous and begging to acquire their very own must have HeWee Go Active device.
To boot, the device tell makers can also be used during traffic jams, unforgivably long lines one is forced to wait in and when good manners requires one to remain ever attentive and unable to run off to the bathroom.
That said there is a slight drawback.
According to the makers, one must be comfortable with the accompanying sheath bag being strapped to one's leg or thigh as the balloon like instrument continues to collect drops through the course of the day.
Like most things 'slightly awkward' at first, users are sure to get acclimated.
Offered a spokesperson of the company: 'The HeWee Go Active fits securely onto the wearer and, unlike medical urination systems, can be washed and reused again and again.'
The device comes with an adjustable support belt of up to 40 inches, but for those with a larger waist, they can order a ten-inch extension strap.
Meanwhile, there are three different size sheaths, measuring 30, 35 and 40mm from which to choose from.
Isn't it time you finally ordered your very own HeWee Go Active device?
Orders can be made at customdivers.com for the discerning gentlemen who values peeing only when he'll finally get round to it. Indeed.