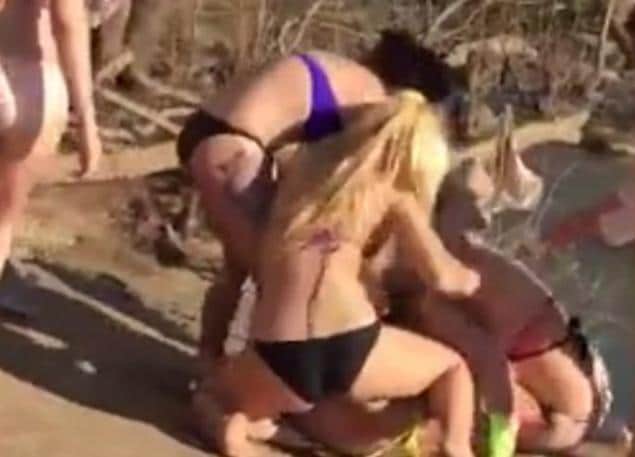 South Carolina Bikini brawl: What led to one woman being ganged up on and worse why didn't more than 50 bystanders intervene to stop the beating?
Making headway is a disturbing video in which three bikini clad women gang up and beat up a 20 year old woman at a Columbia, South Carolina riverside beach.
Release of the video (see below) filmed by the riverbank of the Saluda riverside beach March 15 has led to the arrest of the three offending women. At the time the victim was catching rays when the trio decided to take umbrage with her.
Arrested and booked with second-degree assault and battery were Arlinda Craft, 18; Anns Leigh Hill, 19 and Megan Williams, 20.
According to a report via WIS-TV, the South Carolina bikini brawl took place after the trio took exception with the victim over previous issues when they decided to mercilessly confront her. And how.
The victim told police that one assailant pulled her by her hair and threw her down on river rocks before she passed out.
Her coworker said that two of the women held her down while the other pummeled her.
At the end of the beat down one of the assailants can be seen walking away saying, 'Have a good f—ing time at the river.'
Craft has previously pleaded guilty to an assault caught on camera, according to court documents obtained by WIS-TV, involving a 17 year old teen.
Of note, the victim's mother of that attack told she hoped Craft would end up behind bars for a while. 
The 20-year-old victim of the latest attack, whose name has not been released, suffered a concussion, two black eyes, a bloodied face and a shattered nose.
The three sassy suspects were booked into the Alvin S. Glenn Detention Center, but were later released according to the San Antonio Express-News.
the victim: 'No one defended me, out of the 30 people that were hanging around – which is really pathetic in my eyes.'
Cops are also now considering pressing charges against the individuals behind the camera, including bystanders, according to a statement via Jennifer Timmons, with the Columbia Police Department.
The victim has since told that she knew Williams and the other two as bullies when they were in high school.