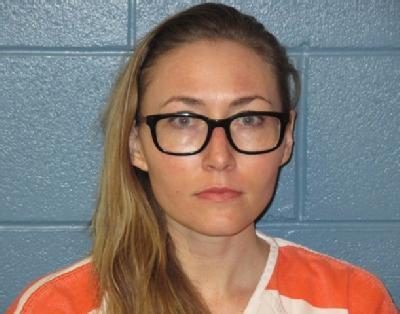 Brianne Altice filed letter: Should a school district have been aware of what one school teacher was doing? Has one woman sought to deflect responsibility?
Brianne Altice, the disgraced Utah teacher who was sentenced to up to 30 years behind bars after having sex with three students has told in a filed handwritten letter that she had no 'evil or malicious intent.'
The letter comes in relation to a lawsuit filed by one of her victim's parents against the teacher and the school, Davis High School, where Altice taught, claiming that the school district bears complicity for failing to stop the teacher from sexually preying on their son.
In Brianne Altice's letter, the 36 year old condemns the parents for failing to attend her parent teacher meetings during the 2012-13.
Altice also takes the parents to task for her victim's dysfunctional relationship with his parents which had become a topic of conversation between herself and one of her victims, who was 16 and 17 at the time of the sexual assaults.
Right decision? Brianne Altice, Utah teacher sentenced 30 years.
Brianne Altice, Utah school teacher faces second 17 year old boy rape charges.
Brianne Altice, Utah school teacher insists she's real victim after sodomizing 16 year old boy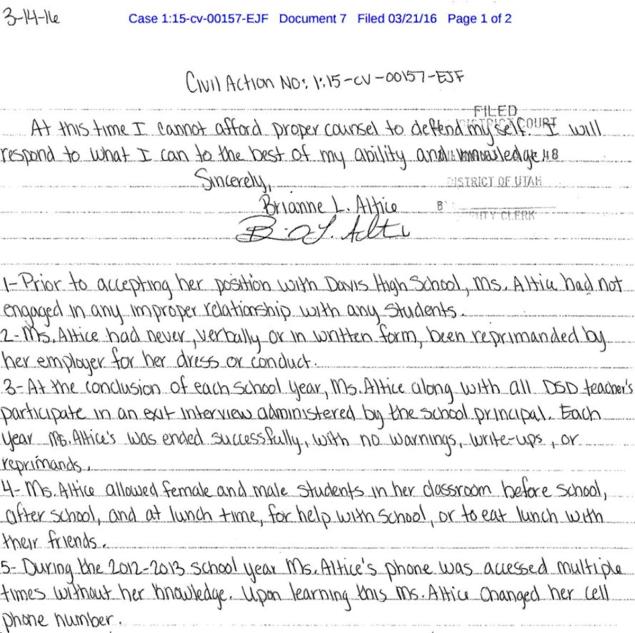 In her letter, the former English teacher writes: 'the victim came for advice on how to repair the strained relationship between himself and his parents.'
Altice is serving a minimum of two years in prison, a sentence that could extend to 30 years after pleading guilty to three counts of forcible sexual abuse.
Brianne Altice's letter also denies allegations that she dressed provocatively and encouraged teen boys to hang out in her classroom while skipping class, she wrote in last month's two-page filing.
Her response paints her victim as a knight in shining armor, protecting her from other students who would say 'you're hot' and 'you're sexy.'
Utah teacher faces 15 YEARS for 3 students relationships. And she's hot. #ultimateFACEPALM #briannealtice pic.twitter.com/JKU4jvGcDS

— Kaden™ (@KADENRADIO) July 9, 2015
The response comes as parents argue the school's administration should have known about the school teacher's inappropriate behavior and had every opportunity to shut it down. In a filed suit, the parents of one of the victims cited the teacher for having repeatedly flirted and preyed on male students, including their son, with hugs and by passing notes in class.
Altice responded to the parent's complaint personally for lack of legal funds, according to documents filed in the U.S. District Court of Utah.
'I cannot afford proper counsel to defend myself,' she wrote. 'I will respond to what I can to the best of my ability.'
In her defense the teacher wrote that she had never been reprimanded by the school's administration for her attire or behavior.
In a separate response, school officials claim they never had any knowledge of Altice's inappropriate conduct. Which begs the awkward question should they have and to what degree is the school responsible for behavior that happens outside of the classroom?
Last month's filing comes as a second victim's family has also now filed a lawsuit against the teacher and the Davis School district, with a report via the saltlake tribunal noting:
A second victim and his parents also have filed a lawsuit against the school district and Altice. In their filing, they allege Altice "took advantage" of the teen's admissions that he had a troubled childhood and had been sexually abused in the past. They also allege that the school district was aware of Altice's inappropriate relationships and did nothing to stop her conduct or protect the students.
To date, neither Altice nor the school district has yet filed a response in that case.
Lawsuit claiming school didn't protect students from teacher Brianne Altice dismissed https://t.co/vAZDmF9Zhz pic.twitter.com/KGGAf2Y5t4

— FOX 13 NOW (@fox13now) December 3, 2015
They dropped the HAMMER on ha, I wouldn't have said nothing if I was hitting her EMMM ? #BrianneAltice pic.twitter.com/r5WnskxRHd

— WILLIAM ODUM (@coogi_doogi) July 15, 2015
Quién lebdice que no a la maestra #briannealtice ? pic.twitter.com/hfiTykacw4

— Artur Sotelo (@artursotelo) July 14, 2015