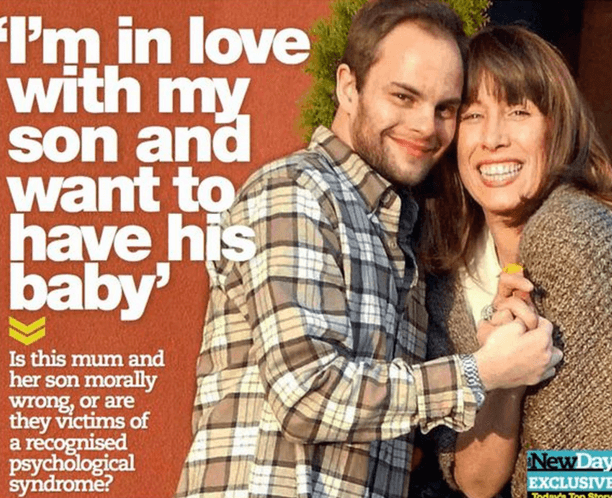 Kim West and Ben Ford: Do a mother and son who have taken up a sexual relationship and plan on getting married and having a child face the potential of jail in their home state of Michigan?
Mother and son, Kim West and Ben Ford aged 51 and 32 have gone on the run after revelations that the pair who maintain a sexual relationship are wanted by police and now face 15 years jail.
News of the couple's potential legal woes come a day after media reports of the very much in love couple telling of their 'mind blowing sex' and plans to marry and have a child together.
Since meeting in late 2013, after Ben Ford sought out his natural UK born mother, the couple soon found themselves enraptured with each other, with the son at the time leaving his wife, Victoria whom he was living in Colorado with, to be with his mother and moving with her to Michigan to live as man and wife.
That though has Michigan authorities none too pleased, as Michigan state law states that couples participating in what the state technically deems as incest facing 15 years to life in jail as well as being forced to register as a sex offender for life.
Kim West and her son Ben Ford have been pursuing what some researchers argue is a genetic sexual attraction relationship, and although the pair are technically related, their absence for almost their entire lives didn't set off a switch in which most relatives discount their immediate relatives as potential mating partners.
Told Kim West via the UK's New Day recently: 'This is not incest, it is GSA. We are like peas in a pod and are meant to be together.
'I know people will say we're disgusting, that we should be able to control our feelings, but when you're hit by a love so consuming you are willing to give up everything for it, you have to fight for it.' 
While Kim West and her lover, her son, Ben Ford don't see their relationship as one of incest, Michigan state allows for the provision for state judges to hand out life sentences to those found guilty of incest.
That said, it's not necessarily understood if Michigan now plans to actively pursue a case against the mother and son.
Preliminary research on the web shows that although incest is illegal in Michigan and often a case by case evaluation in other states, it may be difficult to prove if neither party is willing to press charges, and evidence is hard to come by, except for pure hearsay. In many such cases the authorities decline to prosecute on the basis that it is a 'victimless' crime.
Pioneering research by American author, Barbara Gonyo described situations in which people separated from relatives at a young age experience strong sexual feelings when they are reunited.
When families grow up together, an inherent taboo is created which desensitizes them to sexual attraction. 

But those who miss out on this time can develop powerful, obsessive feelings for their parents or even siblings in adulthood.
However, GSA is rare between people raised together in early childhood due to a reverse sexual imprinting known as the Westermarck effect, which desensitizes them sexual attraction.
Experts believe that this effect evolved to prevent inbreeding. 
While the chances of Kim West and Ben Ford now being pursued by legal authorities is unlikely, it is thought that the couple have sought to negotiate through lawyers if indeed any liability may exist on their part.
Here's tomorrow's front page… pic.twitter.com/WGg5bgKHT8

— the New Day (@thenewdayuk) April 7, 2016