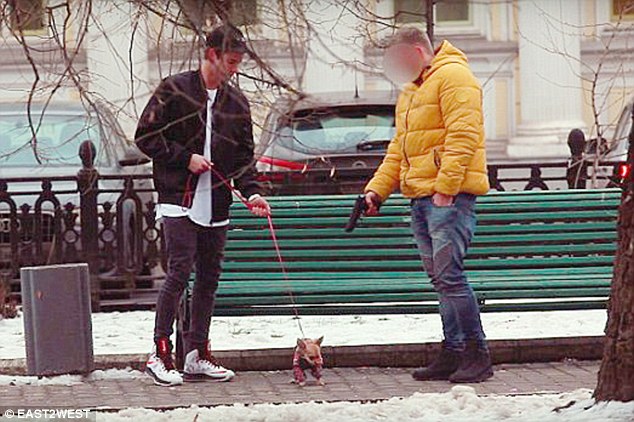 Has filmmaker Grigory Mamurin gone too far in a new series of experimental films in which he offers random people money for unspeakable acts?
Making the tabloid rounds is the visage of teenage film maker Grigory Mamurin, aka Grisha, the grandson of Russian billionaire oligarch, Gregory Neklyudov, who has taken to filming people acceding to deplorable acts of self humiliation, degradation, violence and utter stupidity in exchange for money. Acts which the aspiring film maker claims simply show off the banality of human behavior. Never mind his own.
The self described 'Russian Spielberg' (when you are rich enough any moniker will fit) has found himself increasingly criticized after presenting a new series of videos, 'Money Solves Everything,' which the aspiring film maker explains show how low people will go for money.
Special acts that Grigory Mamurin aka Gregory Goldshield (his adopted stage name for obvious reasons) has been able to agree to in exchange for hundreds of euros in exchange include random people agreeing to shoot their pet dog dead ( in one filmed instance the pet owner presses the film maker's loaned gun only to find they fired blanks), agreeing to have their heads shaved, agreeing to have champagne sprayed on their bare breasts, agreeing to washing his automobile in freezing weather in nothing but their underwear, buying someone's girlfriend for a night, and even in one instance agreeing to drink his urine.
Episodes that Grigory Mamurin was more than happy to film in what he insists is a social experiment to prove the banality and desperation of people. Something that as the scion of an uber wealthy billionaire, Gregory Goldshield is more than happy to explore despite presumably to the chagrin of the teen's secretive grandfather who some claim garnered vast wealth through back door secretive deals and super close ties to those at the top of the food chain. 
While most have been quick to criticize the predatory nature of  Grigory Mamurin's exploits/art (you can decide for yourself) there have been no shortage of curious viewers as the teen's videos have received viral traffic well into the millions.
The videos have since led to many rebuking that it is the film maker's brand of showmanship which has symbolized the country literally going to the toilet and highlighting how easy morals, virtues and common sense can be bought with enough money.
One Siberian MP, Oleg Smolin, dubbed Gregory Goldshield 'a spiritual invalid'.
'He treats his own people and his own peers as trash,' he said. 'But in fact he behaves exactly like this precise trash.'  
Meanwhile pro-Putin TV and radio host Vladimir Soloviev warned last year: 'This schoolboy took the subjects used in many modern reality shows. 
'We just did not think that this level of moral decay would reach children.' 
That said not all tasks are met with eager beavers, in one episode the aspiring filmmaker is punched in the mouth when he dares yet again another random person to perform one of his tasks for money.
"You think I'm an idiot?' the person tells him before turning and walking away, presumably much to the chagrin and joy of the 'aspiring' film maker.