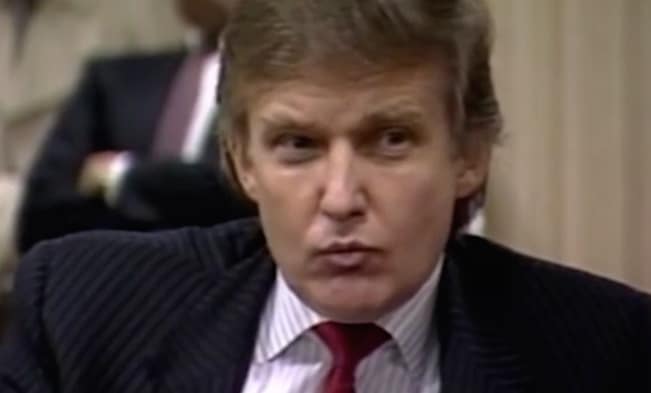 Donald Trump teen rape lawsuit: How credible are claims by a then 13 year old teen that she was sexually coerced by Trump? Said to have shopped her story with $300 to her name only.
An alleged victim has accused GOP front runner Donald Trump in a filed lawsuit of having raped her as a teenager after attending a sex party held by billionaire financier and convicted pedophile Jeffrey Epstein.
A report via the mirror tells of a woman, since identified as Kate Johnson, telling that Trump and fellow billionaire Epstein sexually assaulting her 'under threat of harm' and 'conspiracy to deprive civil rights.'
The alleged victim, who lodged her claim in the Central District Court of California on Tuesday, is suing for $100m.
The claims, which come at an interesting time for the Republican candidate (known for his misogynistic rants) who hopes to seal his parties nomination (despite deep resentment within the party) led to Donald Trump vehemently denying the allegations, calling them 'categorically false.'
In filed papers, the plaintiff, a then 13 year old teen alleges 'she was enticed by promises of money and modeling career to attend a series of underage sex parties held at the New York City residence of defendant Jeffrey E Epstein and attended by Donald J Trump.'
In filed papers the unnamed woman told of Trump purportedly being '…forced to perform a sex act on Trump, 69, and engage in an unnatural lesbian sex act with her fellow minor and sex slave'.
The plaintiff describes how she was 'forcibly raped by Trump during the fourth and final sex encounter,' with whom she pleaded with to 'please wear a condom.'
The acts on the then 13 year old teen are alleged to have taken place from June to September 1994, at which point she allegedly lost her virginity to Donald Trump.
Of note, a report via the dailymail tells of Kate Johnson offering her alleged story to a series of news outlets, and photographs of her have been offered for sale for up to $25,000.
That said, a New York 'party planner' who spent ten years working for Epstein, according to filed papers has told of being willing to give testimony in support of the plaintiff.
The complaint identifies the woman only as Tiffany Doe, a 'trusted employee' of Epstein's, and claims that Doe can confirm all of Ms Johnson's allegations.
In filed papers, the plaintiff tells of having being the '…subject to extreme sexual and physical abuse.'
Reads various entries, in graphic detail:
'On the first occasion, I was forced to manually stimulate Defendant Trump with the use of my hand … until he reached sexual orgasm.
'On the second occasion I was forced to orally copulate Defendant Trump by placing her mouth upon Defendant Trump's erect penis until he reached sexual orgasm.'
Responding to the allegations against him, Trump told radaronline: 'The allegations are not only categorically false, but disgusting at the highest level and clearly framed to solicit media attention or, perhaps, are simply politically motivated.
'There is absolutely no merit to these allegations. Period.'
In a statement to the court, it was alleged that both Trump and Epstein threatened the victim that is she should speak out about her abuse, she and her family would be in mortal danger.
Notes filed papers: '[The alleged victim] was fully warned on more than one occasion by both defendants, Donald J. Trump and Jeffrey E, Epstein, that were she ever to reveal any of the details of the sexual and physical abuse that she had suffered as a sex slave for defendant Trump and defendant Epstein, that plaintiff Johnson and her family would be in mortal danger.
'The Plaintiff was warned that this would mean certain death for herself and the Plaintiff family unless she remained silent forever on the exact details of the depraved and perverted sexual and physical abuse she had been forced to endure from the defendants.'
According to the court listing the lawsuit was self-filed by Kate Johnson, who will be 34 today – not an attorney – suggesting she does not yet have legal representation.
In her filing, Johnson told the court she had only $300 to her name in savings, listing her home address in court documents as an empty, foreclosed property in Twentynine Palms, Califorinia.
To date Epstein has declined to respond to the allegations as all eyes are on Trump as the too impeccable timing of the purported allegations which could stunt his nomination suddenly makes its way, front row center.
Donald Trump Lawsuit by tom cleary